I don't usually do restaurant reviews. It's not really my thing. I figure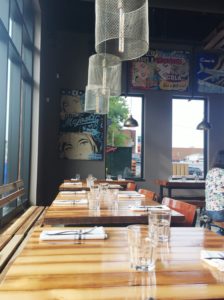 each experience is unique and you can have drastically different experiences at the same restaurant, days or months apart.. but there has been a lot of talk on the town about Nique Restaurant in downtown Hamilton.
The place JUST opened up earlier this week. I'm talking like 3 days ago. It's on the corner of James and Vine (between York Blvd & Cannon). From seeing their (and others) social media, it looked like a welcoming environment with freaking delicious food! I'm talking ribs, nachos, burgers, and charcuterie.
Boy, was I RIGHT. I went in there this afternoon for a little lunch. It had just opened about half an hour earlier, so it was still a little empty. The staff were great, very welcoming and could answer any questions that I had. With large windows – it was nice and bright in there – which is something I like in a restaurant.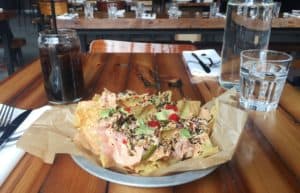 and the food was AMAZING. I had the sushi nachos. They were drenched with a spicy mayo, jalapenos, raw fish (tuna I think), and much much more.. I got the small for 14 bucks.
By the time I left, more people have started comin' in.
Nique Restaurant is well worth the visit and I'll be heading back again soon! (MUST TRY NIQUE BURGER)
So have you guys been to Nique yet? Comment below and tell me your fav dish!
---
Our App!
If you want to get our recipes on the go – maybe you're grocery shopping or cooking by the stove –
Download our FREE app where you can get ALL our recipes and even submit your own!