A southeastern American treat – made KETO. This delicious butter cake is a staple in some U.S. households and anything with butter – you bet I HAD to make it.
So original butter cake is made with buttermilk.. since we can't use that on keto, I replaced that with sour cream so it will be nice and MOIST. It worked perfectly!
One problem that I had was that there was TOO much syrup – so I altered the recipe to be JUST right. A great thing about this cake is that if you don't want to use the syrup, it will still taste delicious and moist!
We've gotten so many great reviews, here's just a sample:
Keri on Facebook says:
I make this all the time. I add a chocolate ganache on top for birthday cakes. It's our favorite cake. Ah-may-zing!!!
Sheryl on Instagram wrote:
One of the best cakes I have ever made!
Avelino on Instagram praised:
This is for real the best Keto breath ever! I am obsessed with it! I have made tons of desserts since I stated Keto and nothing compres to this! Yes it is a dream come true!
Hope you enjoy!
If you like this recipe, check out our Keto Mississippi Mud Pie, Japanese Cheesecake, Nanaimo Bars or Dark Chocolate Cake.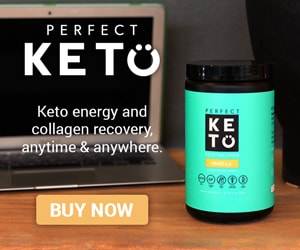 Use code HEdiscount for 15% off individual PerfectKeto products such as collagen powder & MCT oil powder!