Hi friends, it's me. Back with another bread recipe! This loaf took me about 7 times to figure out how to get it perfect and I think I finally figured it out! Please note: this recipe is NOT suitable for those with celiac or gluten intolerance.
Now, you may be wondering how this is different than my keto white bread or my keto brown bread.. both of those loaves are made with whey protein to replace the gluten. They are both great of course and I highly recommend them, but several people said they wanted a dairy free bread.
Here's where I come in. I did an incredible amount of research and the best loaf so far has been Deidre's loaf . It's just so perfect looking and it rises SO MUCH.. but it had eggs, butter and a few other things. So I tweaked it (A LOT, its basically not even the same loaf but she gave me inspiration) but I have to give Deidre a shout out because her's looks perfect.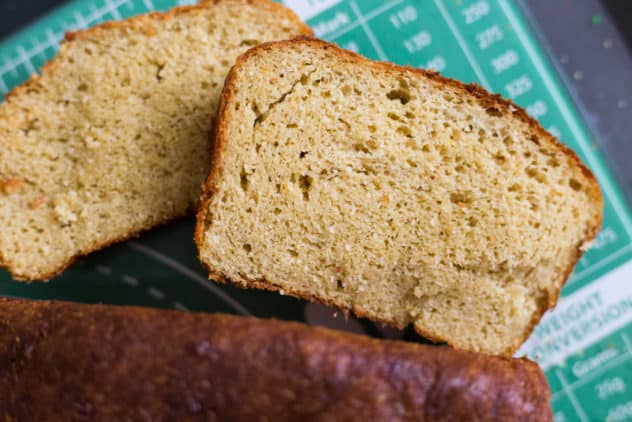 In my research, I found out what I had done wrong, what I did right and I set myself back up in the kitchen to try loaf number 5. Here are a few tips to help you out:
INGREDIENTS: No substitutions!! This bread NEEDS the vital wheat gluten, lupin and almond flour!
MEASUREMENTS: I put cups on here, but to be honest, I highly recommend using a kitchen scale and using it by the measurements. It's so much easier and even just a little bit off in the ratio could alter the bread in a bad way.
KNEADING: The amount the bread rises will depend on the kneading. If under kneaded, it will rise slowly or not as much. If you knead by hand, its nearly impossible to over knead thankfully. You will know it's done becuase it won't rip or tear when you knead. If you use a stand mixer, which I HIGHLY recommend, 7-10 minutes will be sufficient.
RISING: Also affecting the rise could be the yeast. If it's not proofed, it won't do much. If it's too cold, it could take several hours to rise or kill the yeast entirely. The best thing to do is make sure your water is not over 45°C/100°F.
The trickiest thing here is the kneading and telling when it is ready for rising. It took me several (7) loaves to figure it out, and even in this video, it's still a little bit under-kneaded. You will know, as stated above, when you're almost there because the dough won't rip when you knead. If it still tears, even a little bit (which you can see in my video), it's still needing a bit more.
Vegan Keto Loaf
Rising/Proofing Time:
1 hour
Total Time:
1 hour
45 minutes
This bread is a new favourite! It's completely dairy and egg free, plus it's so nice fluffy!
Ingredients
1 tsp baking powder
1/4 tsp xanthan gum
2 tbsp maple syrup (with sugar)
1/4 cup (60ml) olive oil
1 cup (250ml) warm water (max temperature 100°F /40°C)
1/2 tsp salt
Instructions
Pre-heat the oven to 100°F / 50°C. Do not go higher than these temperatures.
In a large, clean and dry mixing bowl, whisk together the vital wheat gluten, almond flour, lupin flour, baking powder, xanthan gum, and instant yeast.
Once thoroughly mixed. add in the salt and stir again. It's important you don't add the salt in at the same time as the yeast.
Pour in the olive oil, maple syrup and water.
Use your hands to incorporate the water into the flours. It should start to form dough, similar to regular wheat bread.
(If you are going to use a stand mixer, make sure to use the dough hooks. Place the mixer on low and scrape the sides so all the flour is incorporated into the dough. Once mixture has started to form a dough, turn up to medium and mix for 7-10 minutes.)
Hand knead the dough for 10-13 minutes or until you are able to press your fist down on the dough without it tearing anywhere. (If you see the dough ripping or tearing when you press down, keep kneading)
Place the dough into a loaf tin (or keep it in a bowl, up to you). Cover the tin or bowl with cling/seran wrap.
Place in the oven and immediately turn off the oven.
Leave the dough to rise for 1 hour.
Once the hour is up - take the tin out. It should have significantly increased in size. If it rose but not a lot, you may have under-kneaded the dough.
Turn the oven onto 400°F / 200°C.
Place the loaf tin in the oven or if you want more of a free-loaf, place it on a baking sheet lined with parchment paper.
Bake for 30 minutes.
Once the bread is done, leave it to sit for a minimum of 2 hours. Do not cut open!
After it has cooled, cut and enjoy!
Notes
This makes roughly 16 slices.
Nutritional Information per slice:
CALS: 99
FAT: 6.5
CARBS: 4.1
FIBRE: 2.3
NET CARBS: 1.8
PROTEIN: 8.7
Nutrition Information:
Yield:

16
Serving Size:

1
Amount Per Serving:
Calories:

99
Total Fat:

6.5g
Carbohydrates:

4.1g
Fiber:

2.3g
Protein:

8.7g