Looking for a delicious and easy snack?? These pickle roll ups are so yummy and take all of 5 minutes to make.
Now for this treat, I used pancetta, but these are also good with ham, salami, bacon or prosciutto!
When you are shopping for the meat, make sure you get something thats not carb heavy. There are a ton of meats out there that have sugar, so make sure you get something low carb! Same goes with the pickles.
One tip I will mention is when you are putting them together is to make sure that you wipe any excess liquid fat (especially from bacon) and dry the pickles with a paper towel.. If there is too much water, you will have trouble rolling it up and the cream cheese will get all watery.
Other than that, this recipe is SO SIMPLE. Meat, cheese, pickle and ROLL.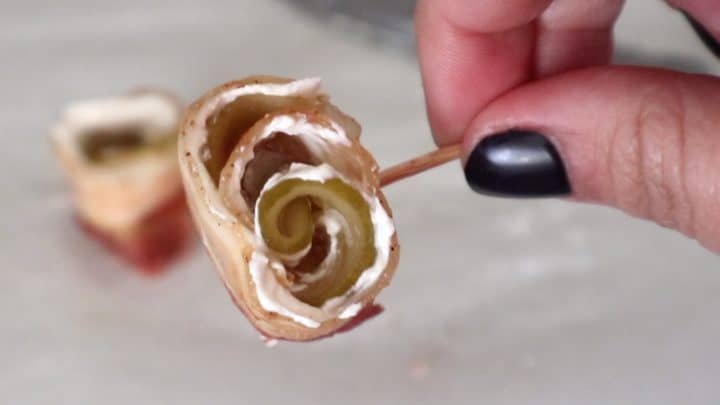 Yield:

10
Pickle Roll Ups (A Great Keto Snack!)
These pickle roll ups are a perfect keto snack and only 3 ingredients. Meat, cream cheese and pickles! 0.8 whole carbs per roll up!
Ingredients
10 slices pancetta, bacon, ham or prosciutto
5 tsp cream cheese
5 pickles - no sugar added
Instructions
Place 2 strips of the meat on a piece of parchment paper side by side.
Place a tsp of cream cheese onto the meat and spread it over.
Top with a (dried - see above) pickle.
Roll and secure with a toothpick.
Cut in half or enjoy as one.
Notes
This makes roughly 10 pickle roll ups.
Nutritional Information per roll up:
CALS: 46
FAT: 3.9
CARBS: 0.8
FIBRE: 0
NET CARBS: 0.8
PROTEIN: 2