Guys! I finally found it. I found a decent low carb noodle alternative. Edamame spaghetti! It's a perfect replacement for gluten-filled noodles! For this low carb edamame spaghetti recipe, I paired it with a zero carb sauce.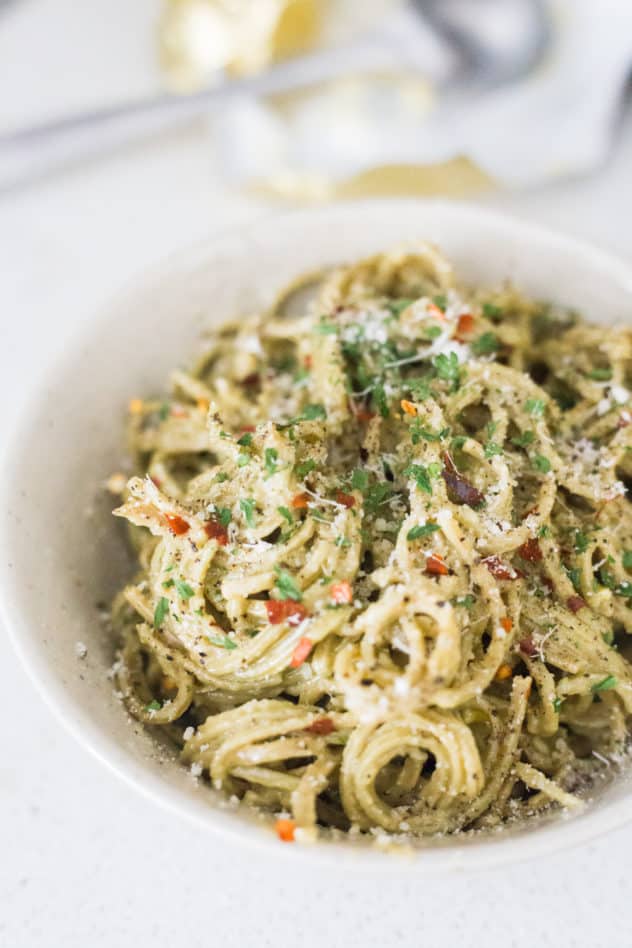 I stumbled past it the other day at the grocery store and figured I'd give it a try. At 13 net carbs per 100g, I was a bit skeptical but 100g goes a long way! You can definitely cut it in half and be fulfilled, only eating 6 net carbs.
This pasta is great because over half of it is made up of dietary fibre. Sometimes on keto, it can be difficult to get in a regular amount of fibre but this is perfect.
So you will notice that I called this recipe low carb rather than keto – that's because the WHOLE carbs for 1 serving is over 10g. So if you count whole carbs, this could make or break you for the day. HoweverI highly recommend trying it at least once.
Now, I will say, straight out of the package, it does have a bit of a smell, but that goes away after boiling them. I know many will also wonder if there is an aftertaste and I will say it is SUBTLE. I did notice a teeny tiny aftertaste but honestly, it's so subtle.
Also – the texture of this pasta is EXACTLY like regular spaghetti! Yall have got to try this! I made mine with a zero carb sauce – butter, eggs and cheese!
If you like this recipe, make sure to check out my keto ravioli!
Yield:

4
Low Carb Edamame Spaghetti Recipe
This low carb edamame spaghetti recipe is a new favourite! Not only do the edamame noodles feel and taste like the real deal - they are full of fibre! I paired it with a zero carb sauce for a protein & fat packed meal.
Ingredients
6 tbsp butter
2 eggs
1 cup (70-80g) parmesan cheese - grated
salt/pepper
Instructions
Fill a large pot with water and add a few dashes of salt.
Bring to a boil over high heat.
Place the edamame pasta into the pot. Cover and turn down theheat to medium. Boil for 3-5 minutes.
Drain the water from the pot and place it back onto the burner.
Turn the heat down to low.
Spoon the butter into the noodles & crack in the eggs.
Stir until the sauce has thickened and coats all the spaghetti. Don't let it sit otherwise you could scramble the eggs.
Take off heat and mix in the parmesan cheese, salt and pepper.
Serve!
Enjoy!
Notes
This makes 4 servings.
Nutritional Information per serving:
CALS: 432
FAT: 29
CARBS: 18.3
FIBRE: 11.6
NET CARBS: 6.7
PROTEIN: 32.4