Easily one of my newest and most favourite recipes. Can't believe how yummy this was! The best part of this keto tres leches cake recipe is that it is a 2-in-1. You also learn how to make condensed milk, but with cream and OH MY GOSH GUYS. It is incredible. I could eat it by the spoonful.
If you're just here for the keto condensed milk recipe, the best part is you can definitely make this vegan and dairy free by using coconut milk. Just take out the butter and add 1 can of coconut milk! Also incredibly yummy and has an incredible coconut flavour to it.
As for the tres leches cake, a few notes before I get into the recipe.
1. When you make your condensed cream, stir frequently. You don't have to do it constantly but if you don't, the cream may burn to the bottom of the pan and you'll get specks of brown/black in your condensed cream. This did happen to me, but it didn't alter the taste so I left it. Alternatively, you could strain it.
My first cookbook – Keto Cravings – is on Amazon now!
2. When baking the cake, better to overcook it a little than undercook. My first one was a little undercooked so it was gritty and didn't soak up the cream very well.
3. When poking holes into the cake, a fork is best. That way you'll have many smaller holes to soak up the cream. Highly recommend a fork instead.
4. Definitely leave it in the fridge to soak up the cream as long as you can. If you're in a rush, I'd say minimum 3 hours.
Those are all the notes I can think of right now. If anyone has any suggestions, definitely looking forward to hearing them so leave a comment below!
If you like this cake, make sure to check out my keto chocoflan!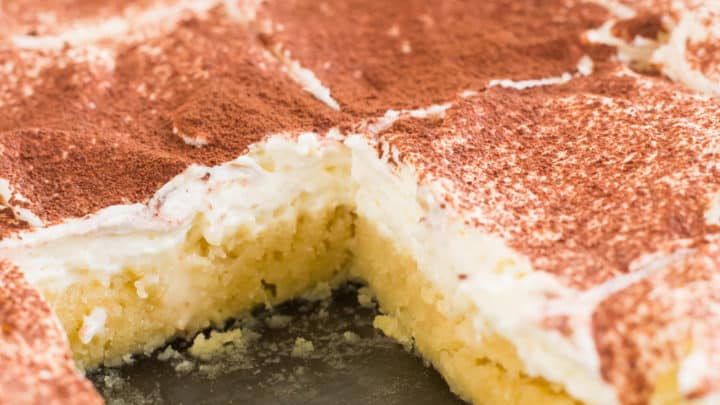 Yield:

15
Keto Tres Leches Cake
A yummy 'tres leches' cake made keto friendly, condensed milk and all! Instead of using milk in this delicious cake, we used cream and it came out perfect. Sugar free, gluten free and grain free!
Ingredients
CONDENSED MILK:
1 cup (250ml) heavy cream
1 tbsp butter
1 tsp vanilla extract
CAKE:
1/4 cup (59ml) heavy cream
2 eggs
1/2 cup (100g) butter - melted
1 tsp vanilla
1 tsp baking powder
'TRES LECHES' MIX
1/4 cup (59ml) single cream/half and half
1/4 cup (59ml) double cream/heavy cream
Condensed cream (see above)
TOPPING:
1 cup (250ml) heavy cream
1 tsp vanilla
cocoa powder (for dusting if wanted)
Instructions
In a pot over medium heat, melt your butter and confectioners sugar substitute.
Add in your vanilla and heavy cream.
Bring the mixture to a boil and then turn down to low.. Be careful because it will start to foam, so if you walk away, it could overflow. Just keep stirring the cream until it is simmering, but not foaming.
Let it simmer, stirring frequently, but not consistently.
Once it has reduced by HALF and it has the consistency of pudding (and covers the back of a spoon), that means it's done! WARNING: it is delicious.
Set aside the condensed cream and let it cool.
Now time to make the cake - In a bowl, whisk together all the cake ingredients.
Pour it into a 9x13 greased casserole dish.
Bake at 350°F / 175°C for 20 minutes. (Check it with a toothpick at this point, bake more if needed)
While your cake is baking, in a mixing bowl, whisk together three 'milk' ingredients - single cream, double cream and condensed cream!
Take out the cake and use a fork or skewer to poke several holes.
Pour the three milk mixture onto the cake and use a spoon to spread it around gently so the cream fills the holes nicely.
Set aside and cool for minimum 3 hours but overnight would be best.
Just before serving, whip up your cream, vanilla and sugar substitute and top your cake with the whipped cream.
Cut into slices and enjoy!
Notes
This makes roughly 15 slices.
Nutritional Information per slice:
CALS: 264
FAT: 26.4
CARBS: 4.3
FIBRE: 1.6
NET CARBS: 2.7
PROTEIN: 4.9
Nutrition Information:
Yield:
15
Serving Size:
1
Amount Per Serving:
Calories:

264
Total Fat:

26.4g
Carbohydrates:

4.3g
Fiber:

1.6g