A yummy taste of Louisiana. This keto jambalaya is filled with smoked sausage and shrimp with a hint of cajun spice.
The best kind of sausage to use for jambalaya is andouille.. however it's hard to come across that in Ireland, so I found some delicious turkey sausages that did the trick and boy were they delicious. While turkey sausages are mostly zero-carb, you don't have to use them.
This recipe is PACKED with protein. Pair it with a fat heavy drink or dessert like chocolate mousse.
So one of the main ingredients of jambalaya is broth or stock. It is used to cook the rice and by the end of the cooking process, it is mostly soaked up. For this recipe, I left the stock out, since cauliflower doesn't soak up any water.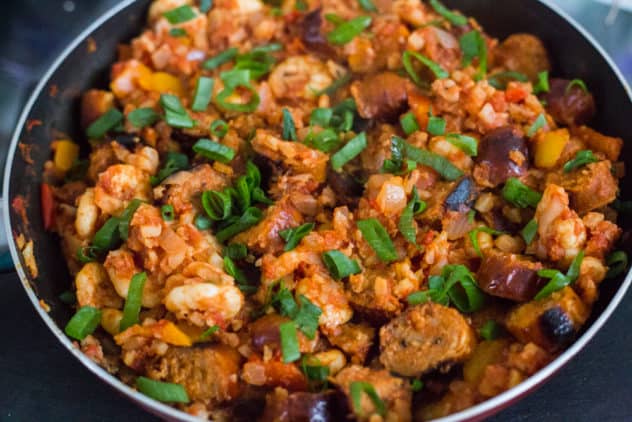 And before I get to the recipe, one more thing! If you are looking for a delicious cajun spice, many can be found in the grocery store. Just make sure it doesn't have any added sugars or maltodextrin.
If you like this keto jambalaya, make sure to check out my keto cheesy cauliflower rice.
My first keto cookbook – Keto Cravings – is on Amazon now!