One of the main reasons we avoid wheat bread on keto is because of the grains – but what people don't know is that the protein in wheat – aka gluten – is entirely keto friendly and very low carb! If you're lucky enough to be able to get your hands on some, you can make this keto bread with vital wheat gluten!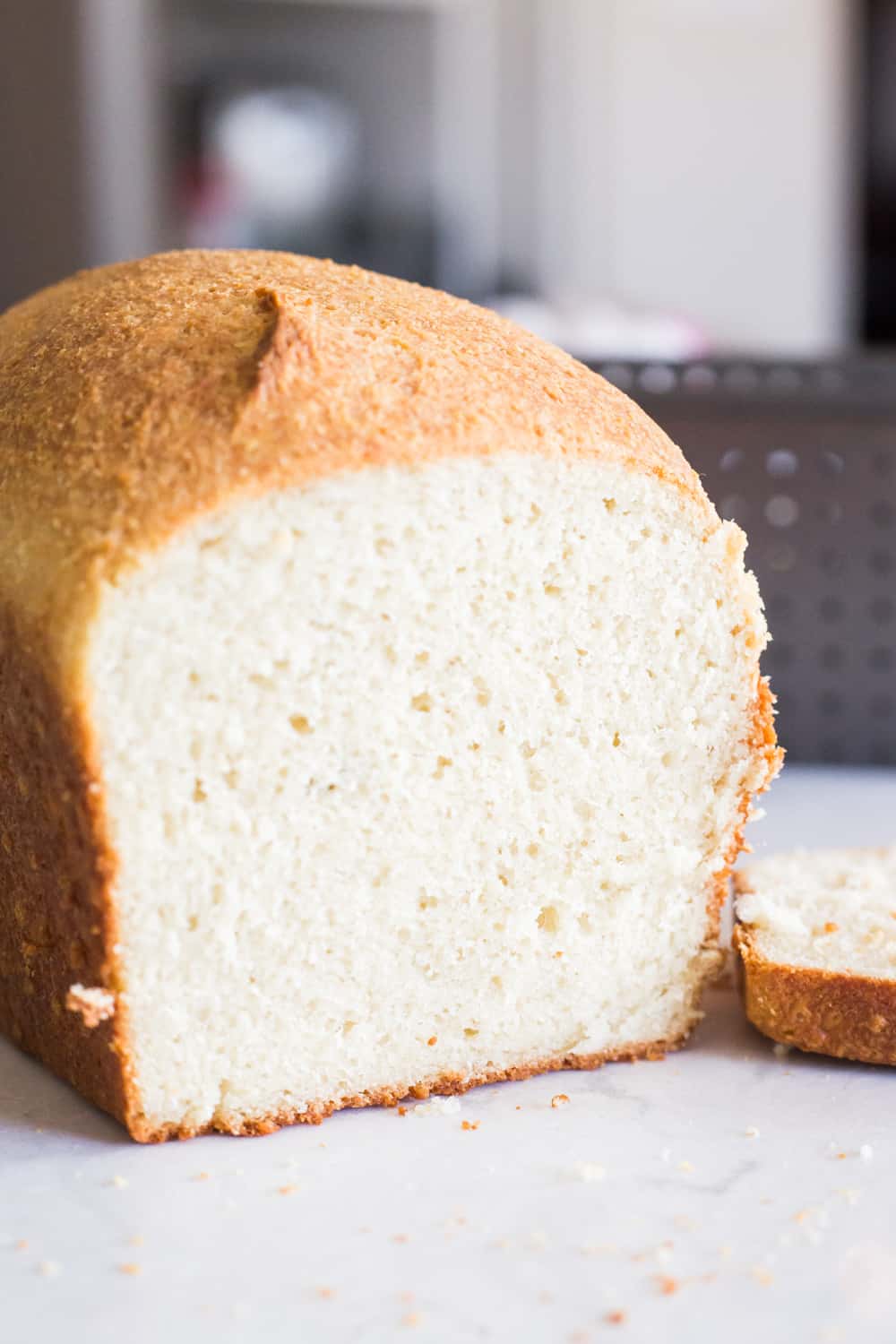 **NOTE: This bread contains gluten and therefore anyone with celiac or gluten intolerance should NOT make this bread. (In fact, I'd avoid it if you even live in the same house/apartment as someone who lives with celiac/intolerance)
So I haven't tried making this vital wheat gluten bread in a bread machine but it's worth a try. If anyone gives it a go – let me know how it turns out!
The two main ingredients in this bread – vital wheat gluten flour and almond flour. You will want to make sure that you get vital wheat gluten flour and NOT gluten flour. Most gluten flours are just high protein wheat flours that are high in carbs.
As for the loaf pan – I used a 9×5 loaf tin, but I also halved the recipe and tried in a 1 loaf pan (see pics below). I recommend using an 8.5 x 4.5 for optimal rise. The 9×5 was great but a little wide. The 1lb tin worked perfectly for half the recipe so a proper 8.5 x 4.5 pan will work just as well.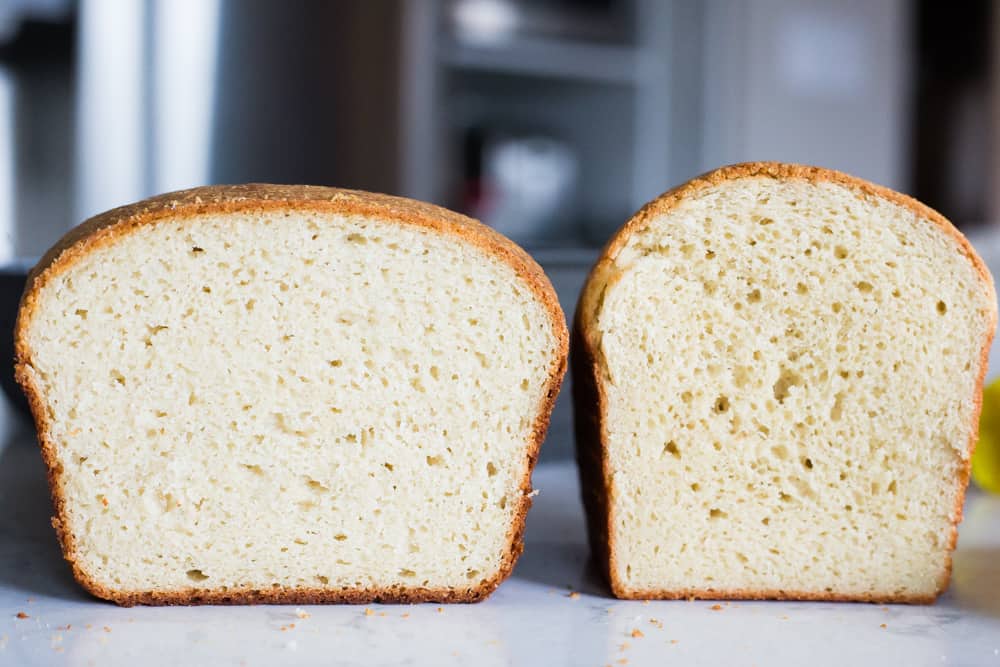 I used a stand mixer – as seen in the video attached to this page. It's really important to check the consistency of the bread frequently. It should only take around 5-10 minutes for it to be kneaded properly (even if it doesn't look like it) so you'll want to pull a piece of the dough and if it stretches without breaking (and you can feel resistance from the gluten) then you're good to go.
After it's done in the mixer – it won't really look like a bread dough – so to bring it all together, I oil the counter and my hands so I can knead until it's a nice dough that is stretchy and there's no holes in the outer layer. That's when it's good to place into the bread tin to rise.
Leave it covered and rising for about 2 hours and it should double in size. However, it may rise differently depending on altitude, humidity and yeast. (For eg,. traditional yeast is probably better than instant yeast)
And that's all there is too it! If you want to give a gluten free keto friendly bread a try – take a gander at my keto white bread!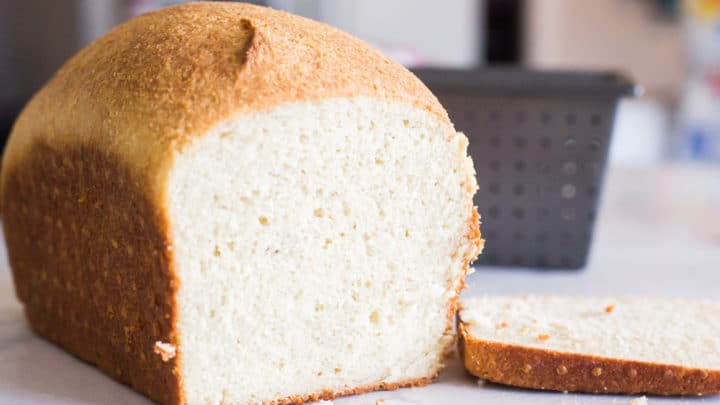 Yield:

25
Keto Bread Made with Vital Wheat Gluten
Total Time:
3 hours
15 minutes
A low carb loaf that looks and tastes like real deal! This vital wheat gluten bread is super easy to make!
Ingredients
3 tsp instant yeast
320ml warm water
3/4 tsp salt
4 tbsp olive oil + extra for kneading
Instructions
Add all the dry ingredients except salt to a mixing bowl for a stand mixer.
Stir
Add salt and stir again.
Pour in the water and olive oil. (If you are using traditional yeast - proof the yeast in this water with a tsp sugar 15 minutes prior to this step.)
Use the paddle attachment and turn the mixer on to the lowest setting.
Mix for 5-10 minutes, checking consistency of dough frequently. When the dough is stretchy, has some resistance and doesn't break - that is when you can stop)
Oil the counter and your hands and knead the dough for an additional 2-3 minutes until it's nice and smooth.
Place in a 9x5 loaf tin and cover with seran/cling wrap and a towel. Let rise for 2 hours.
Bake at 350°F / 175°C for 45 minutes.
Let cool, slice and enjoy!
Notes
If you're having issues kneading by hand and it keeps tearing - let the dough sit for 5 minutes and add a tsp of water.
This makes around 25 slices.
Nutritional Information per slice:
CALS: 120
FAT: 8
CARBS: 3.6
FIBRE: 1.4
NET CARBS: 2.2
PROTEIN: 9.6