So the other day, I had Terra chips for the first time and they were pretty darn good but I wondered if I could make these at home and what do you know, beet chips are so easy to make!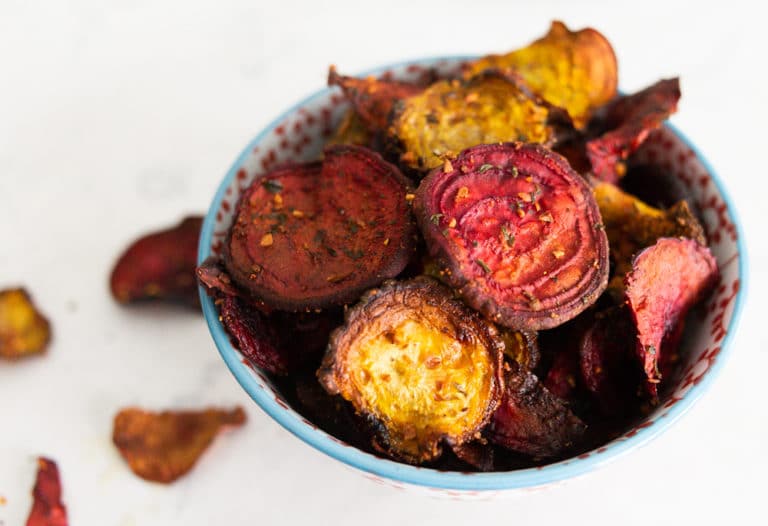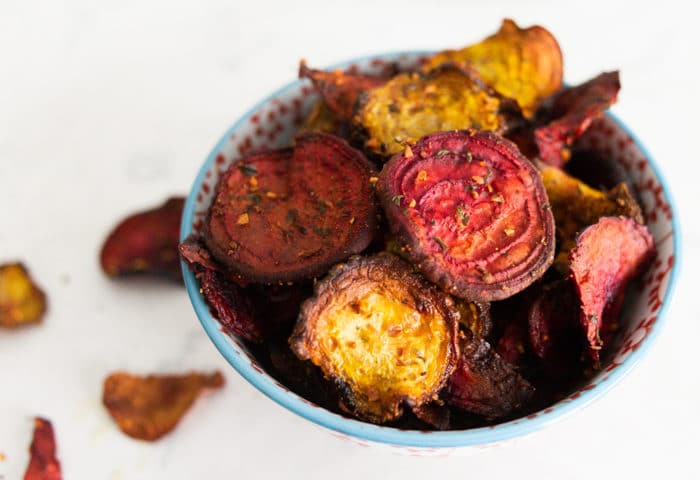 You actually don't need a ton of ingredients for this or special equipment. You can make it in the air fryer or make it in the oven. Both are so good and the crisp is still there hours later.
What you will need to make homemade beet chips
Of course, beets are the main ingredient in these crisps – and you can use different kinds! I preferred using a combo of golden beets and purple beets … and to be honest, I actually liked the golden beets better!
If you do use purple beets, I would warn that the colour is not only vibrant but has the possibility to stain anything. So always wash counters right away so it doesn't stain a purple colour.
The only other ingredients needed are smoked garlic powder and salt. Although you can use any seasoning you want, I do recommend the smoked garlic!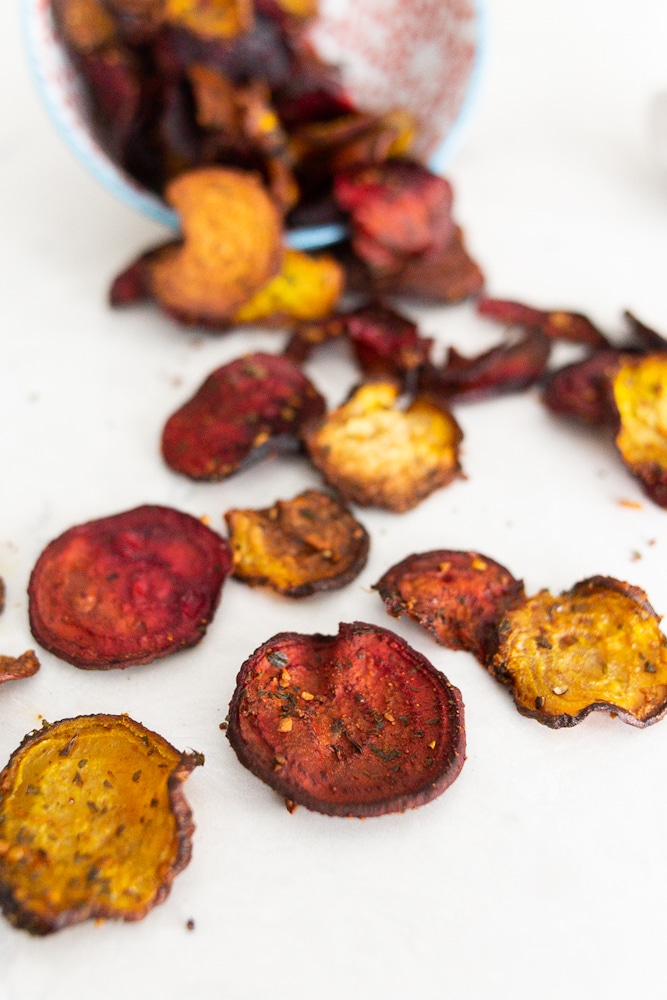 How to make beet chips
While the ingredients are minimal, it is somewhat time consuming because you will need to salt the beets ahead of time to draw out as much liquid as possible.
Using a mandolin is highly recommended – but you can also cut it yourself into 1/4 inch thick slices. Spread a teaspoon of salt over the beet slices and put them into a collander and let them drain in a bowl for a mininum of 4 hours.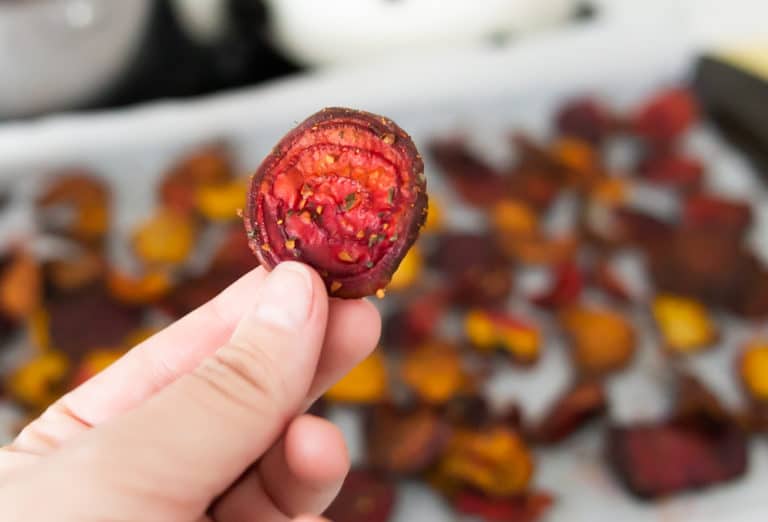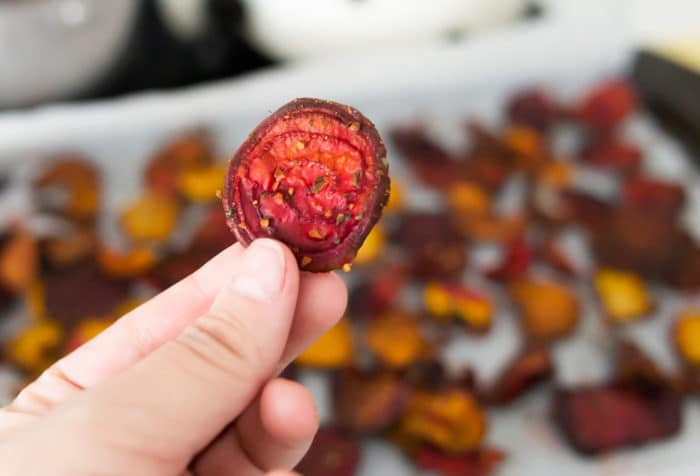 After most of the water has been drained – dry them off and cover them in olive oil. Sprinkle in the seasoning, mixing so that they are covered equally. Add a bit of salt here too!
Bake or airfry at 250F for 1 hour, then turn up the heat to 350F for 10-15 minuntes until nice and crisp. Cool and enjoy! So simple!
Check out my 1 ingredient cheese chips, which are a good alternative to potato chips! Love to use them for nachos!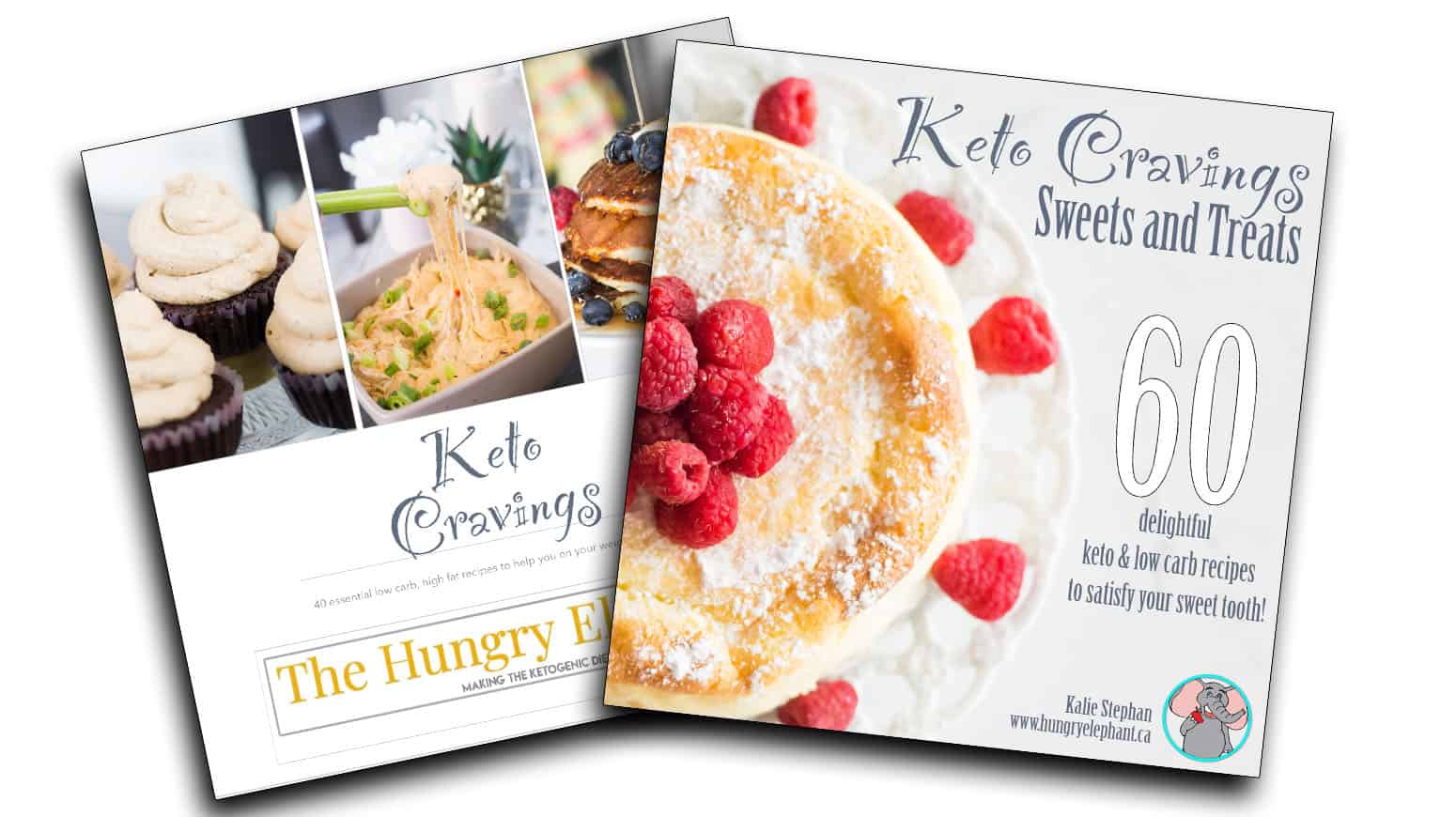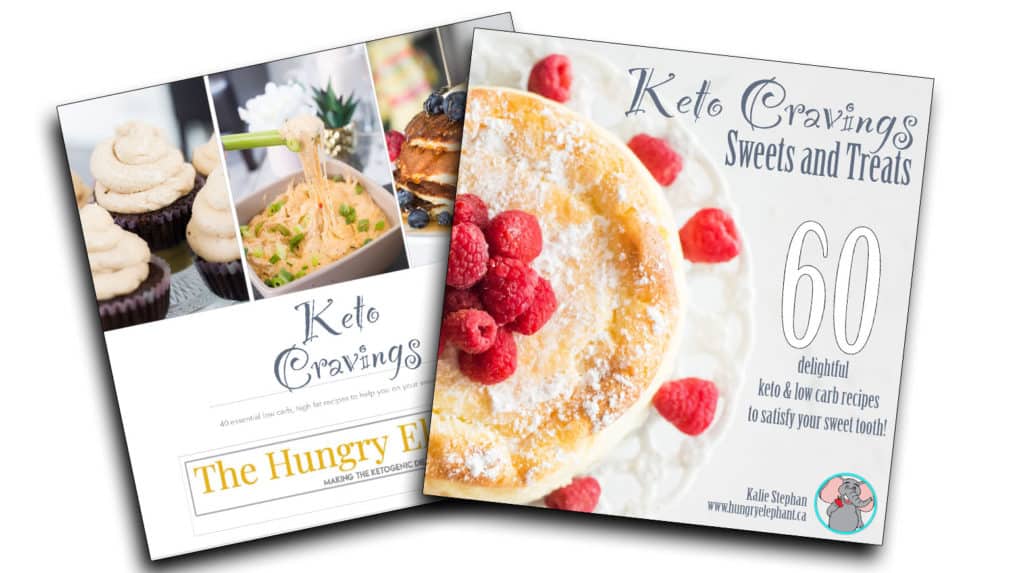 Cook Time:
1 hour
15 seconds
Total Time:
5 hours
10 minutes
15 seconds
These beet chips are the perfect subsitute to potato chips - they have that starchy feel plus they get really crispy!
Ingredients
6 beets - sliced 1/4 inch thick
1 1/2 tsp of salt
Sprinkling of seasoning - I used smoked garlic
Instructions
Slice the beets into 1/4 inch thick slices. A mandolin works best for this.
Place the beets in a collander and salt them with 1 tsp of salt. Let the beets sit for 4 hours as they drain into another bowl.
Dry the beets with paper towel.
Place the beets on a cookie sheet lined with parchment paper.
Brush each side with olive oil.
Sprinkle your seasoning generously on each side.
Bake at 250 (or air fry) for 1 hour
Turn the oven up to 350 for another 10-15 minutes until extra crispy.
Enjoy!