Keto cheese chips that are a perfect replica for tortilla chips! They can be used for nachos, dipping and a heck of a lot more! This keto cheese chips recipe is my FAVOURITE!
Ok ok I know Im way behind on this and I already have a fathead based flatbread thats fairly similar.. However! Whenever I try to make keto cheese chips, they end up being holey.. if that makes sense? I needed a crisp cheese chip that holds its shape and doesn't boil in the oven and give it a ton of holes.
But I found the perfect oven temps to have a cheese hold its shape and doesn't have tons of holes, making it incredibly similar to a tortilla chip. I highly recommend.
Now one thing that you will need to use is a low-moisture cheese. I used both gouda and edam slices and they worked PERFECTLY. Provolone would also work. I found that parmesan, mozzarella and cheddar are too oily/greasy.
I think one of the best things about this recipe is that it makes SO MANY chips. I used 10 slices of edam and 10 slices of gouda and I got like 8 servings out of it!
Season these delicious treats with anything you want!
If you like these, make sure to check out my fathead flatbread or keto crackers!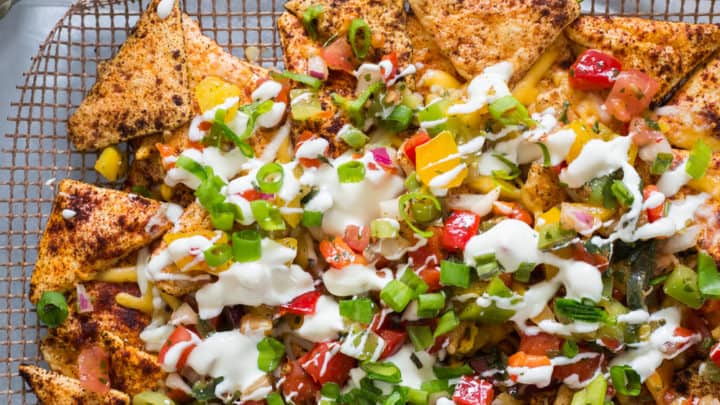 Yield:

8
The BEST Keto Cheese Chips
Cook Time at 200°F:
25 minutes
Cook Time at 375°F:
10 minutes
Perfect keto cheese chips to replace tortilla chips! Great for dipping, nachos and more! Gluten, grain and sugar free. Only 1 ingredient!
Ingredients
20 square slices - gouda, edam, or provolone cheese (approx 2 packages)
Your choice of herbs & spices
Instructions
Take half your square cheese slices and place them on top of each other neatly to form a tower.
Use a knife to cut from corner to corner, forming an 'X'
Cut straight down the centre and across the middle from side to side so that you get 8 triangle shapes.
Place the cheese triangles on a sheet of parchment paper and top with your herbs & spices.
Bake for 25 minutes at 200°F / 100°C.
Then turn the oven up to 375°F / 190°C for 10-12 minutes. Keep an eye on it so they don't burn.
Take them out and let them cool.
Cut and bake the second batch of 10 cheese slices.
Serve as you wish!
Notes
These will still be somewhat soft when you take them out of the oven but they will harden up as they cool.
This makes roughly 8 servings.
Nutritional Information per serving:
CALS: 218
FAT: 17.5
CARBS: 0.3
FIBRE: 0
NET CARBS: 0.3
PROTEIN: 15