Originally I wanted to make a chocolate swirl BREAD but as I was going through the recipe in my head, I decided instead to make it into a keto marble cake instead!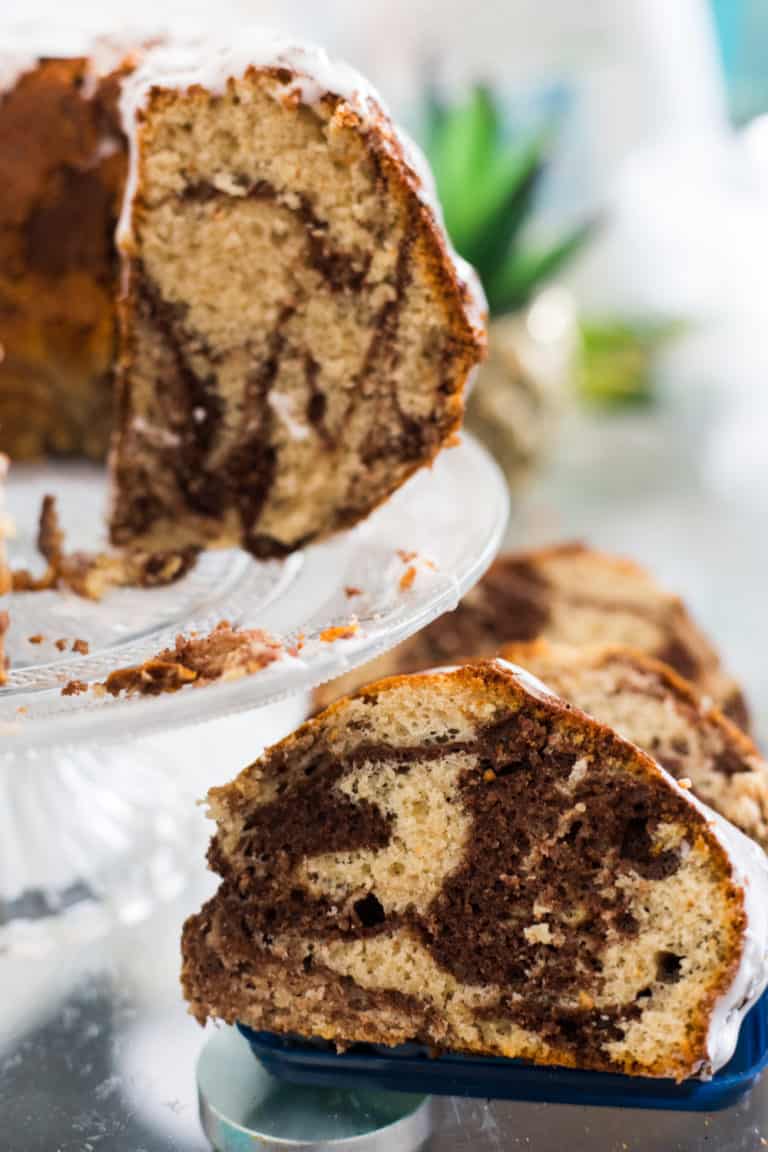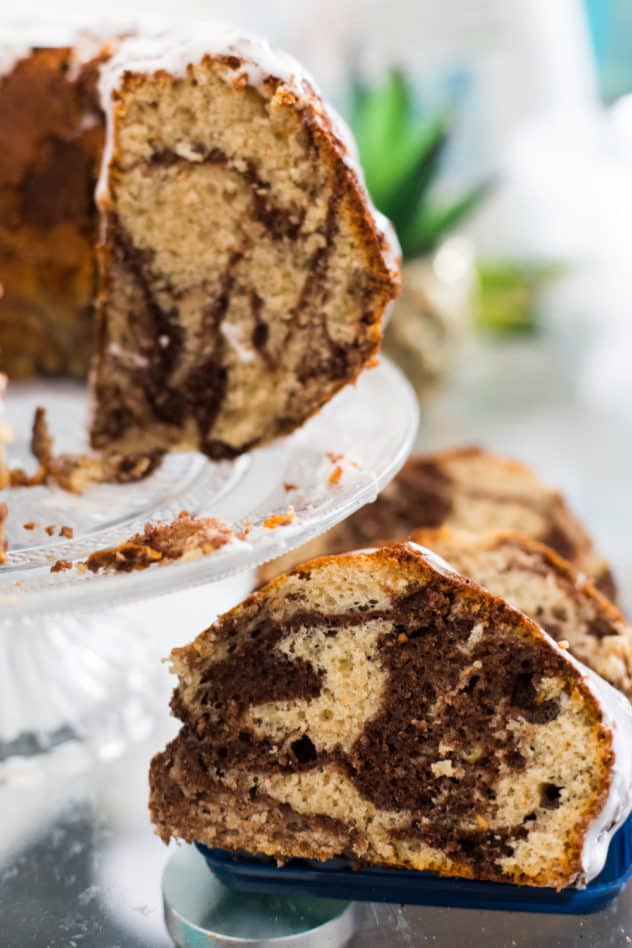 Now this is super easy to make and I can't recommend it enough! I used some vanilla flavoured protein powder to make the vanilla flavour pop. However, if you have unflavoured – try adding in a tbsp of vanilla flavouring (or your favourite flavouring).
If you want to make this without the whey isolate – omit the powder and make the batter without it. If it's really runny, continue to add a few tbsp of almond flour at a time until you get the consistency of the batter in the video (like a cake batter). However please note that it will probably not rise as much as my cake did.
Before I go into the recipe, one BIG tip: grease the cake pan! I made sure it was thoroughly greased and I had no issues taking the baked cake out.
Hope you guys enjoy – if you like this cake, make sure to check out my Kentucky Butter Cake – it's a keto fav!
****RECIPE UPDATED AUG 30th*******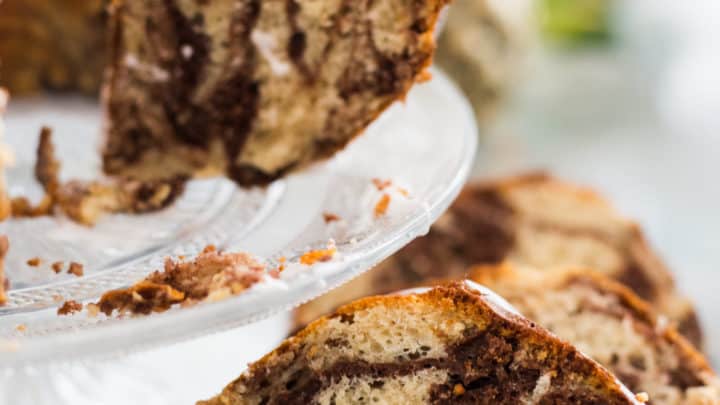 Yield:

15
Keto Marble Cake
A keto marble cake for the books! Easy to make and totally yummy! Gluten, grain and sugar free!
Ingredients
2 tsp baking powder
3 medium eggs
1/4 cup (50g) butter - melted
8 tbsp sour cream or greek yogurt
1/4 cup (60ml) heavy cream
2 tsp vanilla
2-3 tsp extra heavy cream
SYRUP (optional but recommended)
1/4 cup (50g) butter
1/3 cup (60g) sugar substitute (I used erythritol)
1 tbsp vanilla
2 tbsp water
Instructions
In a mixing bowl, whisk together the almond flour, whey isolate, baking powder, and sugar substitute.
Crack in the eggs and pour in the melted butter, cream and sour cream.
Stir together until a batter forms.
Divide the batter and put half the batter into a separate bowl.
Add the cocoa powder and 2-3 tsp extra heavy cream into one of the bowls (so one is chocolate and the other is vanilla).
Mix the chocolate batter thoroughly.
Spoon a layer of batter into a greased cake pan. Alternate between the chocolate and vanilla flavours.
Once the first layer is done, use a spoon or skewer to slightly swirl them together (make sure not to mix it entirely)
Continue adding the rest of the batters, swirling together as you go.
Bake at 350°F / 175°C for around 25-30 minutes.
Take the cake out, use a skewer or end of a utensil to poke several small holes into the top (technically the bottom) of the bundt cake.
Whisk in your sugar substitute, vanilla and water. Heat and stir until the sugar substitute has dissolved
Pour the butter mixture around the cake, making sure the holes are filled with the butter. Keep swirling the pan around until your mixture has dissolved into the cake.
Set aside and let it cool for 1 hour.
Top with your favourite glaze - optional! I melted 1 cup of sugar free marshmallows and 1 tsp of water!
Notes
This makes roughly 15 slices.
Nutritional Information per slice:
CALS: 183
FAT: 13.6
CARBS: 4.4
FIBRE: 2
NET CARBS: 2.4
PROTEIN: 12.8