Jalapeno and cheese is one of the most delicious combos out there – from jalapeno poppers to a spicy cheese dip – you just can't go wrong! That's why I decided to try my hand at a grain free jalapeno cheese bread and boy – it did NOT disappoint.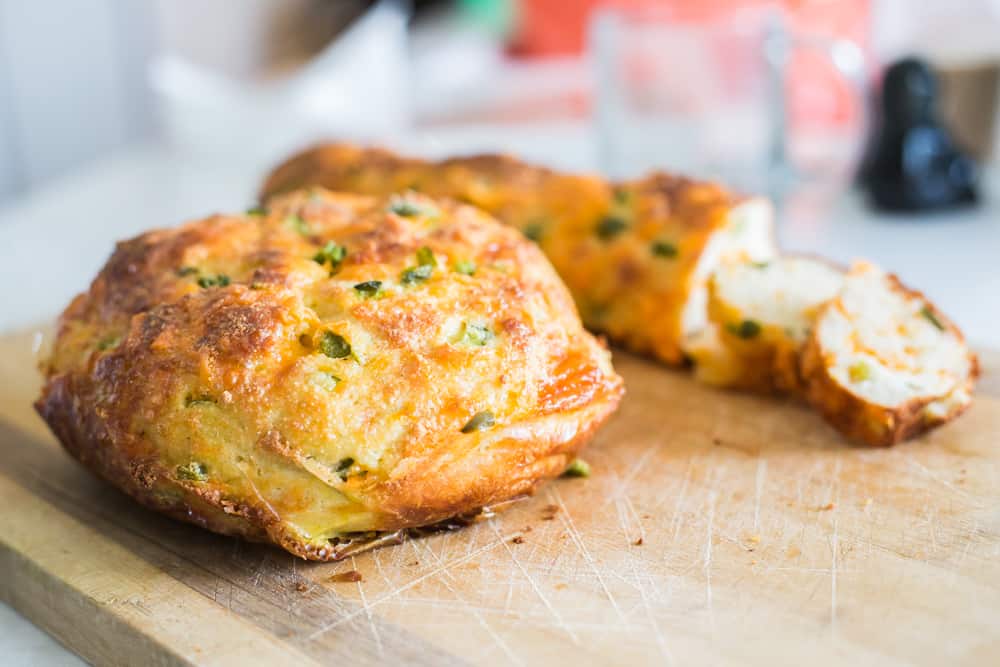 This low carb cheese bread recipe is based off my grain free bread recipe using almond flour and arrowroot flour. To be honest, it's one of the best grain & gluten free bread I have made!
Now, like I mentioned in the base recipe – this is probably not for people doing strict keto. The arrowroot is higher in carbs but if it fits your macros – go for it! This bread is a based off of two recipes I spotted when I was in the testing phase. The first one is Dr. Bergs "Healthiest Bread in the World". The second is from Jess at PaleoGrubs. I highly recommend checking both those recipes out!
As Dr. Berg has mentioned, arrowroot is low-glycemic and can be used in moderation. I do understand if serious keto-ers do not want to make this recipe though.
This bread is so delicious that I made TWO batches – one I turned into baguettes!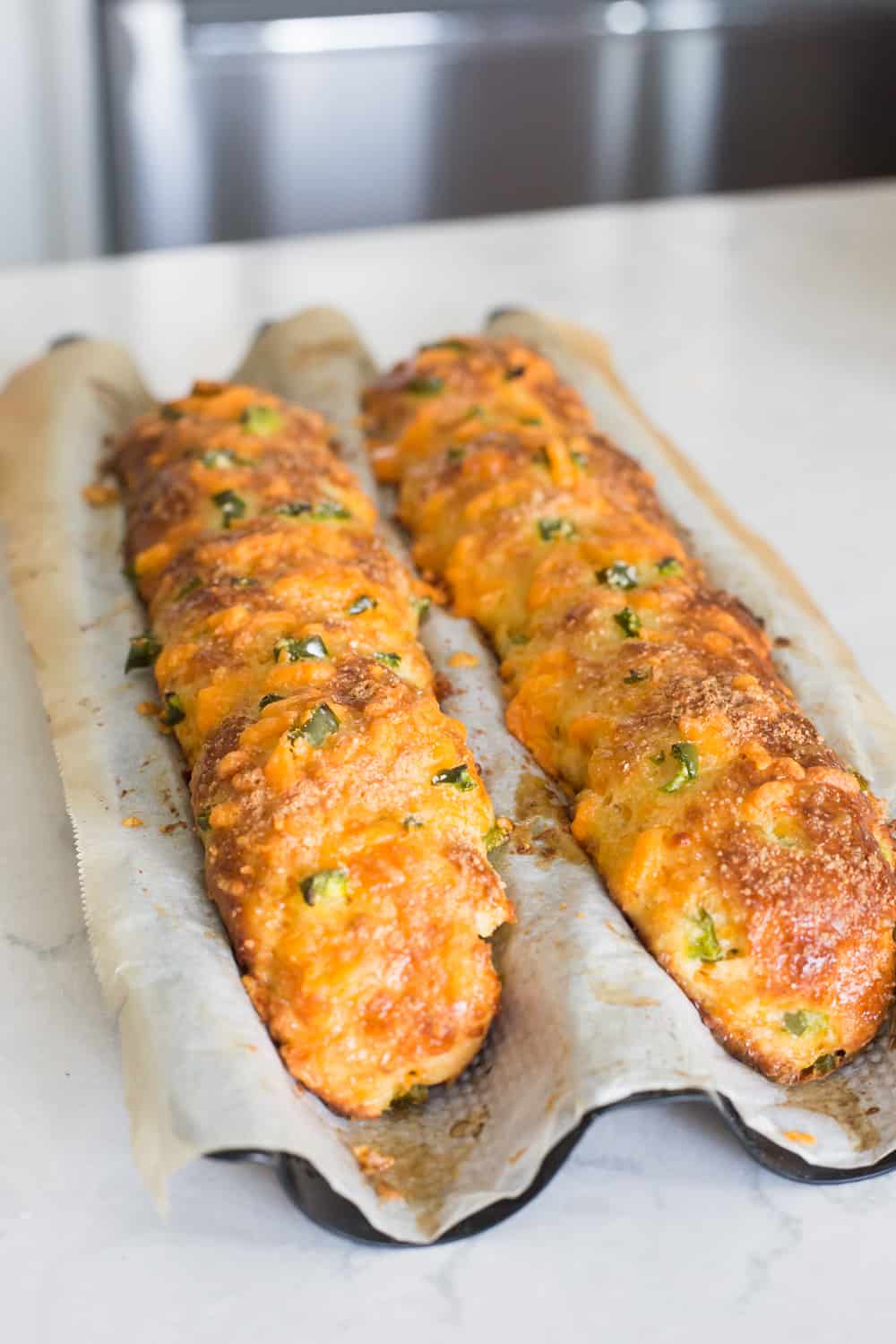 I really hope yall like it! Make sure to check out my original grain free bread and my grain free olive bread!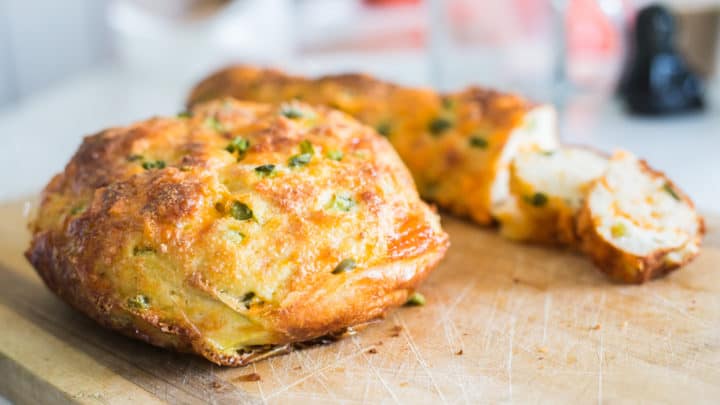 Yield:

15
Grain Free Jalapeno Cheese Bread || Low Carb
The perfect grain free jalapeno cheese bread! NO gluten! It's so good you'll be going back for more! You can also turn them into baguettes.
Ingredients
1 tsp xanthan gum
2 eggs - separated
1 tsp olive oil
1 tsp minced garlic
1/2 tsp salt
1/3 cup (80ml) + 2-3 tbsp warm water
2 1/2 tsp yeast (1 packet)
1 cup cheddar cheese - shredded
1 1/2 jalapenos - chopped
Instructions
In a mixing bowl whisk together the arrowroot, almond flour, quick yeast, salt, xanthan gum and inulin (or sugar).
Separate the eggs and add the egg whites to the dry mixture.
Pour in the olive oil, garlic and water.
Mix thoroughly until you have a thick dough. Make sure it's all incorporated.
Add in the cheese and jalapenos and mix thoroughly again.
Transfer to a piece of parchment paper.
Wet your hands and form one circular loaf with the dough, smoothing down the top.
Brush the top with the egg yolks.
Place the dough ball into a large mixing bowl, Dutch oven or casserole dish and cover with a towel or cling wrap.
Place in a warm area to rise for about 45 minutes to an hour.

There are two ways to bake this:
On a baking sheet: Place the dough along with the parchment paper on a baking sheet - bake at 400°F / 200°C for 30 minutes.
In a dutch oven or casserole dish: bake covered for 30 minutes at 400°F / 200°C. Take lid off after the half hour and bake until browned.. (Approx xx minutes)
Take out both breads and cool on a rack until near room temp.
Notes
This makes approx 15 slices for the loaf. Nutritional info per slice:

CALS: 150
FAT: 10.8
CARBS: 8.7
FIBRE: 1.8
NET CARBS: 6.9
PROTEIN: 5.9

This makes approximately 40 slices if made into a baguette - nutritional information per slice:

CALS: 56
FAT: 4.1
CARBS: 3.3
FIBRE: 0.7
NET CARBS: 2.6
PROTEIN: 2.2