I've been wanting to make a circular loaf of bread for the last few months and I've made about a dozen before I finally made a really delicious grain free bread recipe that is under 10 whole carbs per serving! Plus it's paleo friendly!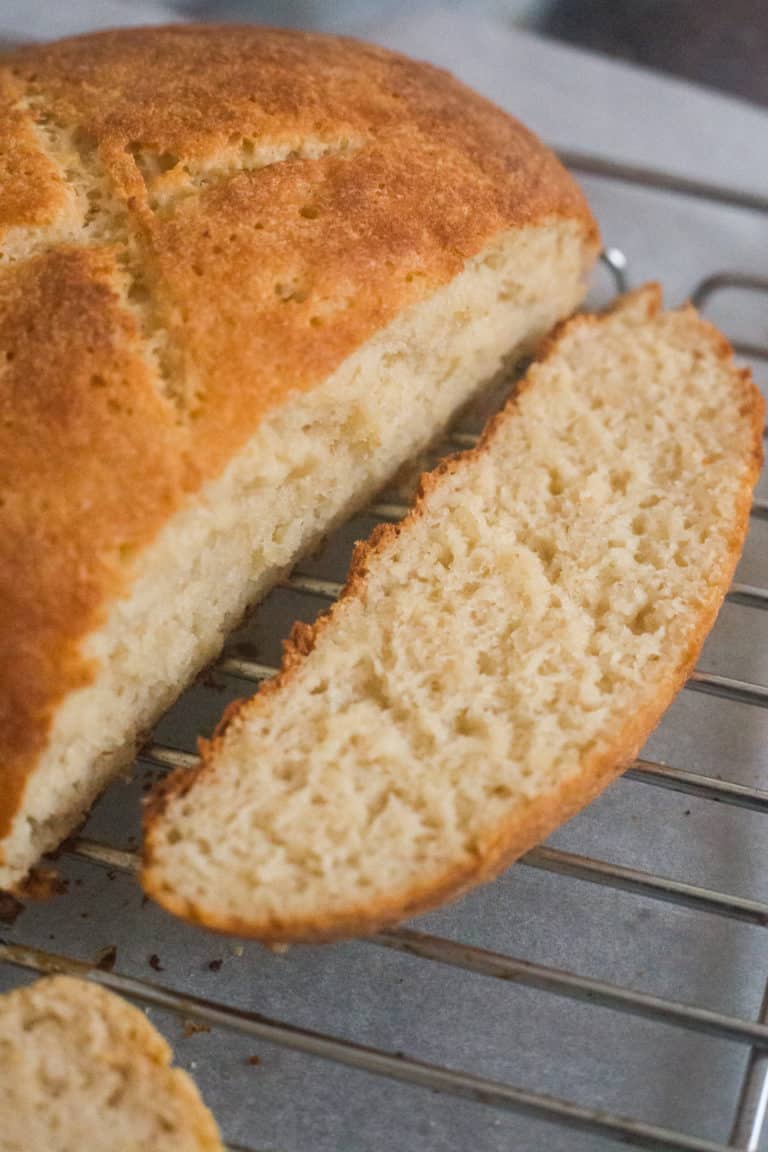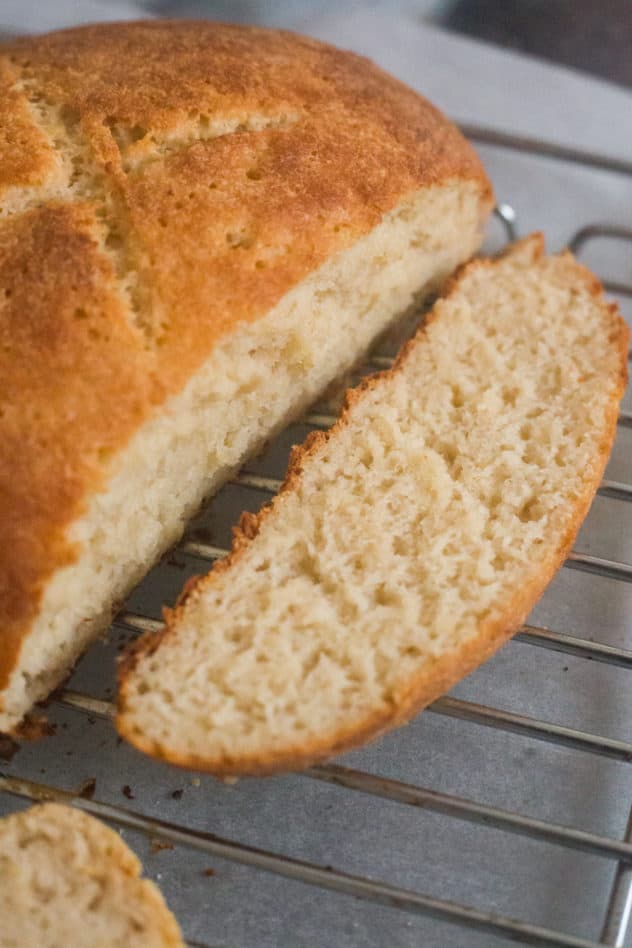 This bread is a based off of two recipes I spotted when I was in the testing phase. The first one is Dr. Bergs "Healthiest Bread in the World". The second is from Jess at PaleoGrubs. I highly recommend checking both those recipes out!
Before I go any further, yes, I use arrowroot flour in this recipe, so that means it's more of a low carb loaf than keto. (However the carbs are still low-ish, so if it fits your macros, go for it).. so that's why it's labelled "Low carb" and not keto.
HOWEVER, As Dr. Berg has mentioned, arrowroot is low-glycemic and can be used in moderation. I do understand if serious keto-ers do not want to make this recipe though.
If you want to try to make this keto – you can attempt to use 1.5 cups (100g) whey or pea isolate instead of arrowroot (check out my white bread recipe and see what I mean) but you'll probably have to adjust the water to be about 1 cup (250ml)
This is SO easy to make! This video contains the recipe for a yeast bread and a baking powder bread.. both turned out wildly different so it's up to you which one you want to make but let's go over each loaf..
YEAST BREAD: This batch is probably my favourite out of the two. It is fluffy and browns easily in the oven. My only wish is that it would have risen a bit higher. Has a wheat bread taste to it.
BAKING POWDER BREAD: Out of the oven, this bread rose higher than the yeast bread but it didn't brown as well. It's also a tad bit more dense and a little less fluffy (but still fluffy)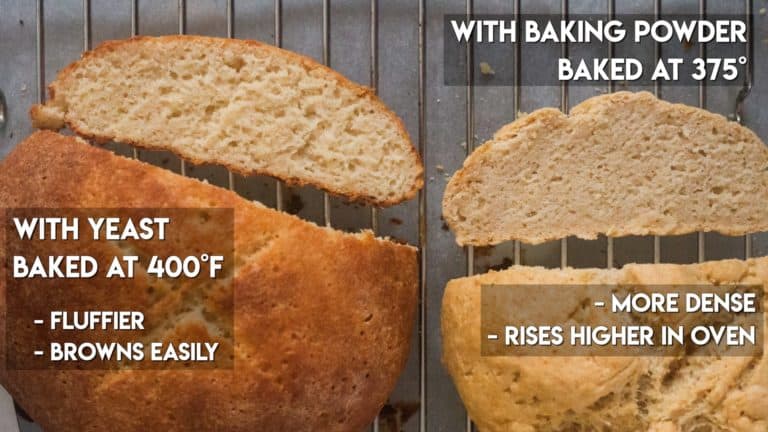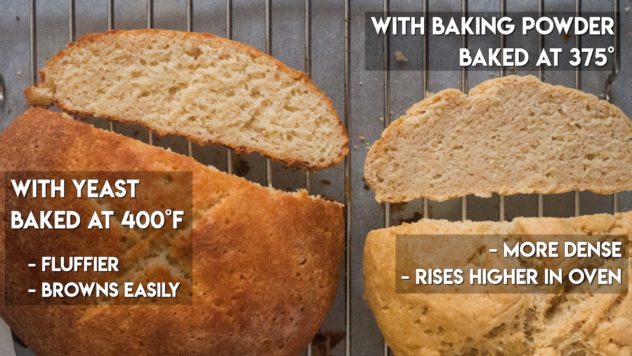 Both taste incredible!
If you like this bread, make sure to check out my keto white bread. I also made this bread into a grain free jalapeno cheddar loaf – be sure to check it out!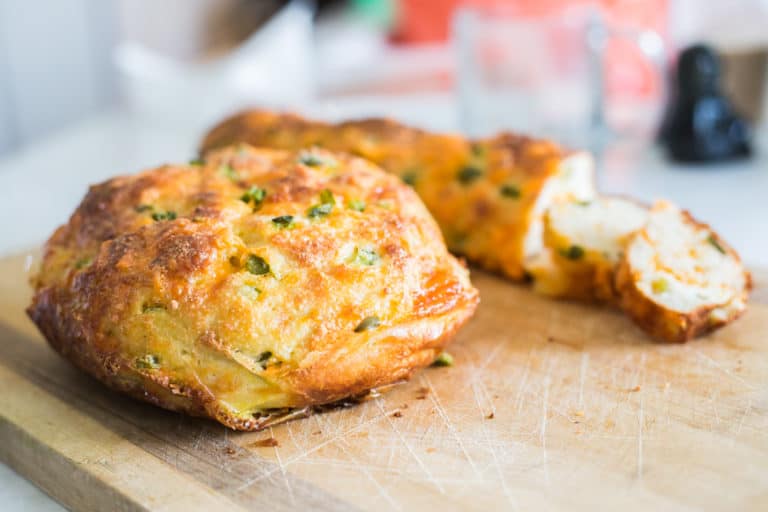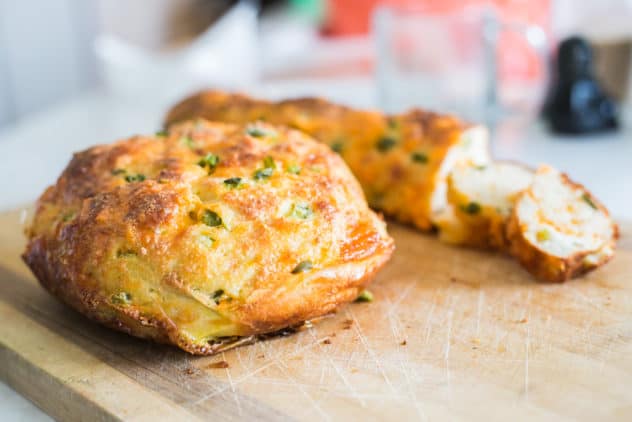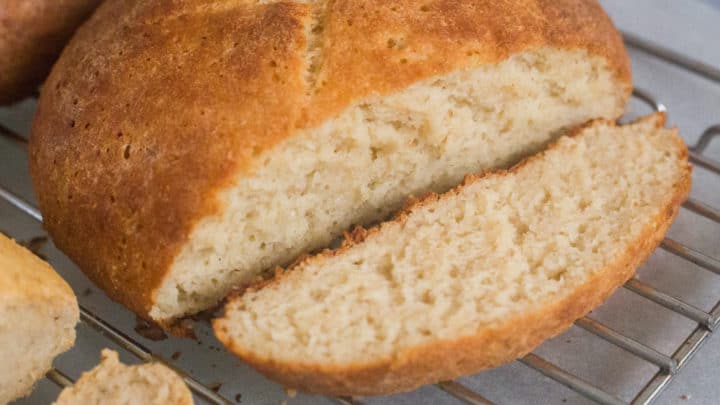 Yield:

15
Low Carb Grain Free Bread Recipe
Total Time:
1 hour
5 minutes
The perfect grain free bread to slather with butter! I used yeast to rise the loaf but baking powder also works. Takes minutes to make and no kneading needed!!
Ingredients
1 tsp xanthan gum
2 eggs
1 tsp olive oil
1/2 tsp salt
1/3 cup (80ml) + 1-2 tbsp warm water
2 tsp baking powder
OR
2 tsp quick yeast
1 tbsp sugar
Instructions
In a mixing bowl, sift together the almond flour, arrowroot, xanthan gum and baking powder. (if you are using quick yeast, add it to the flour here along with the sugar and omit baking powder)
Separate the eggs and set aside the egg yolks for later.
Add the egg whites, olive oil and warm water to the dry mix.
Stir until a somewhat thick batter has formed.
Dump the batter onto parchment paper.
Wet your hands and form one circular loaf with the dough, smoothing down the top.
YEAST BREAD: place the dough ball into a large mixing bowl and cover with a towel or cling wrap. Place in a warm area to rise for about 30 minutes.
After 30 minutes, brush with egg yolk.
Bake at 400°F / 200°C for 25-30 minutes. Keep an eye on the bread and at around 20 minutes, if it's brown, cover lightly with foil so it won't burn.
BAKING POWDER: Brush with egg yolks and 'score' the top of the bread. Bake at 375°F / 190°C for 30 - 35 minutes.
Take out both breads and cool on a rack until near room temp.
Enjoy!
Notes
These loaves both make around 15 slices.
Nutritional Information per slice:
CALS: 110
FAT: 7.5
CARBS: 8.9
FIBRE: 1.8
NET CARBS: 7.8
PROTEIN: 3.7