When I say this is one of the best pizzas I've had – I mean it. This keto pesto pizza is honestly a big fave. I used to eat it days in a row – it's that good! And now I'm sharing it with YOU.. because honestly, you all deserve it.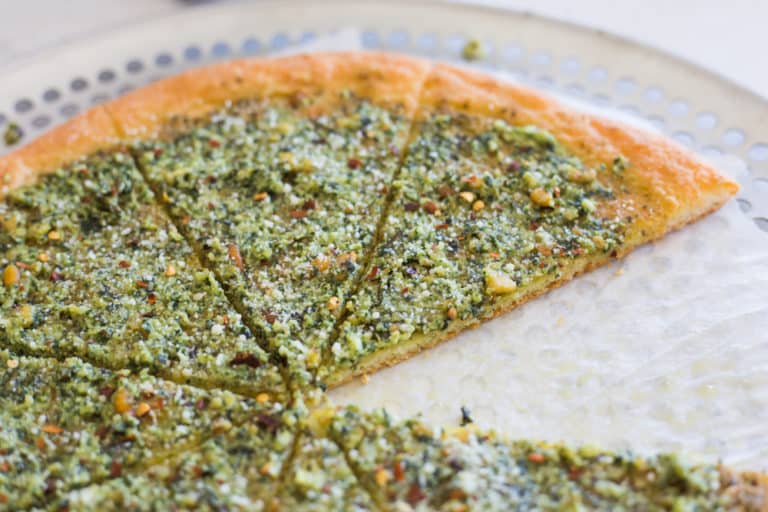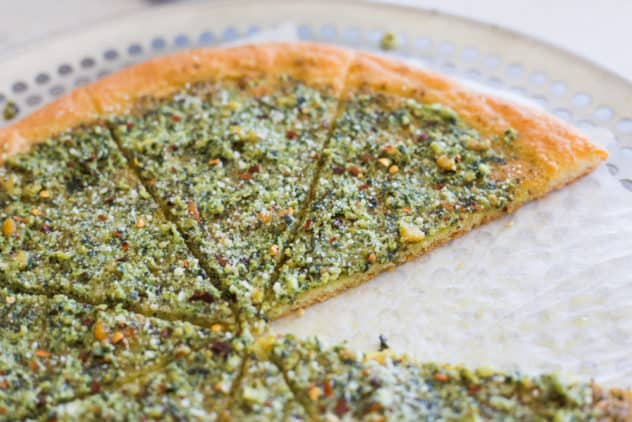 The key to making this pizza perfect is using fathead dough as the crust. I usually HATE making fathead and honestly, I'm kind of over it in general but with the pesto topping.. it is absolutely delightful! However, if you want to try it on a non-fathead dough, I recommend this one (but again, fathead is better for this).
You'll notice I skipped the cream cheese in the crust (the OG recipe calls for 2 tbsp) and that's only because I didn't have any but if you want to add it, feel free!
I will also recommend using fresh homegrown basil. Obviously, if you can't – you can use store bought basil (organic perhaps)… but there's something about homegrown basil – it's much stronger both in smell and taste. I have found the store bought basil to be a bit lack luster if you ask me.
Anywho – this keto pesto pizza is amazing and I hope you all like it!
Check out my easy keto vegetarian pizza or my keto fathead free pizza crust!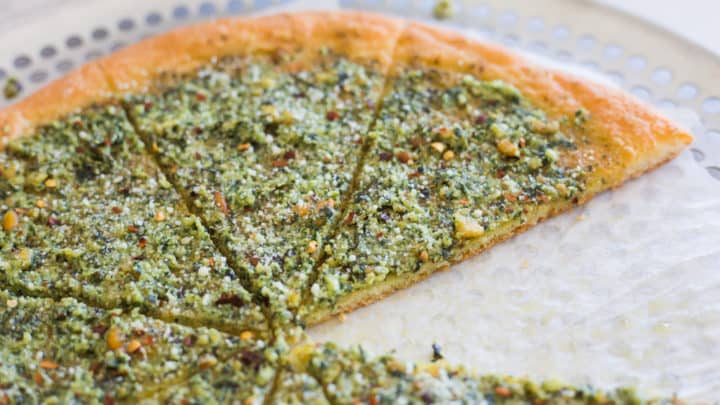 Yield:

8
Keto Pesto Pizza
This keto pesto pizza will not disappoint. Paired with the fathead crust - this will be a new favourite! Gluten, grain and sugar free.
Ingredients
CRUST
3/4 cup (75g) almond flour
1 tsp baking powder
2 cups (200g) shredded mozzarella
1 egg
PESTO
2 cups (40g) - packed basil
1/2 cup (125ml) olive oil
3 tbsp minced garlic
2-3 tbsp pine nuts (optional)
1/2 cup (45g) parmesan cheese
salt & pepper
Instructions
In a food processor or blender, add your basil, olive oil, pine nuts, garlic and parmesan cheese. Blend until smooth.
Set aside.
In a mixing bowl, stir together the almond flour and baking powder.
Add in the melted mozzarella. (Melt using a microwave or double boiler)
Crack in the egg and being to mix together.
Once somewhat combined, take out and knead on top of a piece of parchment.
When the dough is all mixed together, roll flat between two pieces of parchment.
Use your hands to form it into a circular pizza.
Bake at 350°F \ 175°C for 25-30 minutes.
Take out and spread some of the pesto on top!
Enjoy!
Notes
You can use storebought pesto if wanted!
This makes approx 8 slices.
Nutritional Information per slice (approximate):
CALS: 199
FAT: 16.5
CARBS: 3.8
FIBRE: 1.2
NET CARBS: 2.6
PROTEIN: 11.7