I have been CRAVING Chinese dumplings lately and so you bet I had to make a keto version!! These are amazing and totally taste like the real thing!
One thing I will note is that the recipe is different in the video than in the post below – when I made this recipe today, I only made enough dough for 1/2 the pork!
So just beware, the recipe below is DOUBLED for the dough compared to the video.
Other than that, these are actually fairly easy to make and you should have all these ingredients in your household. (I mean, I did)
Also can we talk about how I managed to buy the fresh pork, green onions and almond flour for less than €5. Amazing!
Ok ok back to the recipe. One thing I know I will get in the comments is can you replace or leave out the whey. You can probably replace it with an extra 1/4 cup (25g) almond flour, but I HIGHLY recommend grabbing some unflavoured protein powder. It is SO versatile!
Hope you enjoy these potstickers! I think I did a pretty good job at folding them for the first time (but it needs more work!)
If you like these, make sure to check out my keto lasagna noodles, keto white bread or my favourite keto Hawaiian sweet bread!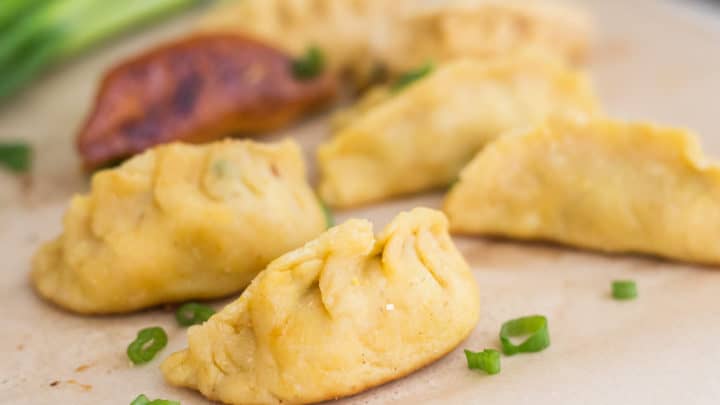 Yield:

20
Keto Dumplings (Potstickers)
Keto dumplings but without all the guilt of the carbs! Easy to make plus gluten, sugar and grain free. Only 1.5 net carbs per potsticker!
Ingredients
DOUGH:
1 tsp salt
2 tsp xanthan gum
2 egg
FILLING:
1/2 lb (225g) minced pork
1 tsp ginger - minced or powdered
1.5 tsp garlic - minced or powdered
2 tsp sesame oil
1 green onion - chopped
FOR COOKING:
Instructions
First things first, let's get that pork setting in some delicious sesame sauce.
In a bowl, stir together the ingredients for the filling. Cover and marinate for 30 minutes in the fridge.
While your pork sits, place the almond flour, whey, xanthan gum, and salt into a mixing bowl. Stir thoroughly.
Crack in the egg and start to mix.
Once it becomes hard to stir with a spatula, use your hands to knead the rest of the dough together.
Roll the dough into a long log shape, about 2-3 inches in width.
Cut the dough into 20 circular pieces.
Take one of those pieces and cover the rest of the dough with a damp paper towel.
In between two pieces or parchment paper, roll the small piece of dough into a circle. Make sure it is not too thin that it tears. Should be maybe 1/8th of an inch thick.
Place 1 tsp of filling into the centre of the dough.
Fold the dough in half, in a half-moon shape and press the sides together to seal.
Continue to roll, fill and fold the other pieces of dough.
Once all the potstickers have been made, heat up 2 tbsp of olive oil in a non-stick pan on medium high heat.
Gently place your dumplings into the oil and cook for about 3-5 minutes or until the bottom of the potstickers are a golden brown.
Add 1-1.5 inches of water and immediately cover the pot.
Keep the pot covered for about 15 minutes.
After 15 minutes, take off the lid and cook off the excess water. The potstickers will crisp up a bit more on the bottom.
Once the water has evaporated, take the dumplings off the heat and serve alongside some coconut aminos (or soy sauce)
Enjoy!
Notes
This makes roughly 20 potstickers.
Nutritional Information per potsticker:
CALS: 130
FAT: 10.3
CARBS: 2.7
FIBRE: 1.2
NET CARBS: 1.5
PROTEIN: 7.8