You guys – these keto beignets are absolutely AMAZING. Deep fried dough with chocolate inside. I can't believe how they turned out!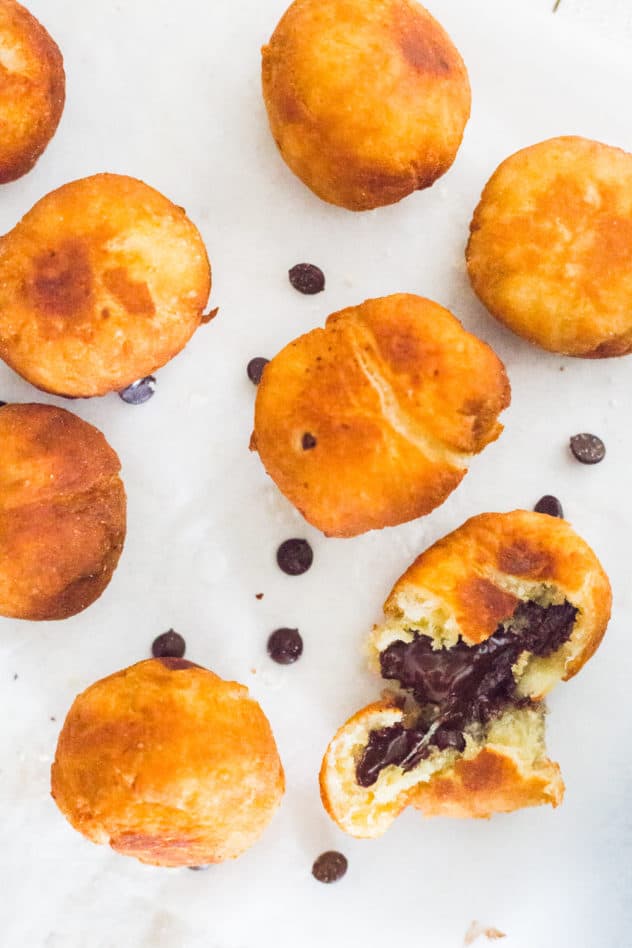 Yes – I KNOW that this isn't a choux based pastry. Instead, I used fathead dough as a base because it is the only one that I have found that is good for wrapping things without falling apart, but I added some whey isolate because it gives it more of a fluffy bready texture and it deep fries really well.
One note I will mention is that when you are stuffing the dough with the chocolate chips – make sure you roll is fairly thin, but not thin enough that it tears or is see through. If it's too thick, you will have trouble getting all the dough to cook during the deep frying process.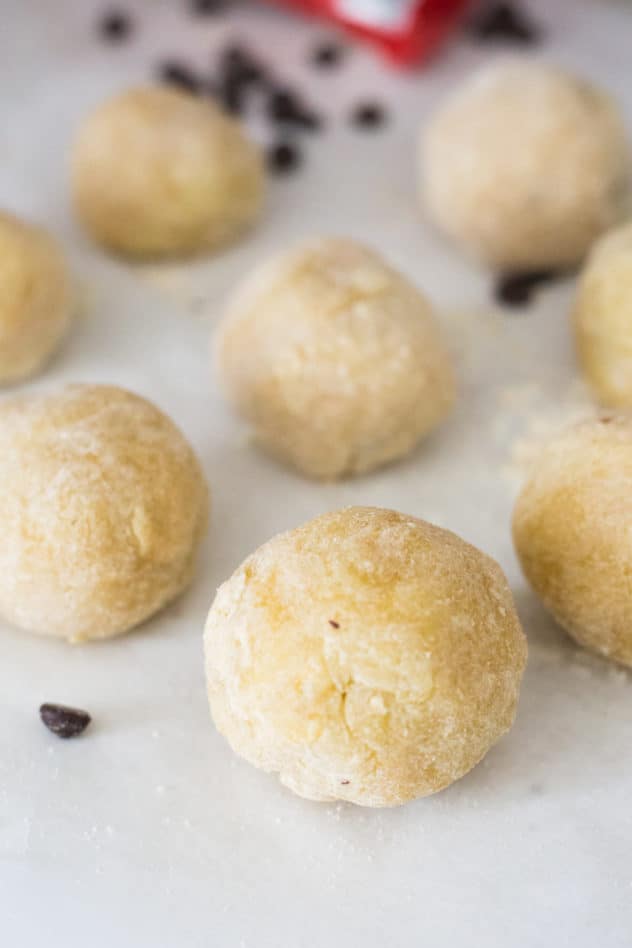 Definitely deep fry this on medium heat if possible. If it's too high, only the outside of the dough will cook – and it will be basically BLACK and charred. Make sure that it's hot enough to fry and bubble when you drop the dough into the oil. It should take around 5ish minutes for the dough ball to turn a golden brown colour.
Other than those two notes – it's fairly simple and straight forward. I have new ideas for this dough which I'm excited to show you shortly!
If you like these, make sure to check out my keto chocolate swirls, keto cinnamon buns or keto Irish cream pie!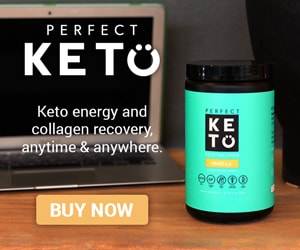 Use code HEdiscount for 15% off individual PerfectKeto products such as collagen powder & MCT oil powder!
Yield:

10
Keto Beignets with Chocolate Filling
Fluffy keto beignets with a chocolate filling! 1.8 net carbs per beignet! Gluten, grain and sugar free.
Ingredients
2 tsp baking powder
1 tbsp vanilla extract
1.5 cups (170g) mozzarella cheese - shredded and melted
1 medium egg
Oil or drippings for frying
Instructions
Im a mixing bowl, whisk together the almond flour, whey isolate, baking powder and sugar substitute.
Spoon in the melted mozzarella cheese.
Crack in the egg and add the vanilla extract.
Use a spoon to stir it together. Once it starts to form a dough, use your hands to knead it so it is fully incorporated.
If you are having trouble and the dough is too sticky, add in another 1/4 cup (25g) to 1/2 cup (50g) of almond flour. Knead until it is nice and smooth and tacky but not sticky.
Take a golf ball sized chunk out of the dough and give it a sprinkling of whey isolate.
Use your hands to flatten the dough into a circle - again, as above, make sure it is not too thin that it tears, but not too thick either. Should be less than 1/2 inch thick.
Place 5-10 sugar free chocolate chips into the centre of the flattened dough.
Fold the dough over the chocolate chips and roll it together so that the chocolate is inside a ball of dough. Make sure there are no cracks.
Continue inserting the chocolate and folding the rest of the dough. You should get around 10 dough balls.
With the oil or drippings in the saucepan, bring it up to medium heat.
Drop in one or two of the dough balls and cook for 5-ish minutes until it turns a nice golden brown.
Continue to deep fry the rest of the dough balls.
Cool a little before enjoying!
Notes
This makes roughly 10 beignets
Nutritional Information per dough ball.
CALS: 195
FAT: 14.2
CARBS: 4.3
FIBRE: 2.2
NET CARBS: 2.1
PROTEIN: 11.1