Ok, I finally jumped on the keto cinnamon roll bandwagon!
I TRIED to do it without using fathead, but in the end, they truly just didnt taste as great. I honestly think fathead cinnamon buns (at least these ones) rival Cinnabon!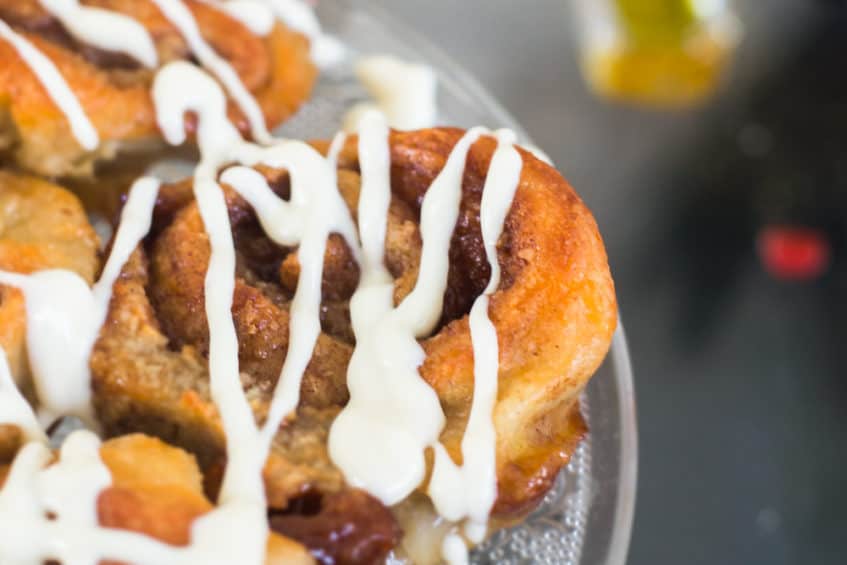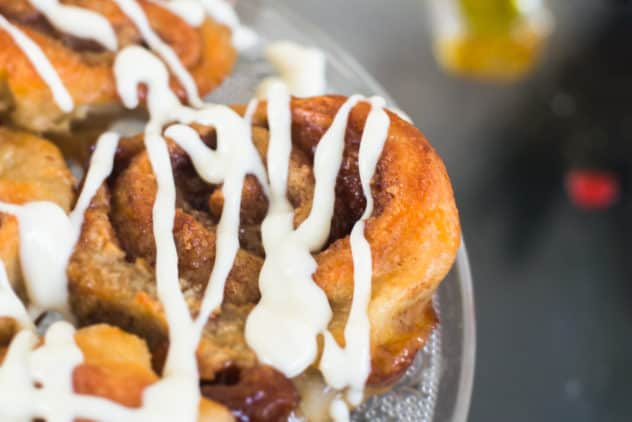 Trust me when I say – you do NOT taste the cheese in the dough. I realize that it seems like a lot of mozzarella but honestly, it gives the dough a moist texture without adding to the flavour!
These are great to make on a Sunday for the week – just reheat and go! Super easy.
If you like this recipe, make sure to check out my cinnamon roll smoothie, cinnamon roll latte or my cinnamon roll waffles!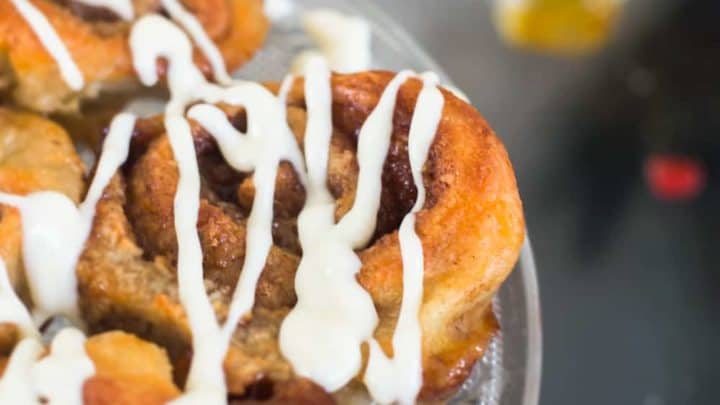 Yield:

6
Keto Cinnamon Rolls Recipe
Super easy and delicious keto cinnamon rolls. Topped with a cream cheese icing, these rival cinnabon!
Ingredients
BUNS:
1 1/2 cups (170g) mozzarella cheese - shredded
2 tbsp cream cheese
1/2 tsp baking powder
1 tsp cinnamon
1 tsp vanilla
1 egg
FILLING:
1/4 cup (50g) butter - melted
1 tbsp cinnamon
ICING:
1/3 cup (90g) cream cheese
1 tsp vanilla
1 tbsp heavy cream
Instructions
First lets make the cinnamon buns. In a microwavable bowl, stir together your mozzarella cheese and cream cheese.
Microwave on high for 45 seconds to 1 minute until the cheese has melted.
Pour in your almond flour, cinnamon, sugar substitute, baking powder and vanilla. Use a fork to mix the almond flour with the cheese.
Crack in your egg and continue to mix until a dough forms.
Place the dough between two pieces of parchment paper and use a rolling pin to roll it into a circle, similar to a pizza.
For your filling, melt your butter, then add in the sugar substitutes and cinnamon. Whisk together.
Pour the filling onto the dough and use a spatula to spread it around - like tomato sauce on a pizza!
Take one edge of the dough and start rolling it to the opposite side - similar to rolling a carpet. Use the parchment paper to handle the dough if it's sticky.
One the dough is a long roll, cut into 6 pieces.
You can either place the rolls in a small, lined casserole dish, squishing them together, OR put each roll into a muffin tin, lined with parchment paper.
Bake at 350°F/175°C for 25 minutes or until the top of the rolls have browned.
Take out and let cool for at least 10-15 minutes.
For the icing, place the cream cheese, sugar substitute, vanilla and heavy cream into a bowl. Microwave for 30-45 seconds.
Stir together and pour into a piping bag (or a ziplock bag) and pipe onto the cinnamon buns.
That's it! Enjoy!
Notes
This makes roughly 6 cinnamon buns.
Nutritional Information per bun:
CALS: 304
FAT: 27
CARBS: 5.1
FIBRE: 1.7
NET CARBS: 3.4
PROTEIN: 11.2