A keto chocolate swirl! I had a regular one at Starbucks not too long ago and knew I had to make these keto!!! They are just amazing and so chocolatey.
This recipe is super similar to my cinnamon roll recipe – in fact it's almost exact, except swap cinnamon for chocolate.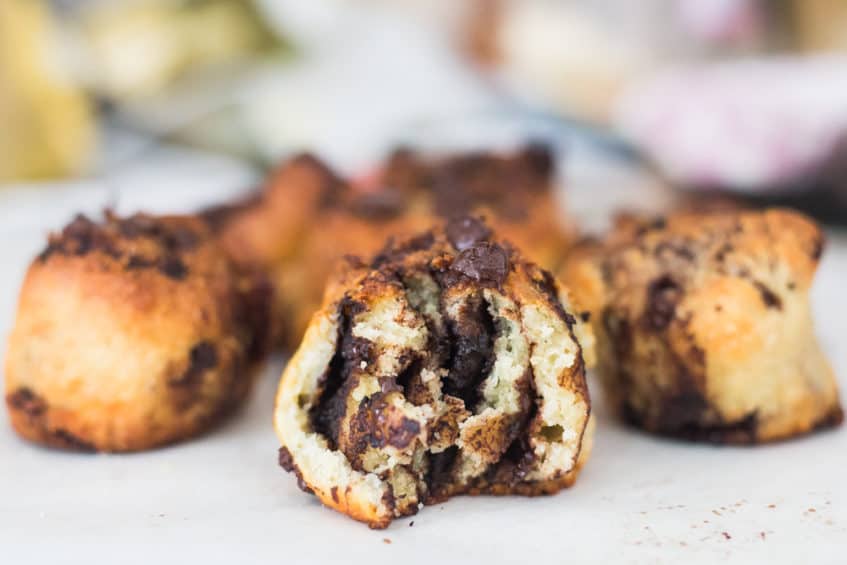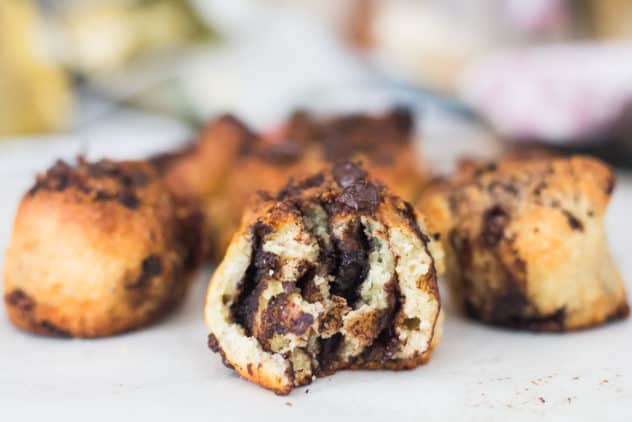 Because there's no gluten in this recipe, it's hard to find a dough that will hold together and be able to roll – so that's why I used fathead dough.
While I'm not regularly a fan of fathead, using it as a sweet dough is actually pretty good – you can't taste the cheese at all!
I added a scoop of whey isolate in here to give it a more fluffy texture, similar to bread. It worked really well!!
I recommend baking these for 15 minutes before checking on them. You want them to rise/expand from the baking powder and brown a little but not TOO much otherwise they will get too hard when cooled.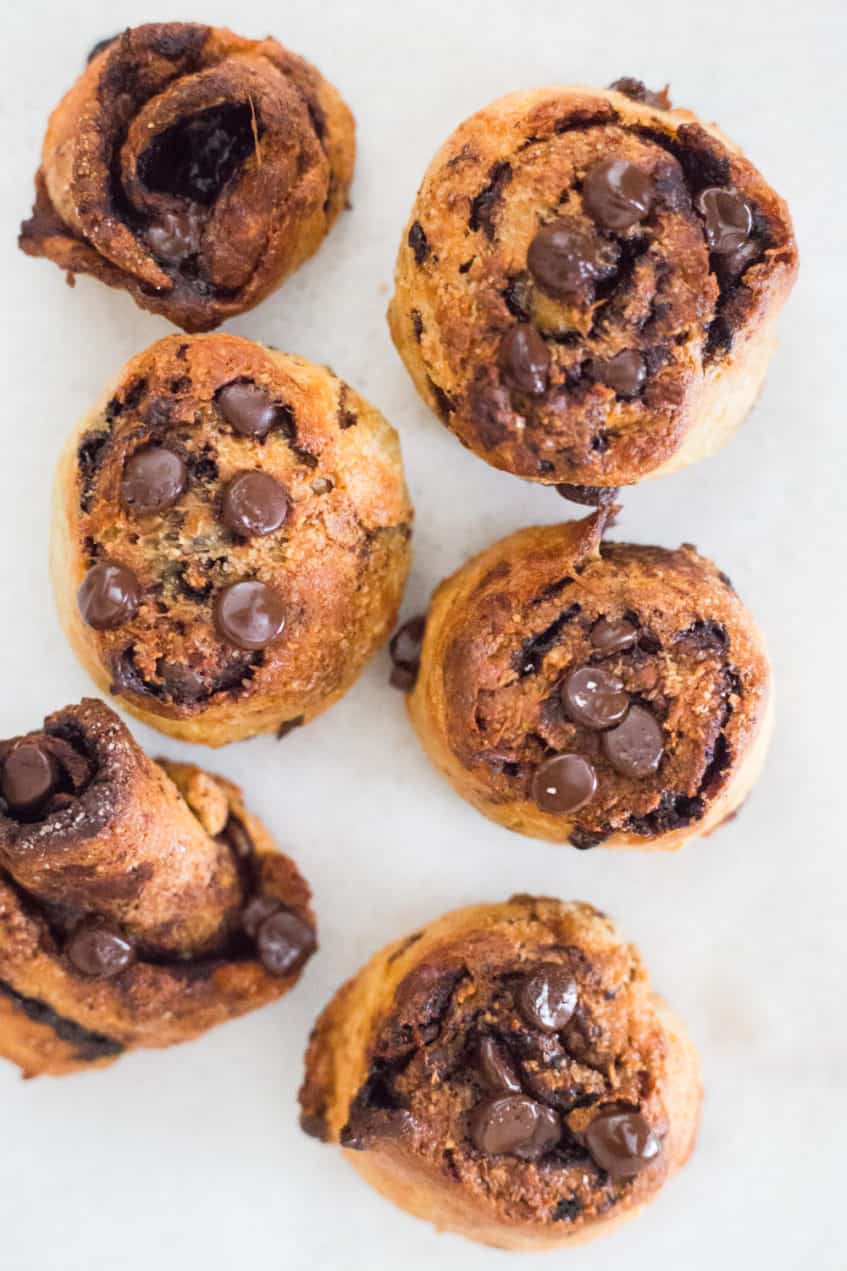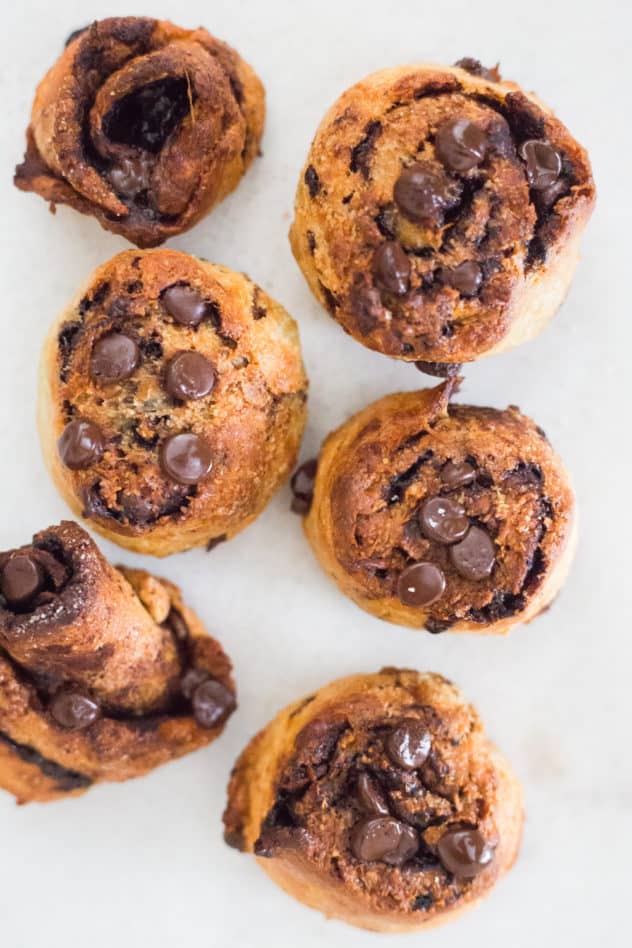 I found between 15 and 20 minutes is perfect!
Enjoy with a nice cuppa!
If you like these rolls, make sure to check out my Hawaiian sweet rolls, asiago bagels or cinnamon bagels!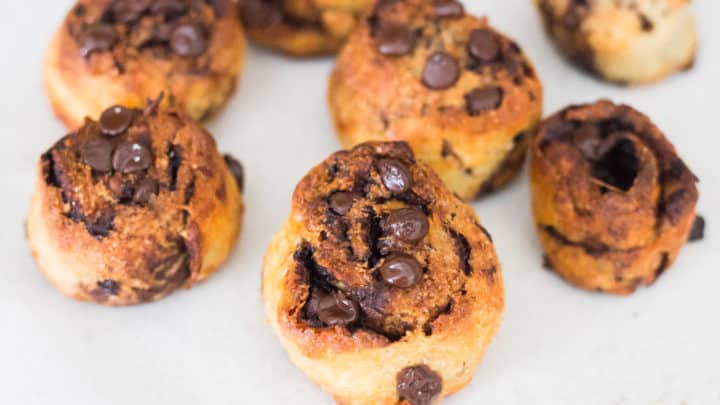 Yield:

8
Keto Chocolate Swirl Buns
Chocolate wrapped inside a vanilla bun! These keto chocolate swirl buns are gluten, grain and sugar free!
Ingredients
1.5 cups (170g) mozzarella - melted
2 tsp baking powder
1 medium egg
1 tbsp vanilla
1/4 cup (50g) melted butter
2 tbsp cocoa powder
Instructions
In a mixing bowl, whisk together the almond flour, whey isolate, baking powder and 1/4 cup (50g) of the sugar substitute.
Scoop in the melted mozzarella, egg and vanilla.
Stir until the almond flour becomes a little bit incorporated to the mozzarella then use your hands to knead into a dough.
Between two sheets of parchment paper, roll the dough flat into a rectangle shape (doesn't have to be precise).
Brush the top of the flattened dough with melted butter.
Sprinkle on the rest of the sugar substitute evenly across the dough.
Do the same with the cocoa powder and the majority of the sugar free chocolate chips.
Roll the dough up into a log, similar to how you roll a carpet.
Use a sharp knife to cut the log of dough into 8 slices.
Place into a muffin tin lined with cupcake liners.
Bake at 350°F / 175°C for 15-20 minutes.
Take out and enjoy!
Notes
This makes roughly 8 chocolate swirls.
Nutritional Information per bun:
CALS: 216
FAT: 17.5
CARBS: 3.4
FIBRE: 1.6
NET CARBS: 1.8
PROTEIN: 11.4