You may have seen the Japanese cheesecake video from Tasty – it went pretty viral. It looked amazing and I knew I had to try a delicious keto one.
One thing that I learned when making this is oven temperature is KEY to making this. Now my cheesecake isn't perfect looks-wise.. It's a bit cracked because my oven was TOO hot.. (My oven runs too hot). So make sure it's set at the correct temperature otherwise it may crack like mine did. However, even if it does crack, it still tastes AHMAZING.
If you are using a spring form pan, I HIGHLY recommend wrapping the bottom of the cake in tin foil before you place it in the water bath. Otherwise the water will seep into the cake and the bottom will be soggy/not cook correctly.
The best thing about this was how easy it was to make. It takes a bit of time for sure but it is actually fairly straightforward.
If you like these recipes, make sure to check out my keto birthday cake, Mississippi mud cake, Hawaiian sweet rolls or Nanaimo bars.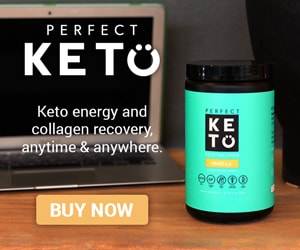 Use code HEdiscount for 15% off individual PerfectKeto products such as collagen powder & MCT oil powder!
Cook Time:
1 hour
30 minutes
Total Time:
1 hour
50 minutes
This Japanese cheesecake could not get any fluffier. It tastes amazing and has zero sugar and no gluten.
Ingredients
1 tbsp powdered sweetener
125g cream cheese
1 cup heavy cream
3 eggs, separated
1 tbsp vanilla extract
1/4 cup coconut flour
1/2 tbsp baking powder
1 tbsp vinegar
1/4 cup powdered sweetener
raspberries (optional and not included in macros)
Instructions
Pre-heat the oven to 350°F / 175°C.

In a double boiler, melt the cream cheese and mix thoroughly with the cream and tbsp of powdered sweetener.

Take it off the heat and wait about 5 minutes.

Pour the cream cheese mixture into the egg yolks. Whisk until the yolks are combined into the liquid.

Stir in your vanilla.

Sift your coconut flour and baking powder into the cream cheese mix. Whisk until it has thickened, then set aside.

In a clean bowl, beat your egg whites and vinegar until the whites are bubbly. Slowly add in your 1/4 cup of powdered sugar while you beat the whites to STIFF peaks.

Slowly fold small portions of the egg whites into the cream cheese mixture.

Once it's all mixed in, place into a cake dish that is either lined with parchment paper or greased.

Place that cake dish into another larger cake dish and fill that with HOT water. Make sure you do not get any water into the cake batter.

Place in the oven and then immediately turn the heat down to 320°F / 160°C. Bake for 40 minutes. (If you notice the top is browning quickly, place a piece of foil over the top of the cake pan.)

After 40 minutes, turn the oven down to 300 and let it cook for an additional 30 minutes.

Turn the oven off and let it sit in the cool oven for 15 minutes.

Cool for 4 hours before serving. Top with more powdered sweetener and some fruit!
Notes
If you are using a spring form pan, wrap the outside in foil so that water does not seep into the cake.
It is normal for the cake to deflate as it cools.
2 net carbs per slice.
Nutrition Information:
Yield:
10
Serving Size:
1
Amount Per Serving:
Calories:

163
Total Fat:

14.6g
Carbohydrates:

3g
Fiber:

1g
Protein:

3.6g