Who doesn't miss chocolatey goodness?? I know I do! I crave it allll the time, so of course I had to make a keto Mississippi mud pie because it contains three layers and most of them are filled with chocolate! Who can resist that?
Now, a subscriber alerted me to the deliciousness that is Mississippi Mud Pie – a lovely chocolate custard layered between whipped cream and a chocolate base (sometimes cake).
Just look at this picture – it's scrumptious!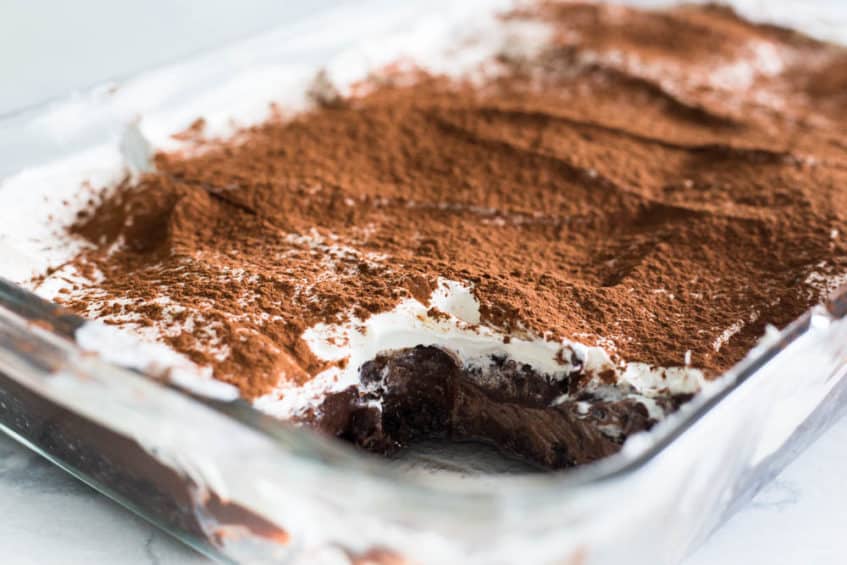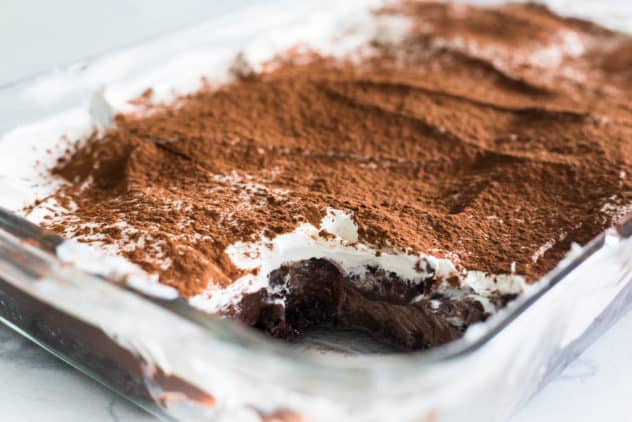 Now for the last layer in this video, I used cool whip – it's not a huge deal for me but I understand if some people don't want to use it. So I included the recipe for making your own whipped cream.

I cant even believe this stuff. It tastes amazing and so much better than I thought a low-carb chocolate dessert would taste!
If you like this recipe, make sure to check out my keto Japanese cheesecake, keto chocolate cake or my keto tiramisu cake!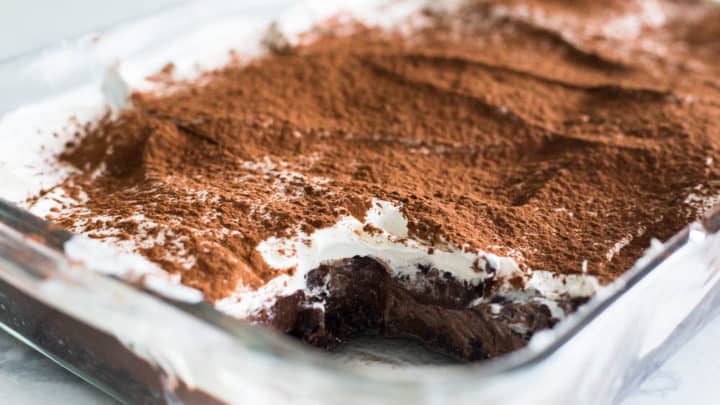 Yield:

15
Mississippi Mud Pie
Who doesn't miss chocolatey goodness?? I crave it allll the time, so of course I had to make a keto Mississippi mud pie! 3 layers of deliciousness.
Ingredients
1st layer
1/2 cup (1 stick) butter
5 tbsp cocoa
1/4 cup sugar substitute
1 egg beaten
1 cup almond flour
1 cup unsweeted coconut
Custard (2nd layer)
2 cups heavy cream
1/4-1/2 cup sugar substitute
3 egg yolks
5 tbsp cocoa
1/4 tsp(or a little less) xanthan gum
Whipped cream (top layer)
1 cup heavy cream
1/4 cup sugar substitute
tsp vanilla
Instructions
Ok - let's make the bottom crunchy layer. In a pot, melt your butter and sugar substitute and cocoa on medium heat. Stirring until all the sugar sub melts. Turn the heat down to low.
Beat your egg and slowly pour it into the butter mix while you whisk.. stirring until it has mixed in.
Take the pot off the heat and immediately stir in your coconut and almond flour. It should be able to be easily pressed down without it breaking apart.
Spread your almond flour/chocolate mixture onto the bottom of a casserole dish. Let it cool to room temp.
For the second layer, you need to work quickly. Heat up your two cups of cream on medium. Whisk in your cocoa.. let it heat up to a simmer.
In a separate bowl, place your egg yolks. Whisk in your sugar substitute. Now this is the important part.
When your chocolate cream has heated up, place it beside the yolks. Slowly add in your xanthan gum to the eggs, whisking continuously. DO NOT STOP. Slowly pour in the chocolate cream into the eggs as you continue to whisk.
Mix it all together and then pour the mix back into the stovetop pan, putting it back onto medium heat.
Stir continuously for about 5 minutes or until it has thickened up a bit. Pour the mix on top of the almond flour bottom.. and let it cool.
Once it's at room temperature, you can either top it with some cool whip like I did, or make your own using a hand or stand mixer. Just whip all the ingredients together until you have hard peaks.
Top the custard with the whipped cream and voila! Put in the refrigerator for 4 hours and serve! I topped mine with a bit more cocoa
Notes
Nutritional Information (/15)
CALS: 201
FAT: 17.5
CARBS: 9.6
FIBRE: 2.7
PROTEIN: 4.2
---
Our App!
If you want to get our recipes on the go – maybe you're grocery shopping or cooking by the stove – Download our FREE app where you can get ALL our recipes and even submit your own!
Apple iOS