Canadian Thanksgiving is upon us this weekend and while I won't be with my family this year, I did decided to perfect my keto stuffing recipe so I can make it for them next year!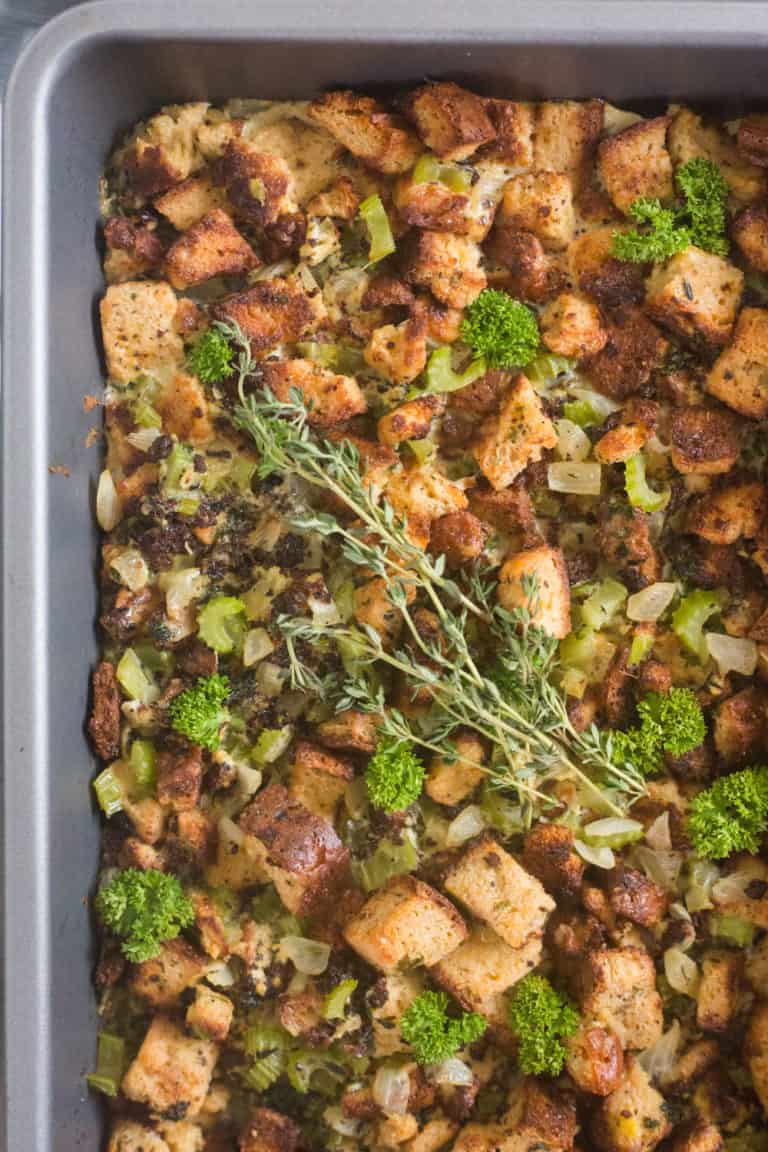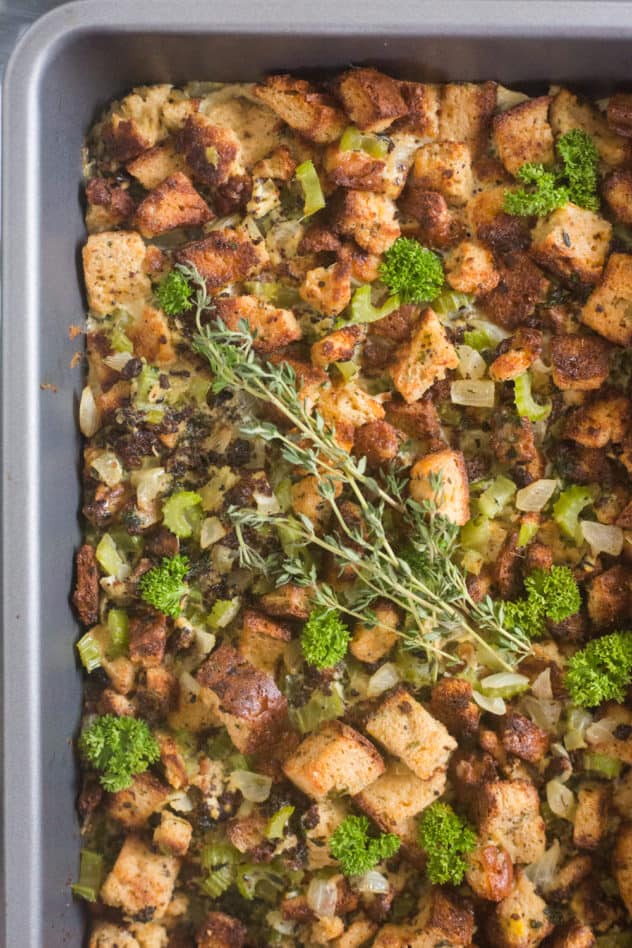 Last year I made this recipe and while I did enjoy it – there was something missing – BREAD. Since Thanksgiving last year, I have perfected my bread recipe, so I decided to use it to make stuffing and honestly guys – you couldn't tell the difference. It's absolutely delicious and it reminds me of home.
Really, you can use any keto bread you want – even store bought if you can find it. I made this recipe with my keto onion bread but I also recommend my keto white bread.
This keto stuffing recipe is actually fairly easy. All you have to do is toast the bread..saute the onions, celery and herbs, before adding broth and baking in the oven!
If you want to place the stuffing into a bird, I recommend cooling the (cooked) stuffing before spooning it inside.
Like this recipe? Make sure to check out my keto white bread and keto onion bread! Both are great for this recipe!
The is the perfect low carb and keto stuffing. With Thanksgiving & Christmas coming up, this dressing recipe can be baked in a turkey or in the oven!
Ingredients
1/2 cup (100g) butter
1 tbsp sage
1 tbsp thyme
2 tbsp parsley - chopped
3-4 sticks celery - chopped
1 small onion - diced
1 1/4 (300ml) broth salt & pepper
Instructions
In a pan over medium high heat - toast the bread cubes until they are a nice golden brown.
Set the bread aside.
Turn the heat down to medium and add the butter to the pan.
Once melted, add the celery, onion, sage, thyme and parsley. (salt & pepper too!)
Let the onions and celery saute until the onions are tender Approx 2-3 minutes)
Once fragrant and the onions are tender, drop the bread cubes back into the pan and mix thoroughly so the butter and herbs coat the bread.
Pour in the broth and cook for an additional 2-3 minutes. (The bread should begin to soak up some of the broth, that is ok!)
Transfer the stuffing into a casserole dish and bake COVERED for 10 minutes at 375°F / 190°C..
Take off the cover and cook uncovered for an additional 15 minutes, until the top bread is crispy on top and the majority of the broth has been soaked up into the bread.
Keep an eye on it though!
Take out and serve!
Notes
This makes approximately 6-8 servings.
Nutritional Information per serving:
CALS: 305
FAT: 26.1
CARBS: 5.8
FIBRE: 3
NET CARBS: 2.8
PROTEIN: 13.1