What's your favourite things to add to bread? I love onion and cheese, so of course I had to make a keto onion bread with some cheese!
I'll tell you right now, this amazing keto onion and cheese bread goes into the oven smelling delicious and comes out smelling even better – if that's possible/ It is probably a new go-to when I want some toast in the morning or it would even be great used as a toastie of grilled cheese!
So before we begin with the recipe – a few notes. It's important to try and chop up the onions, garlic and shallots as small as you can. It's important because the larger they are, the more moisture will be released into the bread as they cook. If theres too much moisture, the inside may not fully cooked when you take it out.
Secondly, as per all of my other bread recipes, there is no substitute for the protein. You could try other proteins, such as egg or pea, but as of right now, I have yet to find a suitable alternative.
Honestly, this keto onion bread is definitely one for the books! If you've tried it, I'd love to see your pics! Just send them to me on Instagram
@hungryelephant
If you like this bread, try my keto
white bread
– its perfect for sandwiches!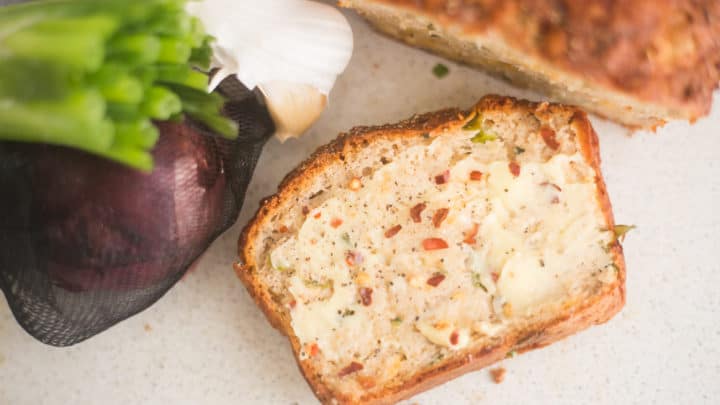 Yield:

25
Low Carb & Keto Onion Bread
An easy, delicious low carb and keto onion bread! No eggs! Great for early morning toast or a grilled cheese! 1.5 net carbs per slice.
Ingredients
1 tsp xanthan gum
2 tsp baking powder 
1/4 cup (60g) sour cream
1/2 cup (45g) green onions - chopped finely
1/2 small onion (35-40g) - chopped finely
1 shallot - chopped finely
2 garlic cloves - minced 
1.5 cups (150g) shredded cheese
1 tsp chilli flakes (optional) 
Salt and pepper to taste
1 cup (250ml) water
Instructions
In a large mixing bowl, add your onions, garlic chilli flakes salt, pepper and cheese.
Pour in the sour cream and mix thoroughly.
Scoop in the almond flour, whey isolate, xanthan gum and baking powder.
Begin mixing and start adding in the water until you have a thick paste like dough.
Spoon into a lined or greased loaf tin (8.5x4.5)
Bake at 350°F / 175°C for 50 minutes. You will know it's done when you push down on the top and feel resistance. If it feels empty when you press it, the bread needs more time.
Cover the top with foil when you've reached the half way point.
Take out and let cool.
Enjoy!
Notes
This makes between 23-25 slices!  
Nutritional information per slice: 
CALS: 75
FAT: 7
CARBS: 2.5
FIBRE: 1
NET CARBS: 1.5
PROTEIN: 7.5