A staple of the holiday season. Who doesn't love having a nice apple crumble after Thanksgiving/Christmas dinner? Now you can have your delicious dessert with this amazing keto apple crisp.
Now before you go all crazy on me, there are NO apples in this recipe. Instead I used zucchini and apple cider vinegar to replicate a delicious, tart apple.. and it worked!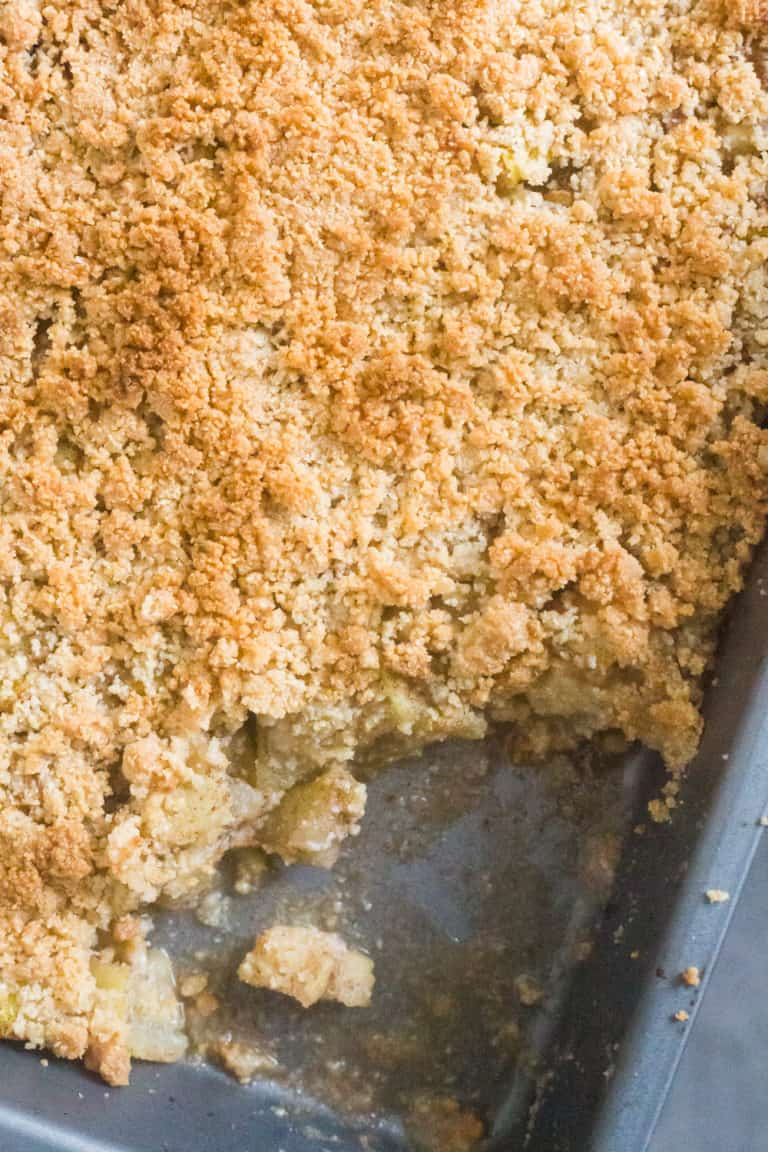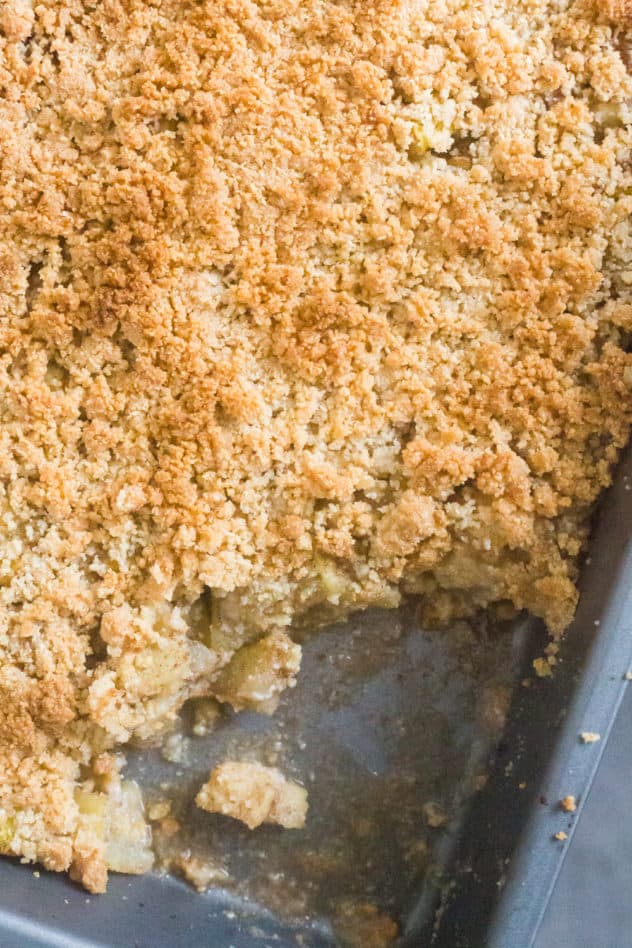 So in the U.S. and Canada, the difference between a crumble & crisp come in the top – a crisp usually is topped with oats – a crumble is usually flour. However outside of North America, crisp and crumble are used interchangeably.
Since oats are fairly high in carbs, this recipe will be interchangeable between crisp and crumble.
I gotta admit though – I'm not one to like warm apple desserts, but this keto apple crumble is perfect to keep you nice and toasty in the winter months – and it actually tastes like apple!
For the filling, I used both brown and white sugar substitute. If you don't have brown sugar substitute, you can use just plain white sugar substitute and vice versa.
That's pretty much it for this recipe. Super easy. Very delicious. Makes a TON of servings.
If you like this recipe, make sure to check out my keto pecan cobbler!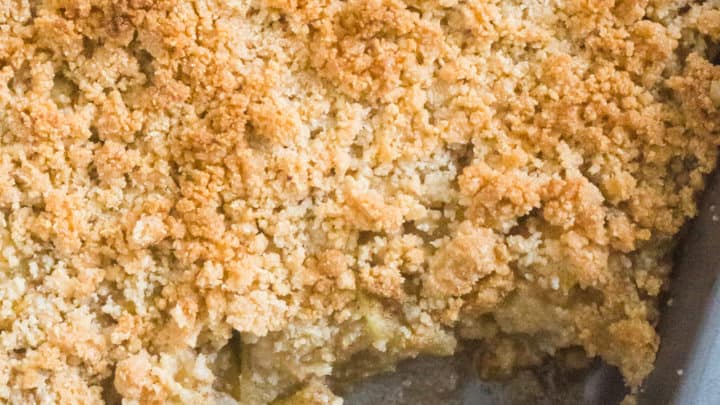 Yield:

10
Keto Apple Crisp
A yummy keto apple crisp to keep you warm in the winter months. Sugar, grain and gluten free! Only 4.4 net carbs per serving!
Ingredients
4 average zucchini - peeled and diced
2 tbsp apple cider vinegar
1 tbsp + 2 tsp cinnamon
1 tsp nutmeg
1 tsp allspice
2 tbsp butter - room temperature
Instructions
In a large bowl, thoroughly mix together the diced zucchini, apple cider vinegar, 1/4 cup of white sugar substitute, the brown sugar substitute, 1 tbsp of cinnamon, allspice and nutmeg.
Pour the zucchini mixture into a greased casserole dish and set aside.(I used a 9x13 dish)
In another mixing bowl, whisk together the almond flour, the rest of the cinnamon and white sugar substitute.
Using your hands, mix the butter into the almond flour until it becomes coarse & graham cracker like.
Spoon the almond flour on top of the zucchini, making sure that it covers all of the zucchini.
Bake at 350°F / 175°C for 45-50 minutes. Keep an eye on the top so it doesn't get too brown. Cover with foil if needed. (I didnt have to so it should be fine). If there is still a bunch of liquid at the bottom, put back in the oven until it has mostly been cooked off.
Enjoy!
Notes
This makes around 8-10 servings.
Nutritional information per serving:
CALS: 164
FAT: 13.6
CARBS: 8.1
FIBRE: 3.7
NET CARBS: 4.4
PROTEIN: 5.3