Yall, I have perfected keto comfort food. It's a staple in American diners and it's about time there was a yummy keto fried chicken and waffle recipe! It's so low in carbs!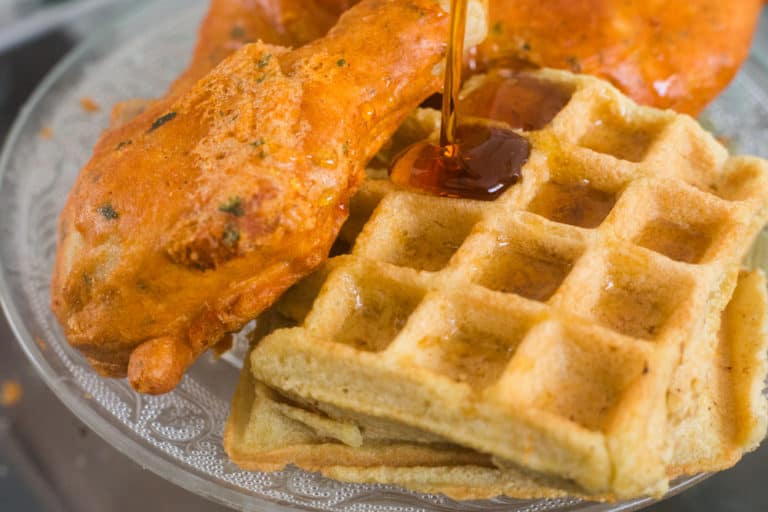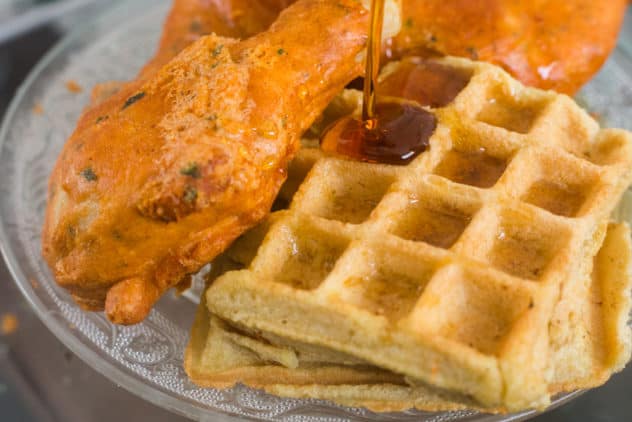 I can't even explain how easy this recipe is. There's no marinating the chicken, there's no back and forth battering between eggs and bread crumbs. Just super simple batter that won't fall off during the frying process.
Let's quickly talk about the batter for this low carb fried chicken. I made mine with whey isolate protein powder but you can use (the same amount) of almond flour or lupin flour (watch out for allergies). HOWEVER. I have fried with all three of them and i HIGHLY recommend either lupin or whey to fry in. It gives it that perfect crispy coating that is unique to fried foods.
Secondly, I fried mine in beef drippings (aka tallow). Honestly I have found that it is the best to fry things in.. It's a staple in Irish households and restaurants who love to fry fish and chips. It leaves no aftertaste and has a high smoke point.
As always, make sure you practise safe frying! Keep a lid nearby and don't ever heat the oil above it's smoke point.
Now, of course you don't have to use my waffle recipe either – it may also taste good alongside chaffles, and are a little bit lower in carbs than almond flour waffles.
If you want to check it out, I also have coconut flour and whey isolate waffle recipes here.
If you like this keto fried chicken, check out my keto General Tso's chicken or my full keto Chinese dinner!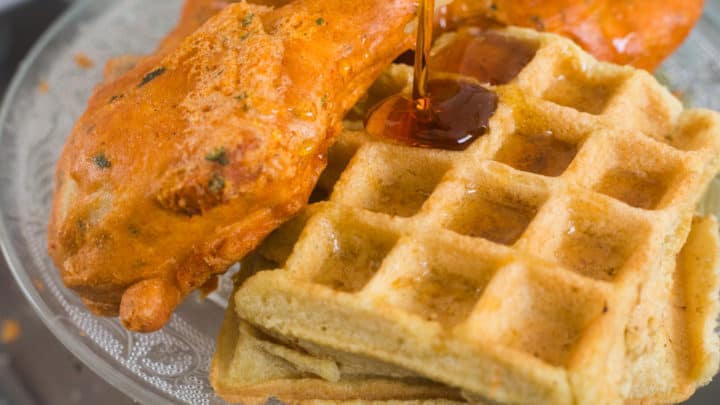 Yield:

1
Keto Fried Chicken and Waffles
The perfect comfort food! These keto fried chicken and waffles are so easy to make and incredibly low in carbs! Only 2.2 net carbs per serving!
Ingredients
CHICKEN:
2 medium sized pieces of chicken (I used drumstick & leg)
salt/pepper
2 tsp paprika
1 tsp parsley
1 tsp dried onion
1/4 cup (60ml) water
tallow or oil for frying
WAFFLES:
1.5 tsp baking powder
1/2 tsp xanthan gum
1 medium egg
2 tbsp light cream or half & half
Instructions
Place your oil/tallow in a deep pot over medium heat.

In a mixing bowl, whisk together the whey, salt, pepper, paprika, parsley and dried onion.

Dip your chicken into the flour mix, coating the entire piece of meat. Set aside.

Add the 1/4 cup of water into the flour mix and whisk together until it becomes a thick paste.

Once the oil is up to temperature (should be around 350°F / 175°C) coat the chicken in the flour paste.

Let any excess paste drip off before placing into oil.

Fry the chicken for about 10-12 minutes, turning the chicken occasionally until it is a nice deep golden brown colour. **big pieces of chicken, such as the leg I used, will need more time - around 15-18 minutes**

While the chicken cooks - make your waffles!

Whisk together the waffle ingredients in a bowl.

Scoop into your waffle maker and close the lid.

Check after 1 minute and cook until brown.

Take out and enjoy the chicken and waffles with some sugar free maple syrup!
Notes
This makes approximately one serving.

Please note the protein & fat numbers are an approximation as they depend on the size of the chicken, but the carbs, fibre and net carbs numbers are final!
Nutritional Information
CALS: 252
FAT: 16.2
CARBS: 5.1
FIBRE: 2.9
NET CARBS: 2.2
PROTEIN: 22.3