So with the holidays right around the corner, there are many people that don't celebrate. Instead, ordering Chinese food is a tradition among households both in North America and across the pond! So I decided to list my three favourite keto Chinese food recipes.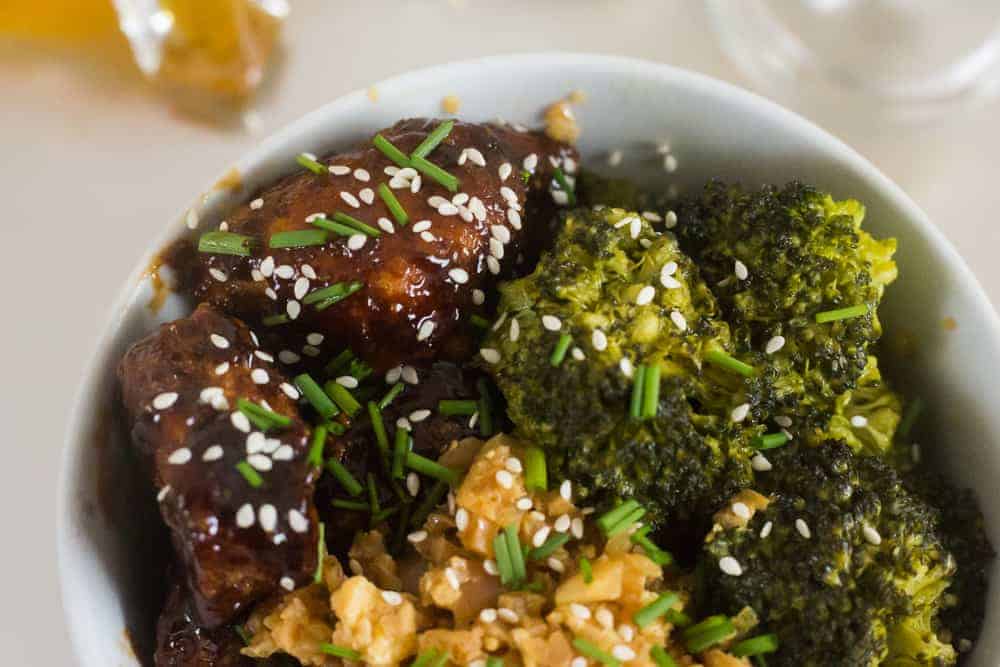 This post includes: Sesame fried chicken, cauliflower fried rice & garlic broccoli.
Up until recently, I didn't want to deep fry anything but I found some avocado oil and my friends over at KetoVale had a great idea of using protein powder to deep fry. I keep seeing this as a huge success, so I decided to try!
Now I will be completely honest. I'm not a fan of deep frying in avocado oil. I found that it had a weird taste too it. I highly recommend using beef drippings/tallow instead. It has a high smoke point and it leaves no aftertaste.
Please, please, please remember to use precautions when deep frying. Peanut oil and refined avocado oil are the best 2 kinds to fry with because they have a higher smoke point. Please keep a lid nearby to extinguish any flames.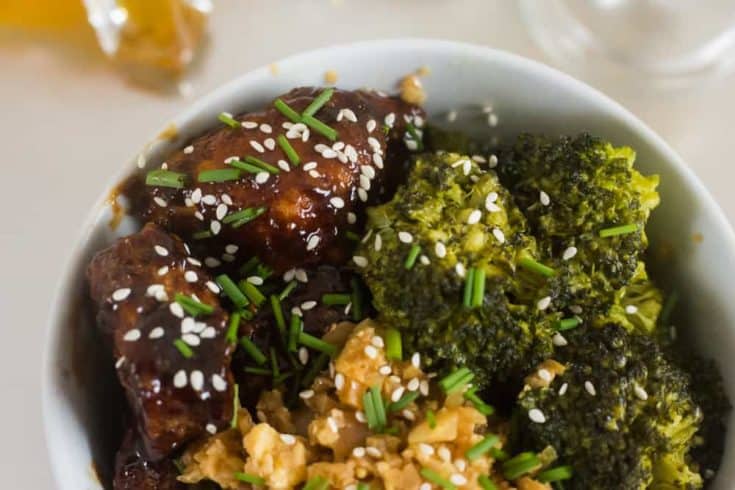 Yield:

4
Three Keto Chinese Food Recipes!
Enjoy an Asian-American style dinner with three of my favourite keto Chinese food recipes! Easy to make and so yummy!
Ingredients
SESAME FRIED CHICKEN
3 chicken breasts – chopped
2 eggs – beaten
6 tbsp unflavoured whey protein
2 tbsp almond flour
1 tsp chilli powder
1 tbsp garlic powder
1 tbsp onion powder
salt pepper
beef drippings/tallow for frying
1/2 (90g) cup brown sugar substitute (I used sukrin gold)
1/8th cup (25g) sugar substitute
1/2 cup (118ml) coconut aminos
1/2 tsp xanthan gum
2 tbsp almond flour
FRIED CAULIFLOWER RICE:
1 head of cauliflower (approx 320g)
1/2 cup (80g) chopped onions
3 tbsp olive oil
3 tbsp coconut aminos
1 tbsp sesame oil
1 tsp garlic puree (or 1 tsp minced)
2 eggs – beaten
GARLIC BROCCO