Wow – this keto pecan pie is SUPER simple and tastes delicious! It will be a perfect dessert for the holiday season!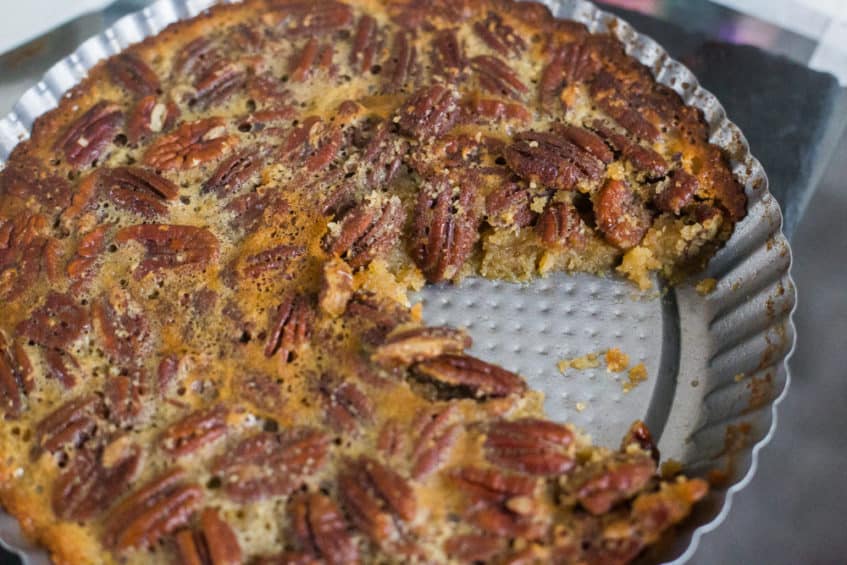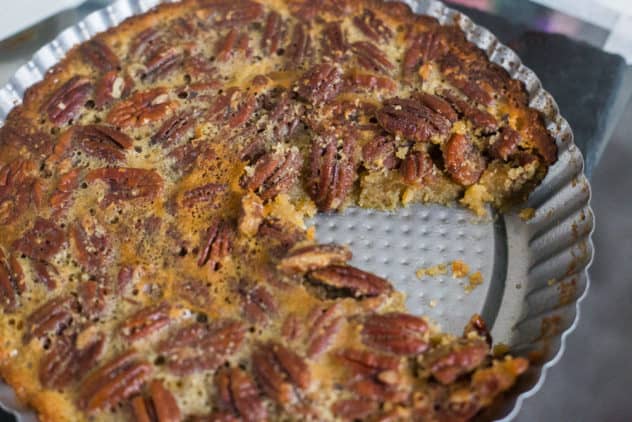 I admit, I wasn't a huge pecan pie lover before keto, but since making the big diet change, I've found myself actually enjoying sweets. I think it's the lack of sugar! I always felt guilty and had an upset stomach when I had treats before but now we can actually enjoy it without all the guilt!
For this recipe, I used an 8-inch pie crust. If you have a bigger pie pan, I recommend doubling both the crust and the filling.
As well, for the pecans, I liked mine whole but you can chop them up into halves or diced.
If you like this recipe, make sure to check out my keto butter tarts!
Total Time:
1 hour
5 minutes
Classic pecan pie with a keto twist! No gluten in the crust, no sugar or grains!
Ingredients
CRUST:
2 tbsp butter – room temp
2 tbsp palm shortening (replace this with 2 tbsp butter)
1 tsp vanilla
3 tbsp sugar substitute (I used erythritol)
1 cup (100g) almond flour
FILLING:
2 eggs
3/4 cup (135g) sukrin gold (or another brown sugar substitute)
1/4 cup (50g) sugar substitute
1 tsp vanilla
1/8th cup (30ml) heavy cream (or sugar free maple syrup)
2 tbsp butter – melted
3 tbsp almond flour
1 1/2 cups (150g) pecans
Instructions
In a mixing bowl, use a spoon or spatula to cream the butter, shortening, vanilla, and sugar substitute together.
Pour in the almond flour and knead with your hands until a ball of dough forms.
Use your hands to spread the dough as a crust in a non-stick or greased pie pan.
Once a crust has been formed, poke it several times with a fork.
Bake at 350°F/175°C for 10-12 minutes or until the crust is a nice golden brown. Set aside and let it cool.
For the filling, whisk together all the ingredients except the pecans in a mixing bowl.
Spread the pecans evenly around your pie crust and pour the egg mixture onto the pecans, filling the pie crust.
Cover with foil and bake at 350°F/175°C for approximately 30 minutes.
Take the foil off and check to see if the pie wiggles, if it does, leave it uncovered and cook for an extra 10 minutes. If the pie does NOT wiggle, it is done and you can take it out to let it cool.
Nutrition Information:
Yield:
10
Serving Size:
1
Amount Per Serving:
Calories:

258
Total Fat:

25.8g
Carbohydrates:

4.8g
Fiber:

2.8g
Protein:

5.3g