American Thanksgiving is right around the corner and I'm incredibly Thankful that my friend brought me back some pumpkin from Canada! Now I can finally make a keto pumpkin pie!
This recipe is great because of several reasons – 1 – there's no crust, so more pumpkin. 2 – I used a 27oz can of pumpkin, so again, more pumpkin and 3 – it just tastes delicious!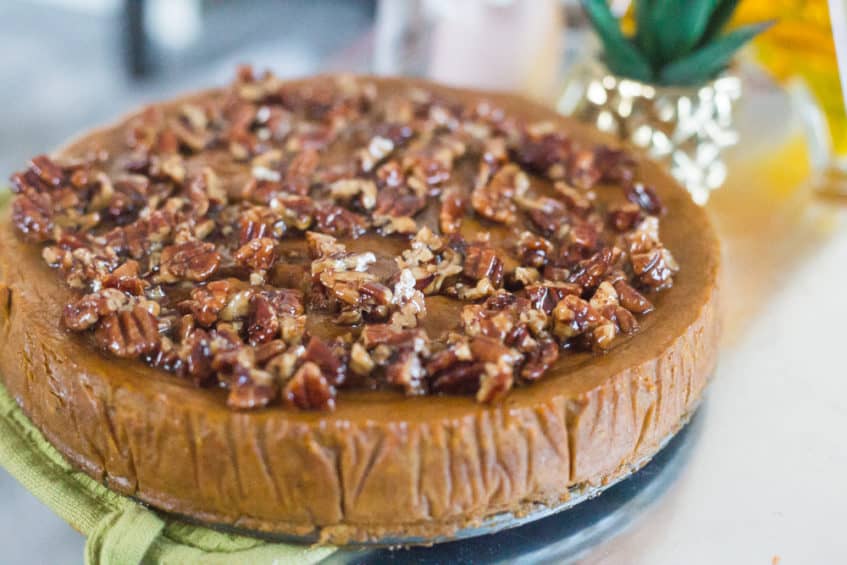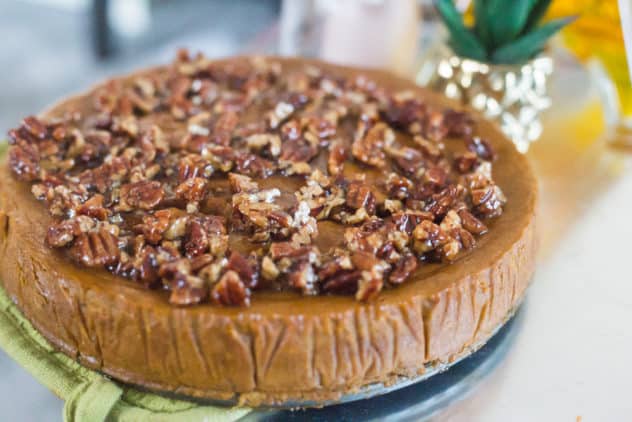 **If you want to make this with your own pie crust recipe, just cut the filling recipe in half, otherwise it may be too much filling (unless you are making two pies).
If you like this recipe, make sure to check out my keto pumpkin cake!
My first book – 'Keto Cravings' – is on sale now! Just head to Amazon!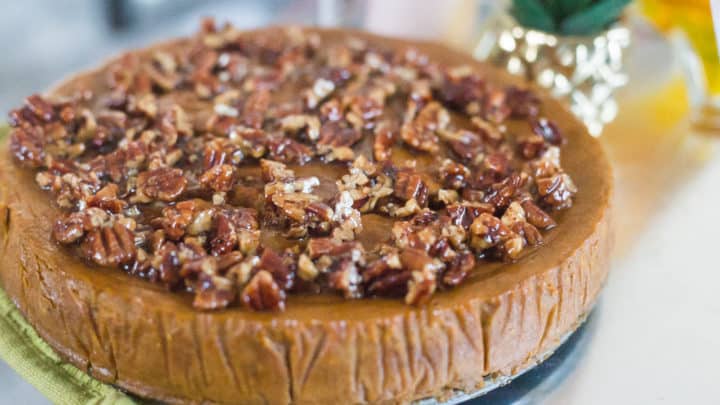 Keto Pumpkin Pie with Candied Pecans
A massive, crustless pumpkin pie that will satisfy your sweet tooth. Topped with candied pecans, this delicious dish is gluten and sugar free!
Ingredients
PIE:
1 can (3 1/4 cups/800g) pumpkin puree
1 cup (200g) white sugar substitute (I used erythritol)
1/2 cup (90g) brown sugar substitute (I used Sukrin Gold)
2 tbsp cinnamon
1 tbsp nutmeg
1 tsp ginger
1 tsp ground cloves
1 1/2 cups (355ml) heavy cream
4 eggs
salt
PECANS:
3/4 cup (70g) chopped pecans
3 tbsp water
1/4 cup (50g) white sugar substitute
1/4 cup (45g) brown sugar substitute
1 tsp cinnamon
Instructions
Pre-heat oven to 425°F/220°C.
In a mixing bowl, whisk all your pie ingredients together thoroughly.
Pour into a 9-inch cake or pie dish, lined with parchment paper.
Place in the oven and immediately turn the oven down to 350°F/175°C and cook for 1 hour.
You will know when your pie is done when it is set and does NOT jiggle when tapping the sides of the pan with a fork, or giving it a quick wiggle.
Take out and let cool.
While the pie cools, heat up the sugar substitutes for the pecans, along with the cinnamon and water. Bring to a boil.
Pour in the pecans and cook until the water has boiled off and the sugar substitute coats the pecans.
Scoop the pecans on top of the pie and let cool, preferably in the fridge for minimum 2 hours.
Serve with some whipped cream!
Notes
This makes roughly 12 slices.
Nutritional Information per slice:
CALS: 202
FAT: 18.8
CARBS: 6.3
FIBRE: 2
NET CARBS: 4.3
PROTEIN: 3.9
Nutrition Information:
Yield:
12
Serving Size:
1
Amount Per Serving:
Calories:

202
Total Fat:

18.8g
Carbohydrates:

6.3g
Fiber:

2g
Protein:

3.9g