These were amazing!! They taste like something you'd get a restaurant!
Again, as I say when I upload recipes that are deep fried. Please take caution and follow safe deep frying procedures. Make sure you have a lid to your pot/pan nearby and a fire extinguisher. Refined avocado oil is one of the safest keto oils to fry with because it has a high smoke point.
This recipe makes approximately 30 wings (give or take how you chop up your cauliflower)
My first cookbook – Keto Cravings – is on Amazon now!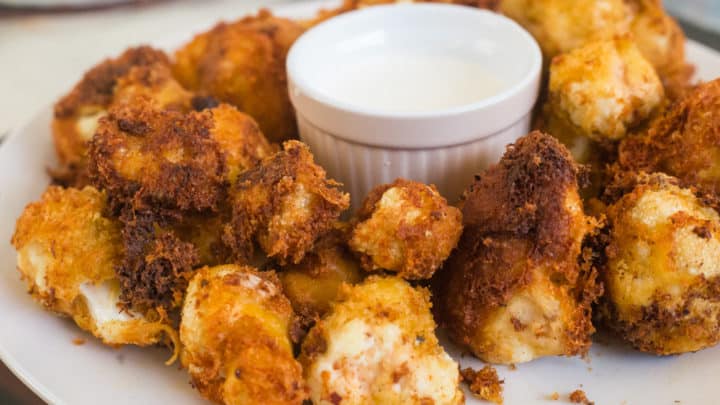 The Best Keto Cauliflower Wings
When I saw these are the best keto cauliflower wings, I mean, these are the BEST. Hands down. They are super low carb and are egg and gluten free! They taste like something you'd find at a restaurant!
Ingredients
1 head of cauliflower – chopped into florets
1 cup (90g) whey protein – unflavoured
1/4 cup (25g) almond flour
1/2 tsp parsley
1 tbsp garlic powder
1 tbsp onion powder
1 tbsp paprika
salt/pepper
3/4 cup (177ml) water
1/2 tsp xanthan gum
1-2 cups refined avocado oil (for frying)
Instructions
Pull apart your cauliflower into florets.

In a mixing bowl, whisk together the protein, almond flour, spices, herbs & xanthan gum.

Pour in the water and stir until it is nice and smooth.

Bring your avocado oil to frying temperature.

Take a floret and drop it into the protein mixture. Use a fork to make sure it is fully coated.

Place the floret into the oil and fry until golden brown. Flip if needed.

Continue on with the rest of the cauliflower, placing the fried pieces onto paper towel to soak up the extra oil.



Serve with sour cream!
Nutrition Information:
Yield:
30
Serving Size:
1
Amount Per Serving:
Calories:

42
Total Fat:

2.5g
Carbohydrates:

1.8g
Fiber:

0.7g
Protein:

3.7g