Missing that Chinese takeout? I gotchu covered with this delicious keto General Tso chicken! It tastes just like the real thing but without all the guilt!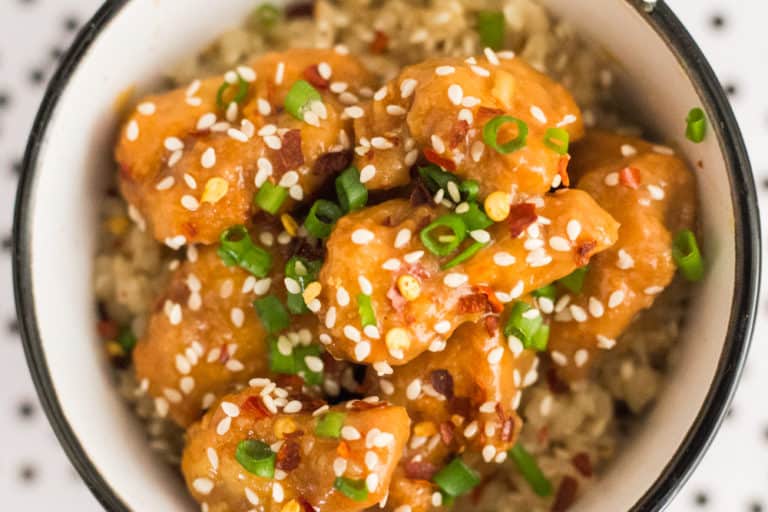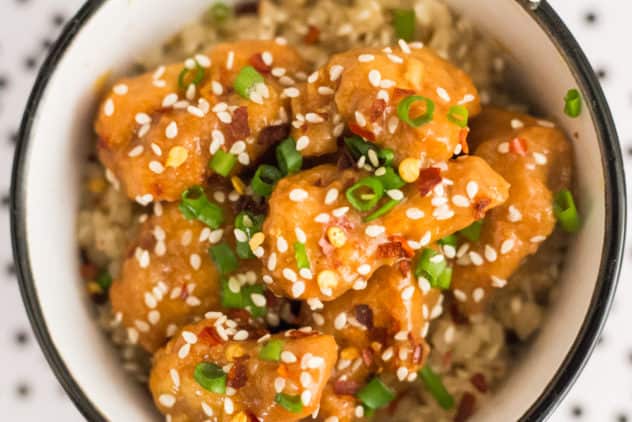 When I was searching for how to make General Tso, I realized it needed some Hoisin sauce. Sadly, the first ingredient in hoisin is SUGAR. So I knew I had to make my own. Thankfully MyKetoKitchen was on the ball and already had one ready to go. Recipe here.
The hoisin sauce actually tasted AMAZING. I think I might try a recipe with it in the future. It's SO YUMMY. I was a bit put off by the peanut butter but it definitely works with this recipe.
I know I'll get a few questions about replacing the whey protein, I think you should be able to replace it with any other protein powder or maybe even oat fibre. However I have NOT had the chance to try the oat fibre yet.
As for the rest of the recipe, it's fairly simple. I recommend using a deep or larger pan to deep fry in otherwise it will take forever to fry them.
If you like this recipe, make sure to check out my full keto Chinese takeout dinner!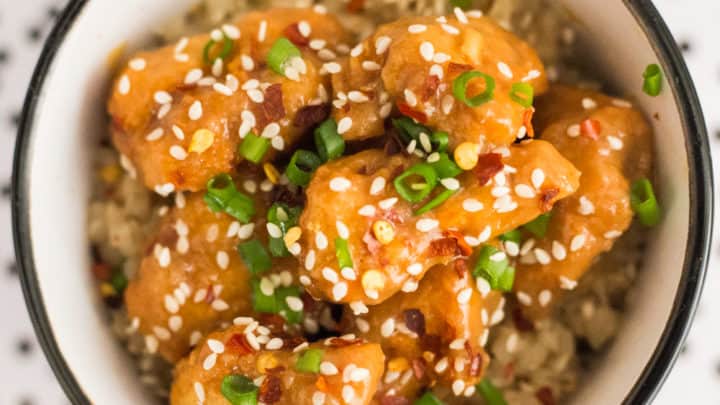 Yield:

4
Keto General Tso Chicken
Get your takeout fix this keto friendly General Tso chicken! Delicious, garlicky and the spice level can be adjusted to your liking!
Ingredients
2 chicken breasts - chopped into cubes
1/2 tsp salt
SAUCE:
1/2 tablespoon minced ginger
1 teaspoon red chilli flakes
1 tbsp garlic minced (2-3 cloves)
1/2 tbsp minced ginger
3 tablespoons rice vinegar
1/4 cup (60ml) water
Oil or drippings for frying
1/2 tsp xanthan gum
2 tbsp olive oil
Instructions
If you haven't made the Hoisin sauce yet, mix all the ingredients from the list on the MyKetoKitchen website - blend for a smoother paste.
Begin to heat up your oil or drippings for frying on medium heat.
As the oil heats up, whisk together the sauce ingredients EXCEPT the xanthan gum and olive oil.
Set the sauce aside.
Scoop your whey isolate into a mixing bowl and mix together with the salt.
Drop in the cubed chicken and cover thoroughly with the whey isolate.
Take a few pieces of chicken and place it into the fryer.
Fry for around 6 minutes - it should become a nice golden brown colour.
As you continue to deep fry the chicken, pour the General Tso sauce into a pan over medium-high heat.
Whisk together the xanthan gum and olive oil and add it to the General Tso sauce..
It should start to thicken up nicely as it heats!
Once all your chicken has been fried. Place it all into the sauce and mix thoroughly so that it's all evenly coated.
Serve with some cauliflower rice!
Notes
This makes about 4 servings.
Nutritional Information per serving (chicken only, no rice)
CALS: 252
FAT: 12.3
CARBS: 3.7
FIBREL: 0.5
NET CARBS: 3.2
PROTEIN: 35.5