Ever have Dominos cinnastix? They are YUMMY but unfortunately FULL of carbs. So I needed to make some keto cinnamon sticks that are guilt free.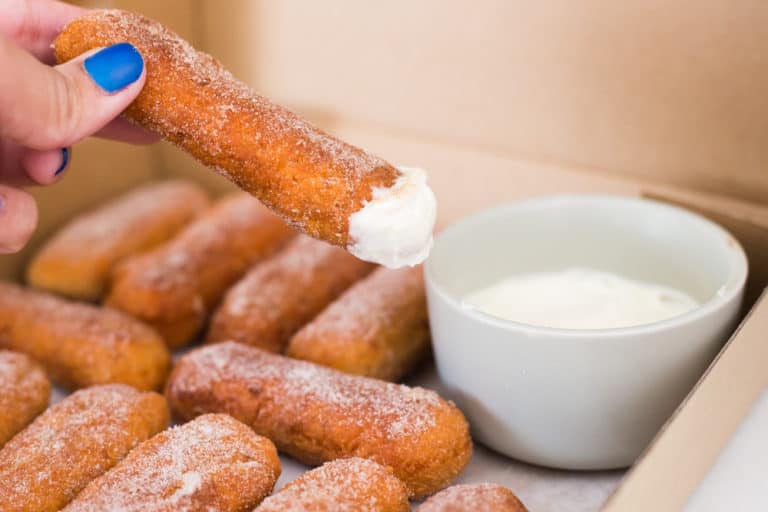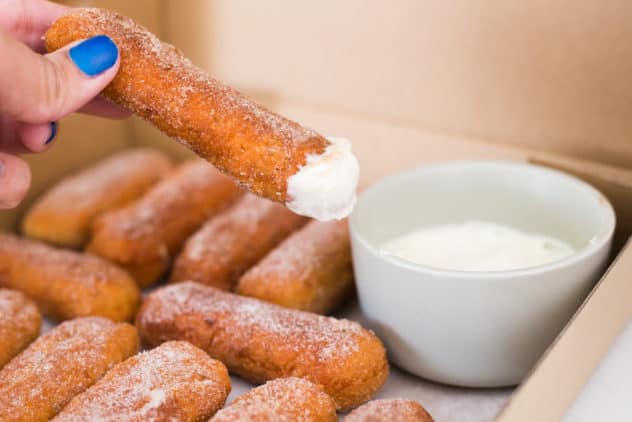 I did try this twice attempting a new dough with almond flour – it didn't work. I then tried it with coconut flour – it didn't work. So I resorted to fathead dough – but with a little added whey to make it fluffy.
The dough is fairly easy to make, except that when we have mixed it all together – we are going to add a bit more almond flour and whey so that we get a light dough that is not sticky and is very versatile.
If you aren't sure what fathead dough is – it's is basically a dough made out of mozzarella cheese, almond flour, egg and cream cheese. It's incredibly versatile and low carb! You can make a ton of things with! I've made pizza crust, pizza pops, corn dogs, cinnamon buns and so much more.
The best thing to fry in that I've found is beef drippings (tallow in the U.S.).. it leaves NO aftertaste and the smoke point is fairly high. As always make sure you take all precautions when deep frying and make sure you know what to do incase a fire starts.
One note I will say is that when you are shaping the dough for the sticks, it's important to make them fairly thing – these will double in size in the fryer and you don't want them too big otherwise they might dry out or not cooked enough in the middle.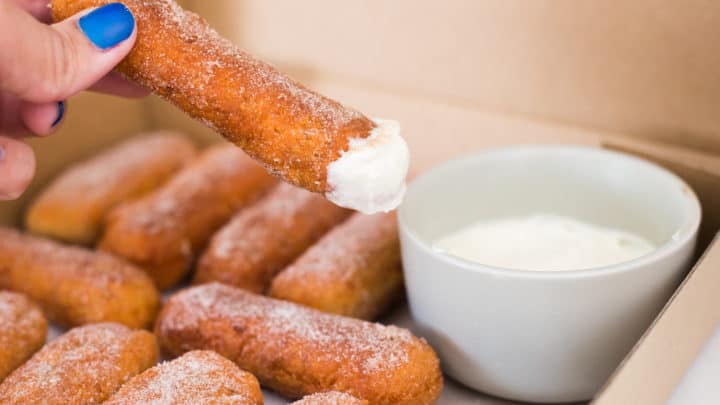 Yield:

20
Keto Cinnamon Sticks
Sugar free cinnamon sticks! Just like cinnastix but without the guilt! Low carb, keto, gluten and grain free!
Ingredients
STICKS:
1.5 cups (150g) shredded mozzarella - melted
1 medium egg
1 tbsp cream cheese
1 tbsp cinnamon
1 tsp xanthan gum
1 tsp baking powder
1 tsp vanilla
Oil or drippings for frying
DIPPING:
4 tbsp cream cheese
1 tsp vanilla
Instructions
Begin heating up your oil over medium heat.
In a mixing bowl, whisk together 3/4's of the almond flour, 1 scoop of the whey isolate, the xanthan gum, baking powder, cinnamon and 1/4 cup of sugar substitute.
Melt the mozzarella in the microwave (or use a bain marie/double boiler).
Add the mozzarella into the almond flour mix, along with the cream cheese vanilla and egg. Mix together.
Use your hands to knead the dough all together - it will be very sticky but mix it together as much as possible.
Add the 1/2 scoop and 1/4 cup of almond flour and knead until a firm dough forms that is tacky and not super sticky.
Take a small piece of your dough and form it into a flat rectangle. Make sure it's about an 1/2 inch thick.
Once the oil is up to heat, place the rectangle dough into the fryer... Flip it frequently so that it doesn't burn.
Continue to fry for about 3-5 minutes or until the dough doubles in size and is a deep golden brown.
Take out and immediately sprinkle with the sugar substitute/cinnamon mixture.
Continue to form and fry the rest of the dough - you should get about 20 sticks.
Once they are done, mix together the dipping ingredients in a small bowl.
Serve and enjoy!
Notes
This makes roughly 20 cinnamon sticks.
Nutritional Information per stick:
CALS: 81
FAT: 6.1
CARBS: 2
FIBRE: 0.8
NET CARBS: 1.2
PROTEIN: 5.8