One thing I see people often make are keto egg rolls in a bowl.. now it does look delicious but what if we used cabbage as a wrapper? I knew I had to test it out and it was worth it! But if you're not a big cabbage fan – make it as a 'egg roll in a bowl'!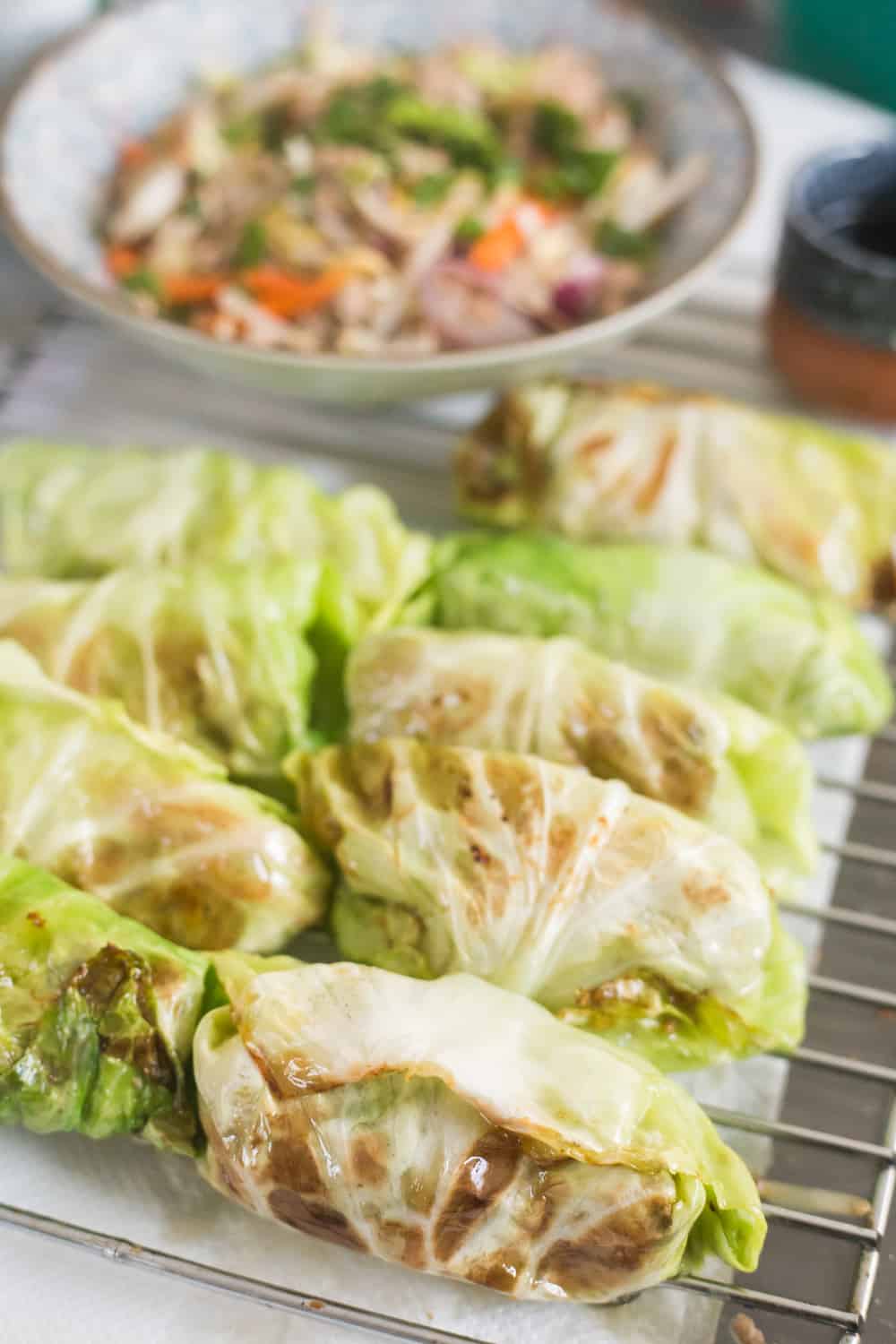 Now when I went shopping for the cabbage, they only had savoy and York (which I guess is an Irish cabbage). I chose to use the York one because it had longer leaves but you can use savoy or traditional green cabbage instead! It will just have a much thinner cabbage wrap than what you see on my recipe.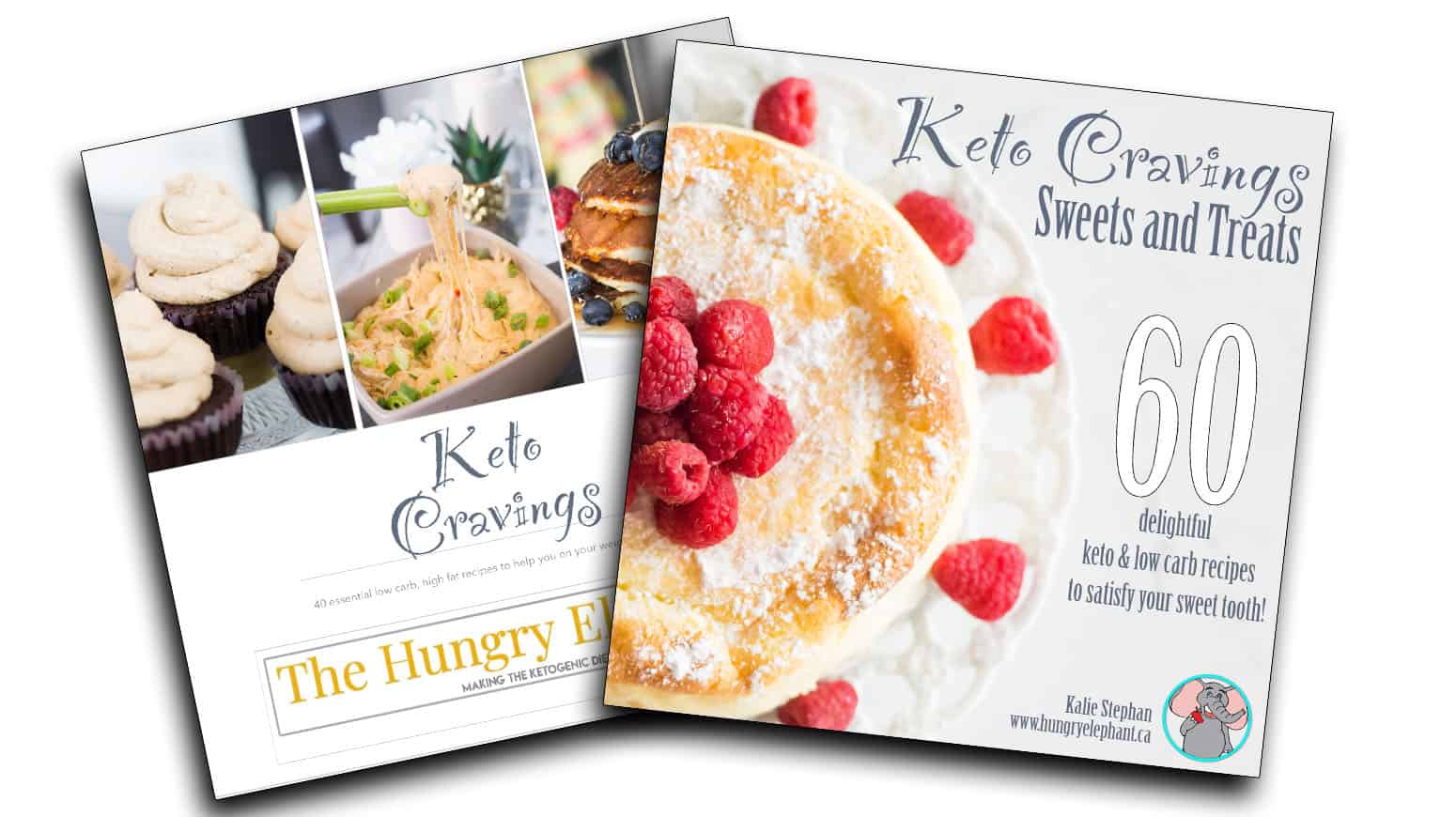 The keto egg rolls are super easy to make though – when you boil the cabbage, you'll want to boil the whole head for about 5-7 minutes. That's when you'll notice the top layers start peeling back. That's when you can take it out and peel.
One BIG tip is to make sure that there is no excess water anywhere. Once you've peeled the cabbage, let it dry, pat dry them with some paper towel if it's still a bit moist. Same goes with the filling. Cook off any water. If you don't, while the recipe still works, it will be a bit watery when you bite into them.
These are great fried in butter but you can also steam them as well.
Other than that, these keto cabbage rolls are so easy to make. If you like these, check out my keto potstickers!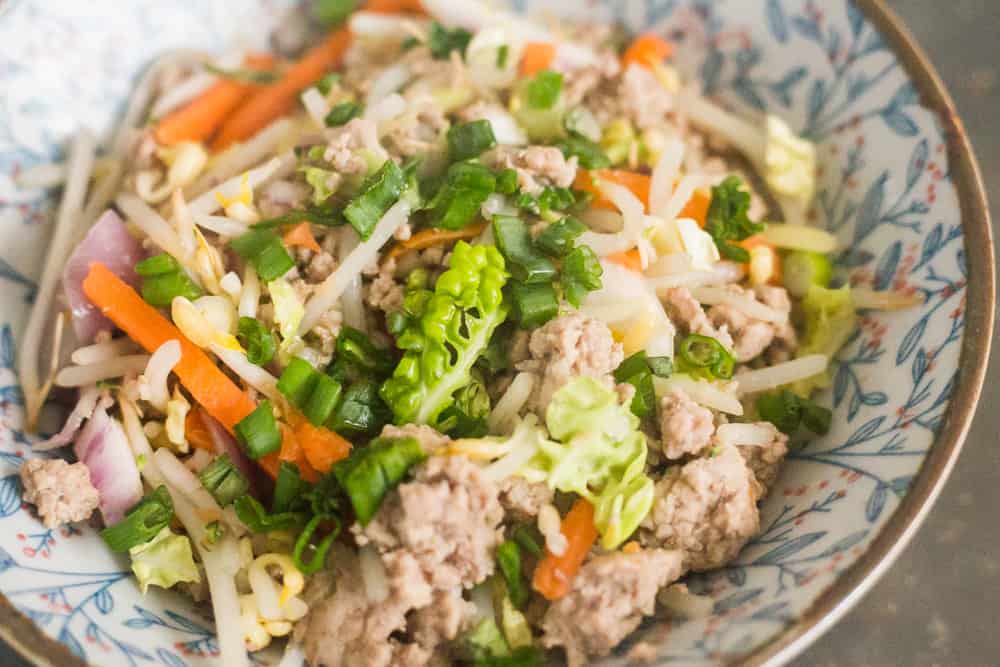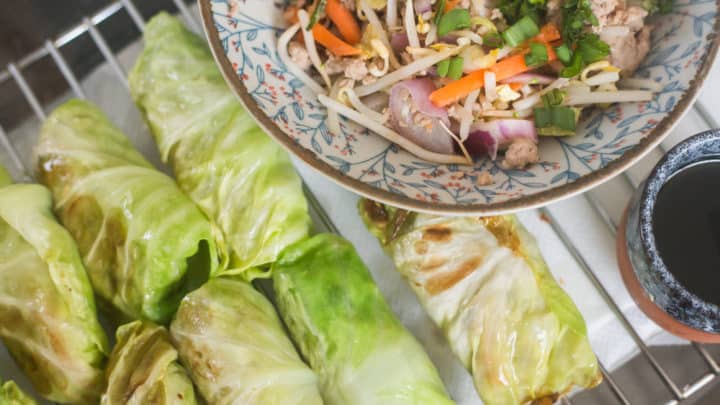 Yield:

18
Keto Egg Roll (In a Bowl or Wrap) || Cabbage Rolls
Have your keto egg roll in a bowl OR wrapped in cabbage! These are the perfect side to your next keto Chinese dinner! Plus so easy to make!
Ingredients
1 small-ish head of cabbage
1 lb ground pork
4 tsp minced garlic
1/2 tsp ginger (or fresh minced)
1 package (about 500g) coleslaw mix
2-3 tbsp coconut aminos (or soy sauce)
1 tbsp sesame oil
butter for frying
Instructions
Bring a pot of water to a boil. Make sure the pot is big enough for your cabbage.
Once the water is boiling, gently place the entire cabbage into the pot.
Boil for 5-7 minutes, turning if needed.
Once the leaves begin to peel back, take out of water and begin to gently peel the leaves off.
Set the leaves on some paper towel to dry as you cook the filling.
In a wok or pot, cook the ground pork until it is browned.
Mix in 3 tsp of garlic and the ginger.
Add in the coleslaw mix and cook until the cabbage has wilted. About 3-4 minutes.
Take off heat and stir in the final tsp of garlic, the coconut aminos and sesame oil.
Pat dry any leaves that are wet.
Spoon about 2 tbsp worth of filling onto the top of one of the leaves and roll like a carpet, folding any extra leaf on the sides into the roll.
Either steam or fry in butter until the bottom is a nice golden brown.
Enjoy!
Notes
This makes roughly 18 egg rolls (or 6 servings of egg rolls in a bowl)
Nutritional Information per egg roll:
CALS: 94
FAT: 6.3
CARBS: 4
FIBRE: 1.7
NET CARBS: 2.3
PROTEIN: 5.7
Nutritional Information per serving of Egg Roll Bowl
CALS: 253
FAT: 18.7
CARBS: 5.1
FIBRE: 2
NET CARBS: 3
PROTEIN: 15.6