One note off the bat – this keto Reese's peanut butter cup cake recipe is very rich. This recipe is best eaten in slivers, especially since it is 11 carbs per serving (5.5 net carbs). However!!! If you want to cut down on the carb count, you can get rid of the top layer for sure. It will still taste just as delicious! (Nutritional info for 2-layer cake at the bottom of the recipe)
This is the first in my series that I like to call "Tasty Keto". Why? Because I was inspired by Buzzfeed's Tasty videos. I basically took two Tasty recipes, made them keto and then combined them.
This is the first recipe I used – Chocolate Tarte – and the second – Chocolate Peanut Butter Mousse Cake.
Also – I won't lie. I messed up BAD while making a video of this recipe. I was too focused on my low battery that I missed a few records, forgot to add in the flour and then missed the last part completely. So, if you watch the video, thanks for your patience. I'm a dork.
The good thing though, is that this turned out AMAZING. It tastes exactly like a Reese's Peanut Butter Cup! One of the things I definitely miss on keto.
I'll go through each later separately. I realize it may sound like a load of work, so if you're strapped for time, even just 1 chocolate layer would work out well.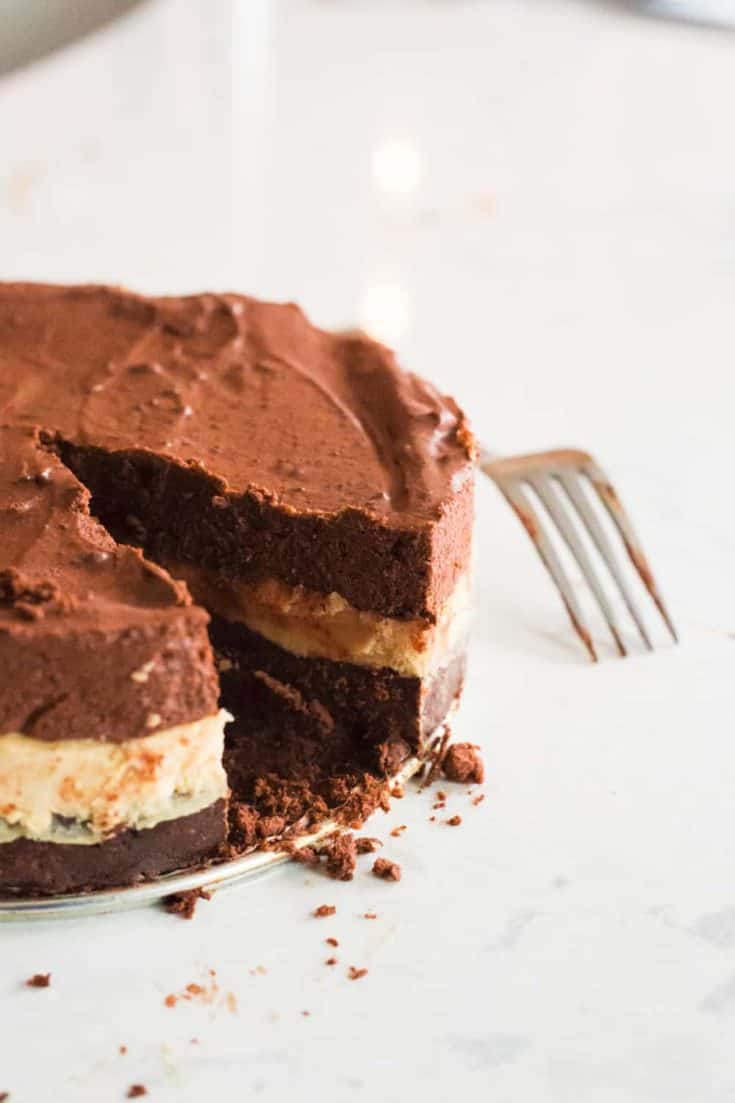 Yield:

20
Keto Reese's Peanut Butter Cup Cake
A Reese's peanut butter cup - but in cake form!
Ingredients
1st layer:
250g unsweetened chocolate
1/2 cup sugar substitute - powdered
2 eggs
3 egg yolks
1/4 cup coconut flour
2nd Layer:
1/3 cup sugar substitute - powdered
1 cup peanut butter
1 cup heavy cream - whipped
1 tbsp water
1/2 tsp gelatin
3rd Layer (Optional):
250g unsweetened chocolate
1/2 cup sugar substitute - powdered
1 cup heavy cream - whipped
1 tbsp water
1/2 tsp gelatin
Instructions
First Layer:
In a bain marie (double broiler) - melt your chocolate.
Slowly stir in your powdered sugar substitute, a tbsp at a time, making sure it has dissolved before adding more in.
Take off the heat and whisk in your eggs, yolks and coconut flour.
Pour into a cake pan and bake at 350°F / 175°C for about 15 minutes. Let cool.
Second Layer:
Whip up your heavy cream to stiff peaks in one bowl.
In a separate small bowl, stir together your gelatin and water.
Mix your peanut butter and sugar substitute in another separate bowl..
Add your gelatin mix into the peanut butter and whisk thoroughly.
Then take your whipped cream and fold into the peanut butter.
Pour the peanut butter mousse into the cake pan on top of the first layer.
Freeze while you work on your last later.
Third Layer (optional):
Again - whip up your heavy cream, while your chocolate melts on a bain marie.
Whisk your sugar substitute into the chocolate until smooth. 
Combine your gelatin and water and mix into the chocolate.
Pour the whipped cream into the chocolate and whisk until smooth.
Top your cake off with this last layer and use a spatula to smooth the top down.
Freeze for minimum 4 hours or overnight.
Take out 30 minutes prior to eating.
Enjoy! This makes roughly 20 slivers (slices).
Notes
Nutritional Information per serving (for 3 layers)
CALS: 337
FAT: 29.4
CARBS: 11.2
FIBRE: 5.7
PROTEIN: 8.4

Nutritional Information per serving (for first 2 layers only)
CALS: 223
FAT: 18.7
CARBS: 7.2
FIBRE: 3.4
NET CARBS: 3.8
PROTEIN: 6.5