Brussel sprouts.. what can I say that is good about them? Well they are high in fibre and vitamin C.. However most of the time, they taste absolutely AWFUL (mostly they were just boiled w/ no seasoning). So it was time to come up with a delicious brussel sprout recipe.
These mini-cabbages are great for keto. They are low in calories and carbs, making them perfect to pair with a high fat side dish. In this case, I added the fat TO this sprouts. It is a primo meal for someone who has just finished a fast or only eats one meal a day!
My first cookbook – Keto Cravings – is on Amazon now!
Now there are several keto meals you can find on pinterest, facebook and youtube, and while I'm sure they are delicious, they are almost always made with some sort of cheese. Today my plan was to make a delicious dish without (or a little) cheese.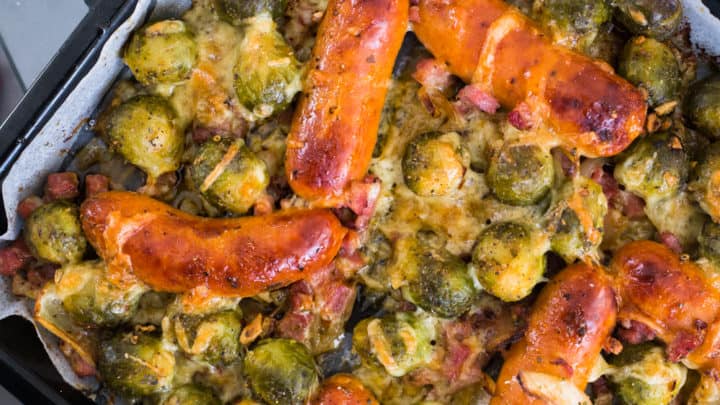 Keto Sheet Pan Brussel Sprouts
Total Time:
1 hour
5 minutes
An easy sheet pan meal that takes only 5 minutes to prep! With lots of fat & protein, this dish makes a great meal to end your fast or your one meal a day!
Ingredients
6 sausages
200g thick bacon - chopped
1 small onion - chopped
600g brussel sprouts
1/2 cup (117ml) olive oil
3 garlic cloves - minced
1 tsp chilli flakes
1 tbsp parsley
1 tsp paprika
1 tbsp onion powder
salt & pepper
1/2 cup (60g) - sharp cheese (cheddar, gruyere etc)
Instructions
Spread the sausages, onions, bacon and brussel sprouts onto a cookie sheet lined with parchment paper.
In a small mixing bowl, whisk together the olive oil, garlic, herbs and spices.
Brush the olive oil mixture onto the tops of the brussel sprouts.
Place the pan in the oven and bake at 350°F / 175°C for 40 minutes.
Take out and sprinkle the cheese on top.
Place back in the oven and bake at 375°F / 190°C for an additional 20 minutes.
Take out and enjoy!
Notes
This makes roughly 6 servings.
Nutritional information per serving:
CALS: 507
FAT: 45.2
CARBS: 4.9
FIBRE: 3.3
NET CARBS: 1.6
PROTEIN: 18.9
Nutrition Information:
Yield:
6
Serving Size:
1
Amount Per Serving:
Calories:

507
Total Fat:

45.2g
Carbohydrates:

4.9g
Fiber:

3.3g
Protein:

18.9g