It's the most wonderful time of the year! It's the holiday season so let's get cookin'. Last week I made a gingerbread latte which I LOVED, so today I figured I'd make a delicious keto gingerbread CAKE and it did NOT disappoint.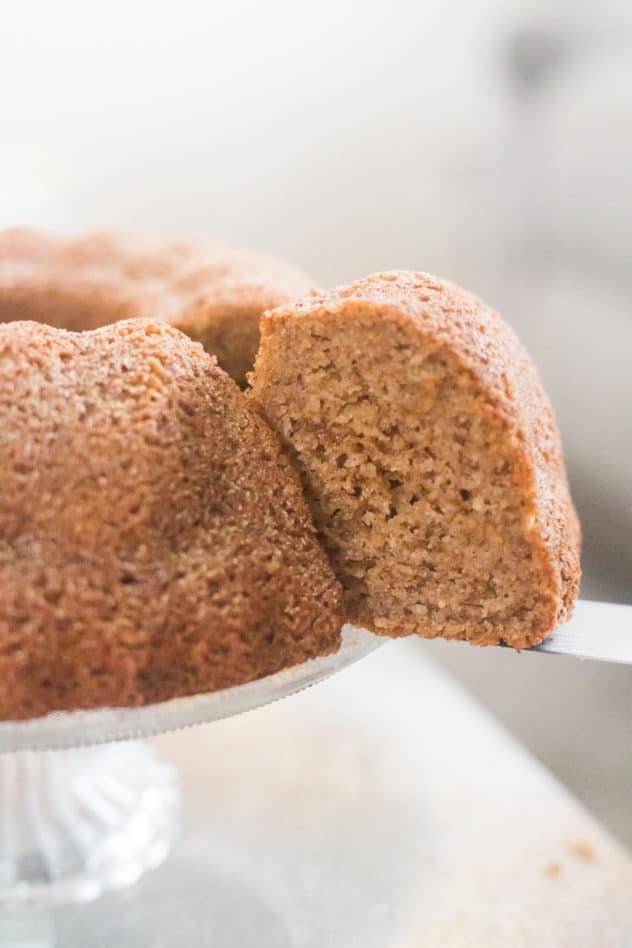 Before making this recipe, I heated up a yummy gingerbread butter to give the cake an extra boost of flavour! Topped with a dust of powdered sugar substitute, this gingerbread cake will 'WOW' your guests. You can't even tell its keto!
Now I made this recipe using my keto Kentucky butter cake as a base. It's the best base to use. I previously used it for my keto 'apple' cake which everyone loved!
You can add some molasses if you'd like or swap out the white sugar substitute for brown sugar substitute like Sukrin Gold. Both of those substitutions would work very well!
The recipe itself is super straight forward and very easy. Hope you enjoy! If you like this low carb gingerbread recipe, make sure to check out my keto gingerbread cookies or keto apple spiced cake!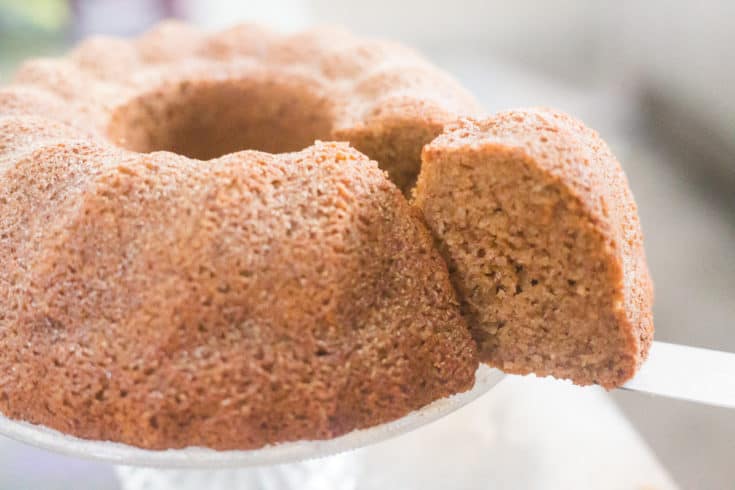 Yield:

12
Keto Gingerbread Cake
A keto gingerbread cake that is perfect for the holiday season! Low carb and free of gluten, grains and sugar! Super easy to make.
Ingredients
CAKE:
1/2 cup (100g) sour cream
1/2 cup (100g) butter
2 tbsp ground ginger
2 tbsp cinnamon
2 tsp allspice
2 tsp nutmeg
1/2 tsp cloves
3 eggs
2 tsp baking powder
Instructions
In a pan over medium heat, melt the butter.
Whisk in 1 tbsp ginger, 1 tbsp cinnamon, 1 tsp allspice, 1 tsp nutmeg & 1 tsp cloves.
Bring the butter to a simmer, stirring frequently so the spices dont burn.
Take off heat.
In a mixing bowl, add the almond flour, baking powder, sugar substitute and remaining spices.
Pour in the melted butter and sour cream. Whisk loosely. 
Crack in the eggs and stir until thoroughly mixed and a batter forms.
Pour into a greased bundt cake pan.
Bake at 350°F / 175°C for 35 minutes.
When you're ready to serve, place a plate on top of the bundt pan and flip it around so the cake pops right out!
Serve!
Notes
This makes roughly 12 servings:
Nutritional Information per serving:
CALS: 221
FAT: 20.3
CARBS: 6.8
FIBRE: 3.1
NET CARBS: 3.7
PROTEIN: 6