The other day I saw someone on Facebook post about their sugar free & keto friendly chocolates.. the only thing was that they were upwards of 30 dollars! I wanted them but they were way too expensive. SO I needed to make my own keto chocolate candy recipe that wasn't incredibly pricey.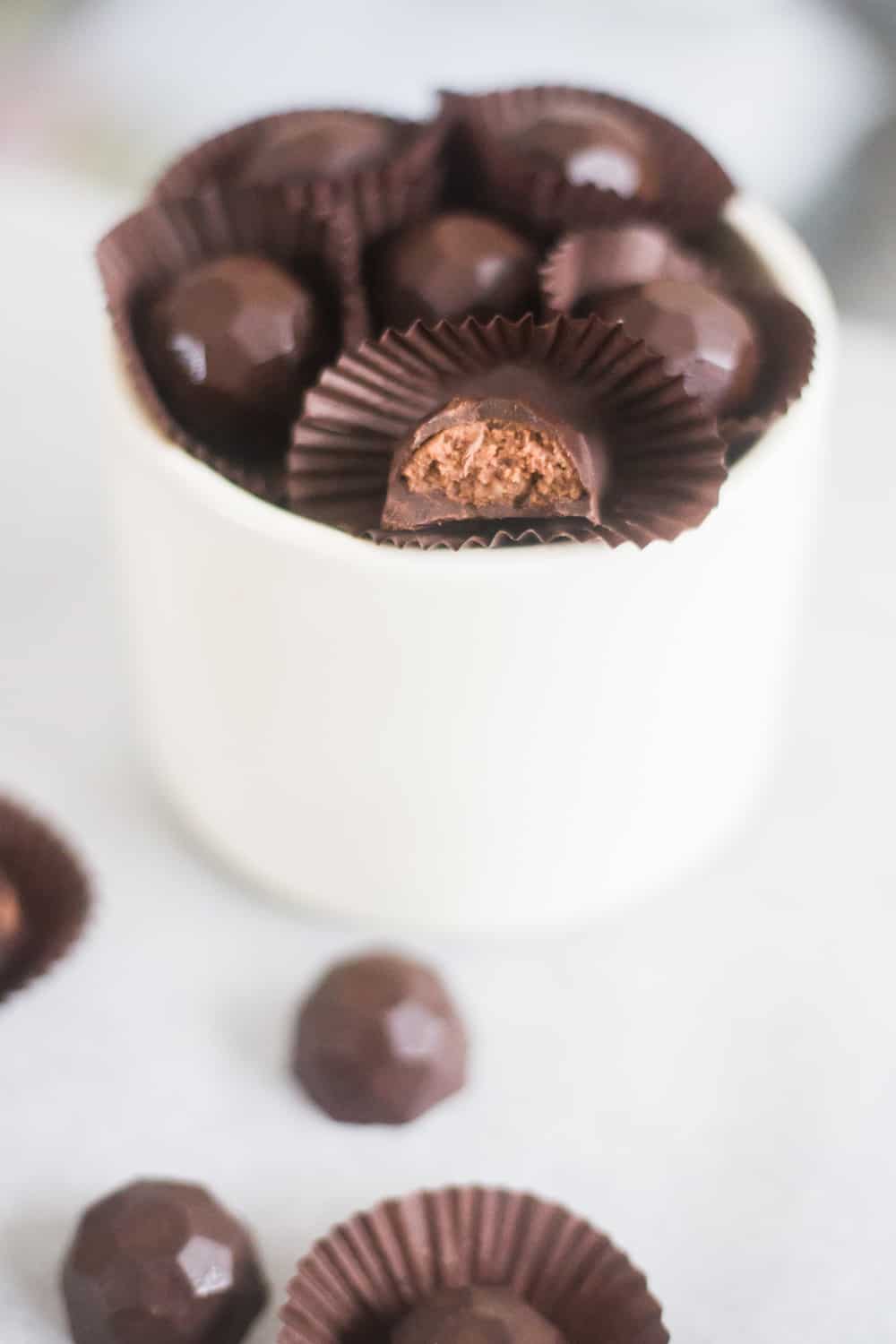 Let's chat about a few things before we get into the recipe.
Sweetened Chocolate: I used this sweetened chocolate which worked out amazing. If you're looking for a good dark chocolate to use, I recommend one that doesn't have maltitol. This one from Lilys is really good. Try to find one that has a high cocoa butter percentage.
Unsweetened Chocolate: If you want, you can also use unsweetened chocolate! Once melted, just add in about 1/4 cup (50g) of powdered sugar substitute and stir until absorbed completely. Taste and add more to your liking.
Tempering: When melting chocolate, I recommend using a bain marie or double boiler so that the chocolate won't burn. Alternatively, you can microwave it. Stir every 30 seconds until melted completely. If you have a cooking thermometer, check the temperature so you know it's properly tempered.. Dark chocolate should be at a temperature of 120°F / 48°C otherwise it may come out matte with uneven blotches.
Molds: Silicone molds are probably the easiest to deal with but in either case, when the chocolate is properly set, you will notice that the chocolates will pull away from the mold allowing it to pop out easily. If you are having issues taking it out of the mold, try placing it in the freezer for 10 minutes.
I found that when you are putting the chocolate in the molds, you want to coat the mold with a layer, leaving the inside hollow. If you add the filling in while it's still melted, it may leave parts of the filling attached to the molds and it won't come out properly.
One more suggestion – if you use plastic molds, you'll notice that once the chocolate starts to set, it will begin to pull away from the mold (like I said earlier) but you will be able to see it if you turn it over. You may notice that the parts of the mold look dark, other areas look 'empty' – that empty part is the chocolate pulling away so keep an eye on it and once the entire mold looks empty, you'll be able to pop them out.
If you like this recipe, check out my keto gummy bears!!!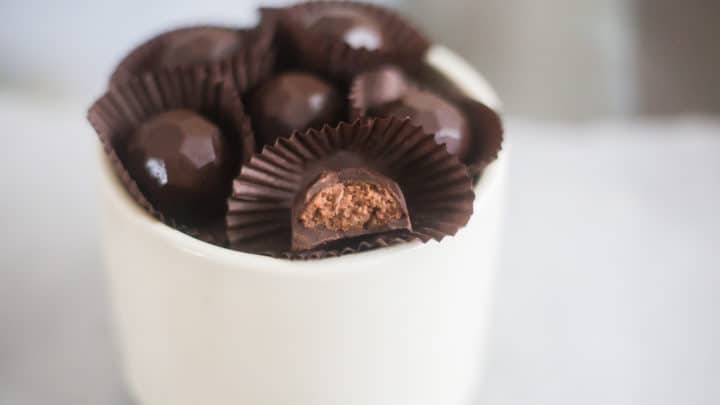 Yield:

25
The Perfect Keto Chocolate Candy Recipe
A perfect keto chocolate candy recipe! Filled with a creamy hazelnut centre, it's all sugar-free and only 0.7 net carbs per chocolate!
Ingredients
3 tbsp mascarpone cheese
1 tsp vanilla
1/4 cup (50g) hazelnuts - chopped
Instructions
Using a bain marie/double boiler - melt your chocolate. Ensure it is the proper temperature (120°F / 50°C)
Spoon a small amount of chocolate into each cavity and use a utensil to spread a layer of the chocolate over the entire mold (so its all covered but the centre is hollow)
Refrigerate for 10 minutes.
In a mixing bowl, whisk together the mascarpone, sugar substitute, vanilla, hazelnuts and 2 tbsp of melted chocolate.
Spoon into a piping bag or a sandwich bag so you can easily pipe it into the molds.
Once the chocolate in the molds have set, pipe or fill the molds about 3/4's full and use a spoon to ensure that the filling doesn't poke out of the cavities.
Finally, spoon more melted chocolate on top of the filling so that it's all sealed.
Scrape off any excess chocolate.
Let them set at room temperature.
Once hardened and the chocolates have pulled away from the mold - pop out!
Enjoy!
Notes
This makes 25 chocolates!
Nutritional Information per chocolate:
CALS: 31
FAT: 3
CARBS: 1.5
FIBRE: 0.8
NET CARBS: 0.7
PROTEIN: 0.7