Experiencing hair loss on keto? Looking to add some collagen into your diet? These keto collagen gummies are the perfect way to get in some collagen and protein to get your hair and nails looking fabulous!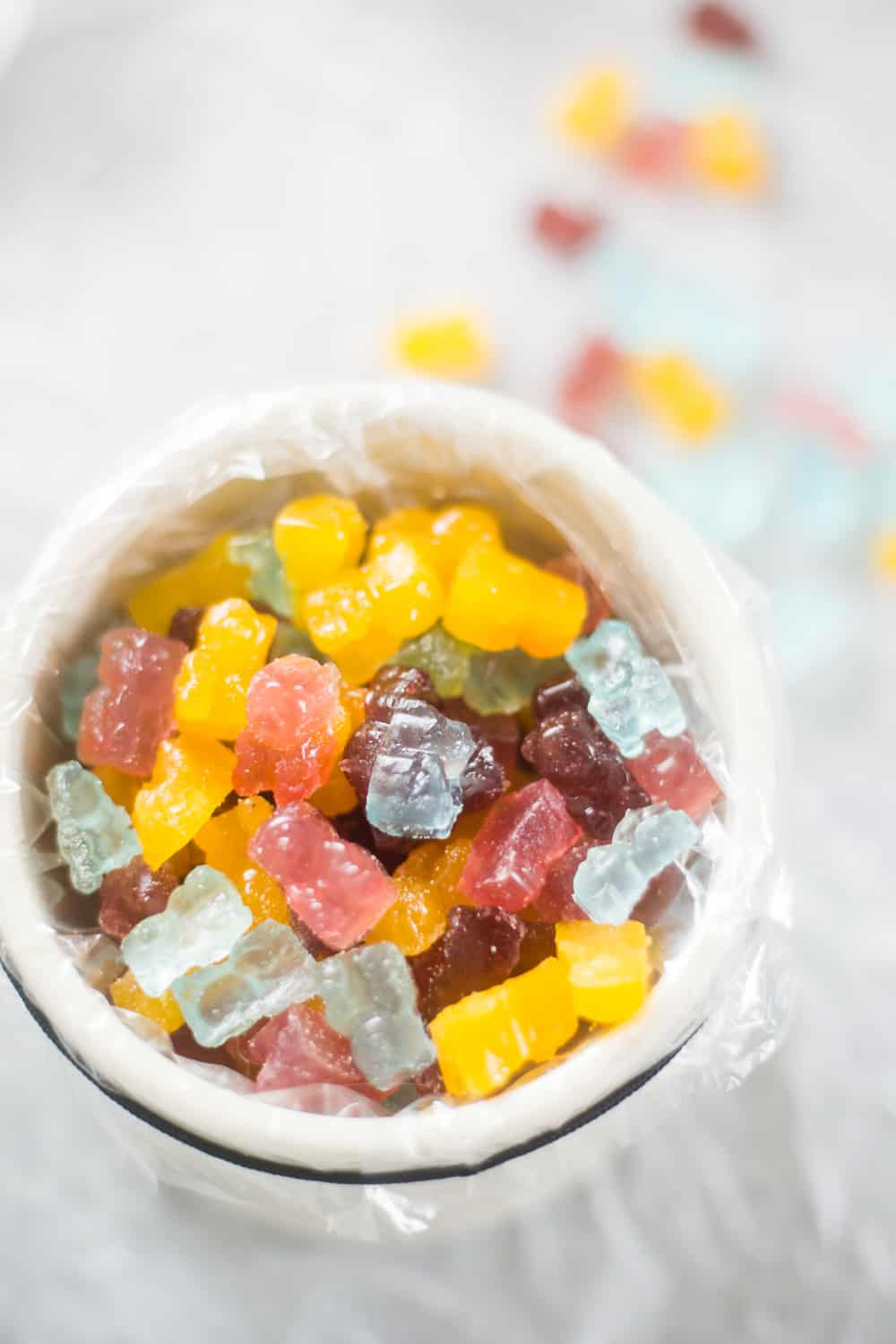 These are SO incredibly easy to make but I know you all will have some questions so let's go over a few things to help make your keto gummy bears turn out perfect.
Xanthan gum: A lot of you will probably wonder if this is necessary – and no – it isn't. HOWEVER! Adding xanthan gum gives it the typical chewiness and helps hold it together so it won't tear when taking out of the mold. It is vital to either use olive oil or glycerin to dissolve the xanthan gum in first otherwise it may clump in the water.
Citric Acid: Again – not necessary unless you are planning to keep these for a while. Citric acid is not only a preservative but it will help give the flavours a bit of a boost. Make sure it is FOOD GRADE.
Gelatin: I used 4 sheets (approximately 1 1/4 – 1/2 tbsp of powder). Always make sure to read the gelatin package to ensure you bloom it correctly before adding it to the water. If you want to use sugar free jello molds, that will work too but I still recommend adding in the extra gelatin for optimal firmness.
When you are adding in the bloomed gelatin, add it to the COLD mixture first before turning your heat onto the lowest setting. Once the water begins to warm up, your gelatin should dissolve. Do not boil.
Before you add the mix to the molds, I would give it a bit of a spray with some cooking oil. That will help them not stick. If you didn't grease the molds, stick them in the freezer for about 10-15 minutes. That will help you be able to take them out.
Now, one more thing. When you take them out – they will be firm but also jello-y. This is normal. You can eat them this way or you can leave them out to dehydrate. That will harden them a bit more and give it the traditional gummy bear texture you find in stores. How long to dehydrate them depends on your location and humidity.
You may notice in the picture above that a few of my keto gummy bears look a little freckly. That is because most store bought gummies are coated in a corn starch so prevent sticking. I tried to coat them in whey isolate but it didn't work. Tried to get it all off but some still look a little freckly. If you leave them separated to dehydrate, stickiness won't be an issue.
If you like this recipe, make sure to check out my keto cookie dough fat bombs!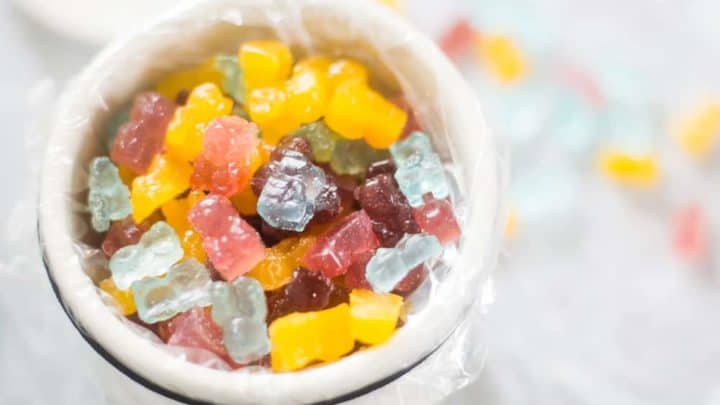 Yield:

1
Keto Collagen Gummies
Total Time:
2 hours
10 minutes
Battling hair loss and brittle nails? These keto collagen gummies are the perfect solution to add some collagen to your diet! These keto candies are 0 net carbs and packed with protein.
Ingredients
1 tbsp olive oil
1/2 cup (125ml) water (or sweetened drink)
Instructions
Bloom the gelatin according to the back of its package.

In a small pot or pan, whisk together the collagen and citric acid.

Pour in the water (or sweetened drink) and mix until the majority of the collagen has been dissolved. If you use water enhancer like Mio, add it in here. I used 2 decent squeezes but add to your taste. (The more you add the juicier they will taste)

Place the gelatin into the water mixture Turn your stovetop/hob onto the lowest heat and stir until the gelatin has dissolved.

While the gelatin dissolves, whisk together the olive oil and xanthan gum.

Once the gelatin is incorporated, pour in the olive oil and stir until everything has been mixed together.

Lightly spray the gummy bear mold with cooking oil.

Using a dropper, fill each empty spot on the GREASED gummy bear mold.

Refrigerate for a minimum of 2 hours. If they are hard to get out - freeze for 10-15 minutes and they should pop out easily.
Notes
This makes around 70 gummy bears.

Nutritional Information for ALL gummies:

CALS: 252
FAT: 13.5
CARBS: 1
FIBRE: 1
NET CARBS: 0
PROTEIN: 31.8
Recommended Products
As an Amazon Associate and member of other affiliate programs, I earn from qualifying purchases.