It's been a while since I've made a recipe! Don't worry, I wont bore you with the details – but the time off has given me a good chunk of time to think of some recipes! Starting with this perfect grain free focaccia!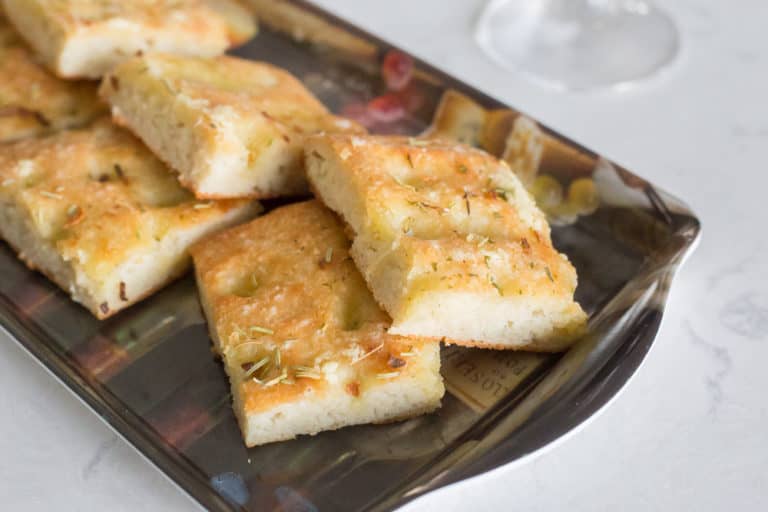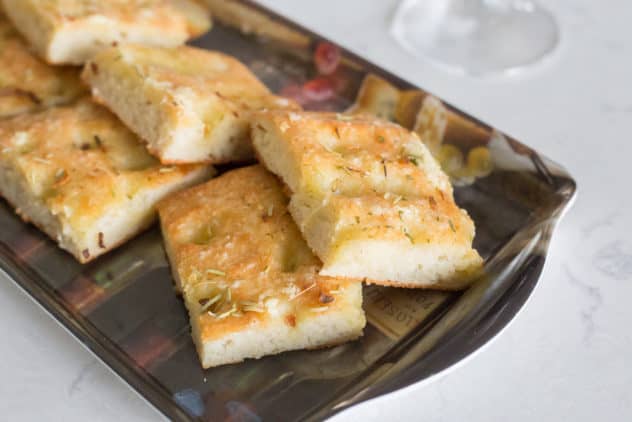 Before I go any further, yes, I use arrowroot flour in this recipe, so that means it's more of a low carb but can still be eaten in moderation in the keto diet.
Arrowroot is great to use – it's low-glycemic and can be used in moderation. I do understand if serious keto-ers do not want to make this recipe though but it's one of my favourites.
This recipe is so simple to make. It's fairly similar to my grain free bread but I added some more water to make it easier to handle.
If you like this keto focaccia – make sure to check out my grain free bread loaf, and grain free jalapeno cheese bread!
I also made a non-keto version of this.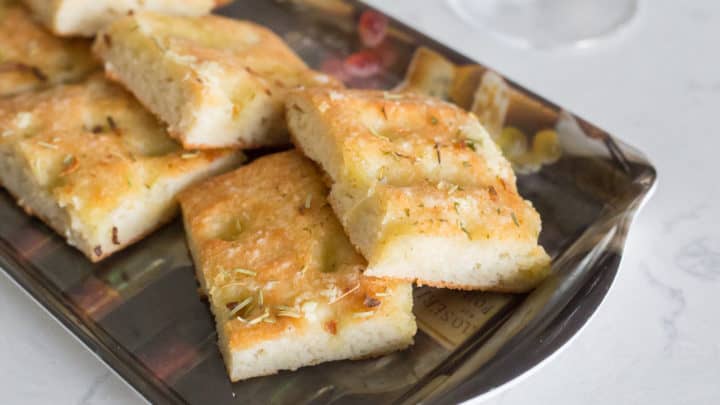 Yield:

15
Grain Free Focaccia
Total Time:
1 hour
40 minutes
A delightful grain free focaccia! Low carb and can be keto friendly. Super easy to make. Made with arrowroot flour which is low glycemic.
Ingredients
2 egg whites
1 tbsp olive oil
1/2 tsp salt
2/3 cup (160ml)
2 tsp quick yeast
1 tbsp sugar
2 tsp rosemary
2 tsp dried onion
Instructions
In a mixing bowl, sift together the almond flour, arrowroot, xanthan gum, sugar and if you are using quick yeast, add it to the flour here.
Stir
Add the egg whites, olive oil salt and warm water to the dry mix.
Stir until a somewhat batter has formed.
Dump the batter onto a cookie sheet lined with parchment paper or a silicone sheet.
Wet your hands and form a flat square with the dough, smoothing down the top.
Press your fingers into the dough to form little craters.
Cover and let rise for 1.5-2 hours or until doubled.
Drizzle olive oil onto the dough and sprinkle the rosemary and dried onion.
Bake at 400°F / 200°C for 20 minutes.
Take out and cool on a rack until near room temp. Enjoy!
Notes
These loaves both make around 15 slices (but probably can get more) Nutritional Information per slice:
CALS: 110
FAT: 7.5
CARBS: 8.9
FIBRE: 1.8
NET CARBS: 7.8
PROTEIN: 3.7