Enjoy your favourite comfort food with the best low carb noodles – spaghetti squash! So easy to make and just as tasty are the carb filled recipe. Dig in to this keto mac and cheese with spaghetti squash on a nice cold evening!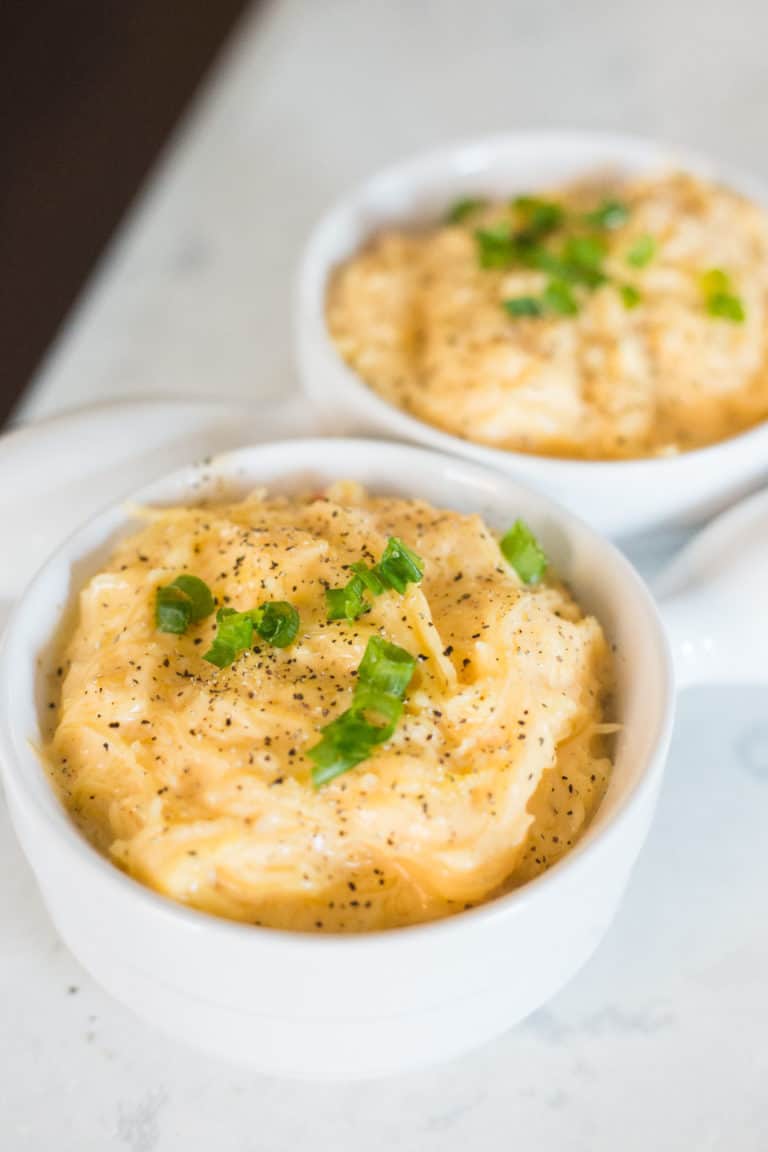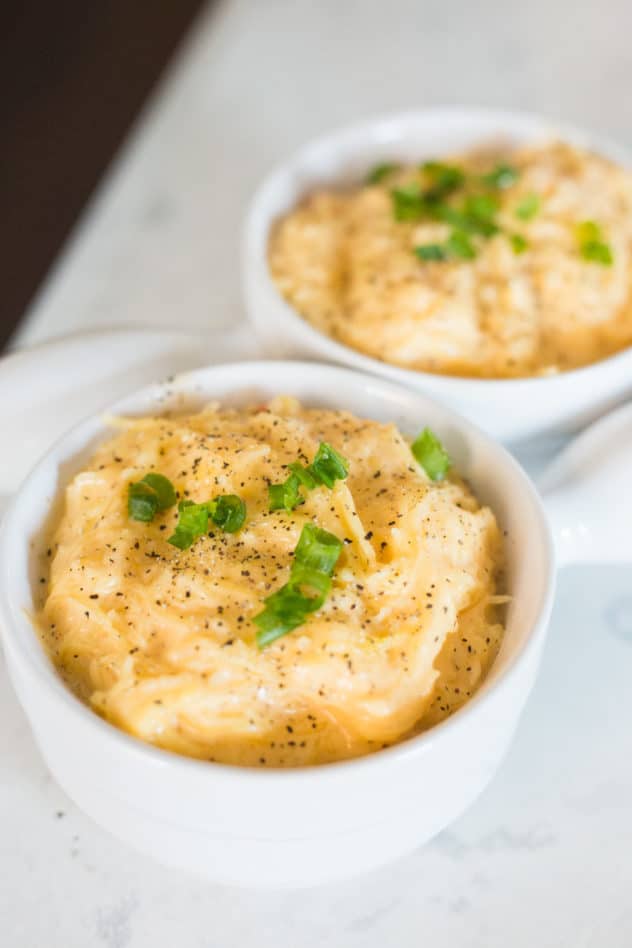 If you're familiar with my recipes, you'll probably notice that I've already done a keto mac and cheese using cauliflower as the 'macaroni' but to be honest, it's just not the same. It needs some sort of noodle that isn't hard to bite through and doesn't have a strong taste to it.. That's where spaghetti squash comes in!
Never had spaghetti squash? I highly recommend it. It is one of my favourite pasta alternatives! There are two ways to cook spaghetti squash. The first way – which you see in the video – is to pierce it with several times (atleast 8) with a knife, making sure the knife goes through to the middle.. Then place it in the oven and bake at 400°F / 200°C for 40 minutes. Very similar to how to bake a potato.
The second way is to cut it in half length-wise when it's raw. Scoop out the seeds and brush the squash with some olive oil. Place it face down on to a cookie sheet lined with parchment paper and bake at 400°F / 200°C for 40 minutes. Once the squash is done, you'll be able to use a fork and scrape the insides of the squash and it will form strings – the spaghetti! So easy!
As for the mac and cheese sauce I used – it's fairly simple and you're totally able to add anything else you want like bacon, chorizo and onion!!
Hope you enjoy this recipe!
If you want a simple cheese sauce – make sure to check out my keto 3-ingredient queso!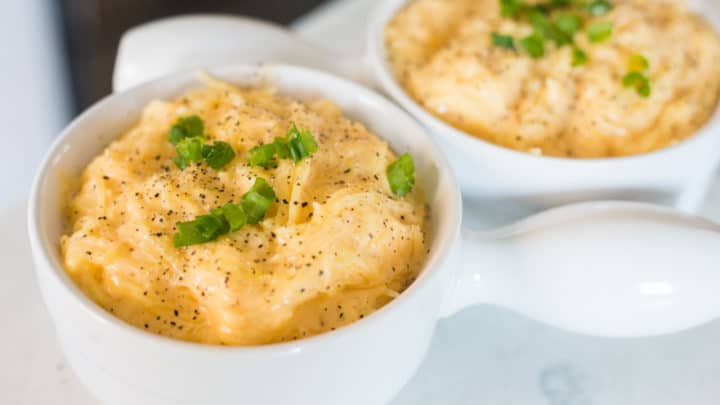 Yield:

3
Keto Mac and Cheese with Spaghetti Squash
The best keto mac and cheese! For this recipe, I use spaghetti squash which, in my opinion, is one of the better low carb pastas around! Combined with this delish cheese sauce - amazing!
Ingredients
1 medium spaghetti squash
1 tbsp butter
1 tsp garlic - minced
1 tsp xanthan gum
1/2 cup (120g) sour cream
2 tbsp heavy cream
1 1/2 cups (150g) shredded cheddar cheese
salt and pepper
Instructions
Prepare your spaghetti squash in one of the two ways described above. (I prefer to pierce the squash several times with a knife and then bake whole at 400°F / 200°C for 40 minutes)
Once the squash is done, take it out and let it cool a bit while you make the sauce.
While the squash is cooking - melt the butter over medium heat.
Add in the garlic and any other things you like in mac & cheese - like cooked bacon or jalapenos! Saute for 3-5 minutes.
Sprinkle the xanthan gum over top of the mixture and stir.
Scoop in the sour cream and 2 tbsp of heavy cream.. Stir until it begins to bubble.
Turn down to low and begin adding in the shredded cheese little by little.
Stir as the cheese melts and wait for it to be completely mixed into the sour cream before adding more.
Once all the cheese is melted in - season with salt and pepper.
Cut your spaghetti squash in half length-wise.
Make sure you have on some oven mitts because it could still be hot.
Use a spoon to scoop out any seeds and a fork to scrape out all the insides of the squash.
Place them into a colander to drain any excess water.
Serve your spaghetti squash in a bowl and top with some of the cheese sauce. Enjoy!
Notes
Nutritional Information:
CALS: 144
FAT: 31.1
CARBS: 9.6
FIBRE: 1.5
NET CARBS: 8.1
PROTEIN: 15.7