I'm not usually one to swear by food – but I SWEAR – these keto pancakes with coconut flour, you will NEVER go back to regular ones. They are so freaking YUMMY. They don't have a strong coconut taste, which is great, but topping it with maple syrup or vanilla syrup (what I used in this video) is phenomenal!
They are super easy to make and are definitely for those who are on a paleo or ketogenic diet. I am on keto and I actually may make these again soon, because they were that yummy.
Before I go into the recipe, I want to talk a little about cooking with coconut flour. It's not the same as flour. You'll notice in coconut flour recipes that they call for an ungodly amount of liquid – that's normal. Coconut flour doesn't work the same way as regular flour. One tbsp of coconut flour soaks up WAY more liquid than 1 tbsp of almond flour. That's why you'll notice most recipes have a ridiculous amount of eggs.
You may also think that 4 eggs may be too much for this recipe – and to be honest – you could probably even just use 3 and add another tbsp of almond milk or cream.
I hope you like these keto coconut pancakes! Make sure to try out my keto vanilla pancakes, keto chaffles (cheese waffles) ir my regular keto waffles!
PS. after high demand.. You can find the recipe I used for the low-carb syrup HERE.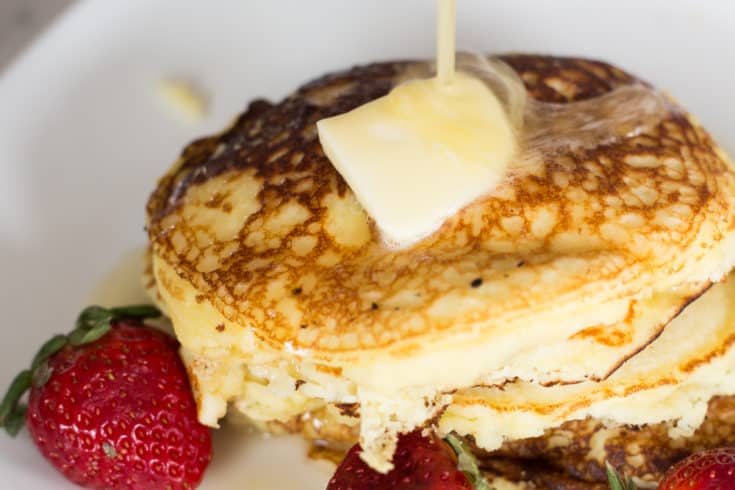 Keto Pancakes with Coconut Flour
Delicious and easy keto pancakes with coconut flour! Gluten, grain and sugar free!
Ingredients
1/4 tsp baking soda
1/4 tsp salt
1/2 cup (125ml) almond milk or heavy cream
3 tbsp of liquid coconut oil
4 eggs
Instructions
In one bowl, mix together your dry ingredients. In another, mix together your wet ingredients.
Combine boils and mix with a whisk or fork until all the clumps are gone.
Heat up some coconut oil on a pan - keep it on medium-low so you don't burn the pancakes (or it'll smoke and kick off your fire alarm, which it did to me)
Using a ladle, scoop a medium amount onto the hot pan. When it's ready to flip, you'll notice bubbles starting to pop from the top of the pancake. Wait until you see a 5-6 bubbles before you flip.
FLIP! Cook for an additional 2-3 minutes until the other side is cooked and doesn't stick to the pot.
Hope you enjoy!