I made an amazing keto butter chicken! I usually am not a big fan of Indian cuisine, but lately I've been coming around! Maybe because once I was sick after eating it, I decided to forgo all Indian food? Well, that was a mistake because I am falling in LOVE. Curries, butter chicken, naan. All are getting the thumbs up in my books!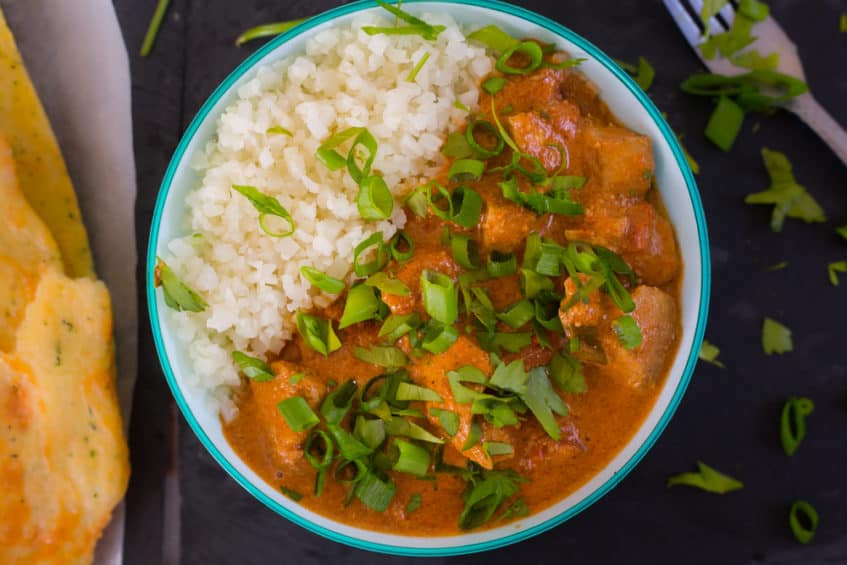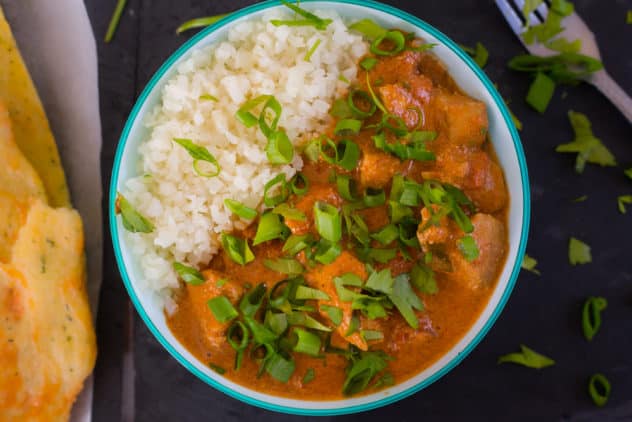 One tip I have for you when making this, is get a biggg pan or pot. I used a decent sized pan but the butter chicken was almost overflowing! So make sure you have a deep pan or pot for this recipe. It makes a ton!
Of course, instead of eating this with actual rice, I used cauliflower rice instead. It really masks the flavour of the cauliflower which is a plus if you aren't a big fan.
I served this with a side of keto naan, which is super easy to make. All I did was make some fathead dough and mold it into a square using a cookie sheet. Top it with some spices and garlic and bake!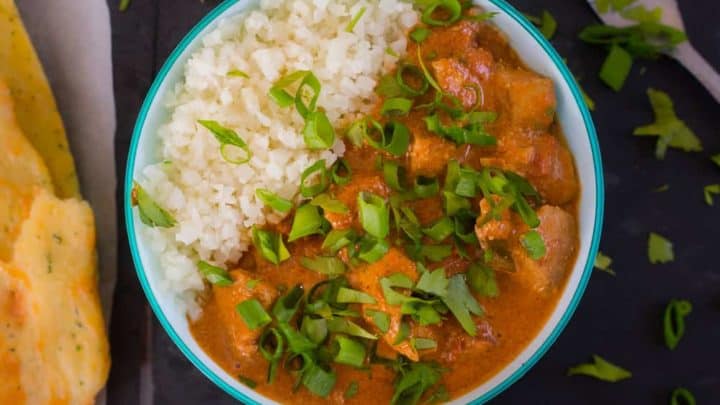 Yield:

6
Keto Butter Chicken
This keto butter chicken with a side of low carb naan is the perfect dinner on a cold night! So easy to make!
Ingredients
Marinade:
600g chicken - chopped
1/2 cup (115g) full-fat yogurt (or sour cream)
1 tsp garlic - minced or powder
1/2 tsp ginger - minced or powder
1 tsp garam masala
1/2 tsp chilli powder
Sauce:
a heaping 3/4 cup butter (approx 86g)
a heaping 3/4 cup (15g) green onions (you could also use 1/2 regular onion - chopped)
1 tsp garlic - minced or powder
1 tsp garam masala
1/2 tsp cumin
1/2 tsp ginger - minced or powder
1/2 tsp chili powder
1/4 tsp cinnamon
400g can tomatoes (no sugar added & crushed or chopped)
3/4 cup heavy cream (200g)
tsp xanthan gum
Instructions
In a large bowl, mix together the ingredients for the marinade. Add in your chopped chicken and stir. Make sure all your chicken is coated. Let that sit and marinate for a minimum of 30 minutes (but you can let it sit longer for more tastiness).
When you're ready to make the sauce, heat up your butter on medium heat. Add in your green onions (or regular onions if you choose to use that instead). Cook for 2-3 minutes.
Time to add in your spices! Whisk in the garam masala, ginger, garlic, cumin, chili powder and cinnamon. Dump in your marinated chicken and cook on medium heat until cooked thoroughly.
Pour in the can of tomatoes and heavy cream. Let it simmer for 5-10 minutes. Sprinkle the xanthan gum on top and whisk into the mixture.
Take off heat and let cool down a bit (but not too much) - it will start to thicken.
Serve with cauliflower rice & keto 'naan' bread!
Notes
This recipe makes roughly 6 servings.
NUTRITIONAL INFORMATION per serving:
CALS: 246
FAT: 13.8
CARBS: 6.6
FIBRE: 1.1
NET CARBS: 5.5
PROTEIN: 25.6