Super easy, super delicious and totally keto! I miss bananas SO much. They are one of my favourite tastes. I saw some banana flavouring at the store the other day and decided to give it a try. I was NOT disappointed.
Now success really depends on what type of flavour you buy. Some taste too artificial, and more like banana candy (like those Runts!). I bought mine from a local baking store but one of my favourite brands for flavours is Oooflavors. Honestly they have SO MANY different kinds. This isn't sponsored or an ad, I just really like their stuff.
If you really want to make these really fluffy, I highly recommend adding in a scoop or so of whey isolate. It will give your muffins lift and added fluffiness. You could use unflavoured, or even banana.. chocolate.. orange.. the possibilities are endless.
If you like these muffins, make sure to check out my peanut butter banana muffins or chocolate chip muffins!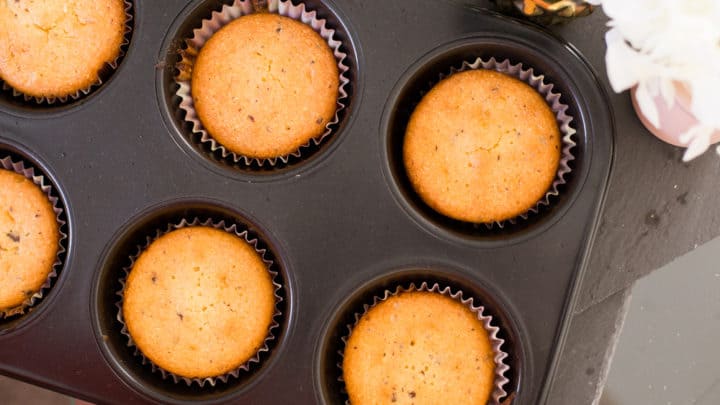 Yield:

6
Keto Banana Muffins (No Bananas)
Keto banana muffins - without all the carbs of actual bananas. Perfect for breakfast or a snack throughout the day!
Ingredients
1/2 cup (70g) butter - melted
1/4 cup (50g) sugar substitute (I used xylitol)
1 egg
1 cup (96g) almond flour
1 tsp banana flavouring
1/2 tsp vanilla extract
1/2 sugar free chocolate bar (approx 35g) chips or shaved
1/2 tsp baking powder
Instructions
Whisk your butter and sugar substitute together in a mixing bowl.
Add in your egg, flavours and extract.
Pour in your almond flour & baking powder and whisk until thoroughly mixed.
Stir in your chocolate.
Pour into a lined muffin tin and bake at 350f (175c) for roughly 25 minutes or until a toothpick comes out clean.
Notes
I used a large muffin tin and this made roughly 6.
NUTRITIONAL INFORMATION (per muffin)
CALS: 285
FAT: 27.9
CARBS: 5.2
FIBRE: 2
NET CARBS: 3.2
PROTEIN: 5.7