WOW your guests with this amazing Boston Cream poke cake! It's super easy to make and tastes as good as it looks!
What is a poke cake you ask? Well, its where you poke holes in a baked cake and fill it with a custard or jello and let it set. The result is an delicious moist cake. I highly recommend!
Now if you don't want to make an entire custard, you could use some sugar free pudding mixture OR custard powder.
One more tip before the recipe: try to find a sugar free chocolate bar that isn't made with maltitol. Maltitol will spike your blood sugar and not only that, even in small amounts, it can WRECK your insides. I ate 2-3 pieces of a chocolate bar sweetened with maltitol and I felt so lightheaded, started sweating and was very nauseous. It's not worth it!! TRUST ME.
If you like this recipe, make sure to check out my Japanese Cheesecake or Mississippi Mud Pie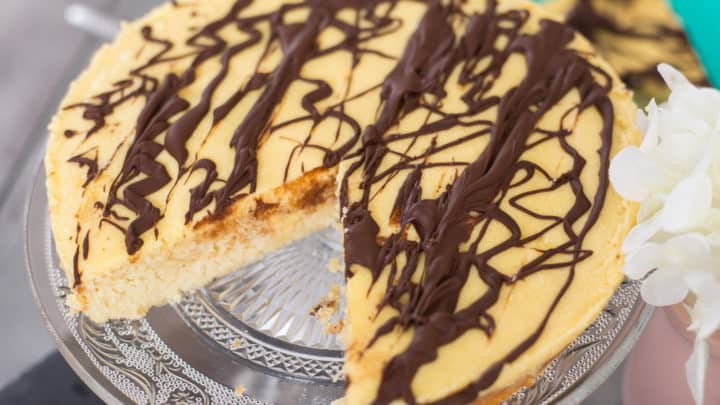 Yield:

10
Keto Boston Cream Poke Cake
Boston Cream Poke Cake - totally sugar, grain and gluten free! Perfect for diabetics or those on the keto diet!
Ingredients
CAKE
1/4 cup (50g) sour cream
1/4 cup (59ml) water
1 tsp vanilla
1 egg
1/4 cup (57g) sugar substitute (I used xylitol)
50g melted butter
1 1/4 cup (120g) almond flour
1/2 tsp baking powder
CUSTARD
1 cup (250ml) heavy cream
1 tsp vanilla
3 tbsp sugar substitute
3 egg yolks
1/4 tsp xanthan gum
CHOCOLATE:
sugar free chocolate bar of your choice
Instructions
The first thing you will want to do is make your cake.
In a bowl, whisk together all the cake ingredients until it is thoroughly mixed together.
Pour into a greased/lined cake pan. (I used a 6-inch pan).
Bake at 350f (176c) for 25 minutes or until a toothpick comes out clean! Let it cool.
Time to make your custard. Bring your heavy cream to a boil. While it is heating up, whisk together your egg yolks and sugar substitute.
Once the cream is boiling, pour half of it into the egg yolks. Make sure you are whisking it together while you pour.
Pour the egg/cream mix BACK into the rest of the cream and stir continuously for another 2-3 minutes on the stove. It should be on medium at this point. It will start to thicken up.
Take the custard off the heat and whisk in your vanilla & xanthan gum. Set it aside while you grab your cake.
Poke several holes into your cake. Now pour the custard mix onto top of the cake and spread it around evenly, making sure the custard gets into the holes that you poked.
Put it in the fridge and cool for 3-4 hours. Once it's cool, it will be easy to handle and the custard will have thickened up enough for you to take the cake out of the pan with ease.
When ready, melt your favourite type of sugar free chocolate bar over the stove or in the microwave. Pour it on top of the cake and let it set.
Voila! Serve!
Notes
This makes roughly 10 slices.
NUTRITIONAL INFORMATION (per slice)
CALS: 237
FAT: 22.7
CARBS: 6.3
FIBRE: 1.9
NET CARBS: 4.4
PROTEIN: 4.7