I had some delicious squash the other day that was cubed and I wondered.. how could I make this keto? Butternut squash is too high in carbs, pumpkin isn't in season.. So I am trying to make cubed spaghetti squash.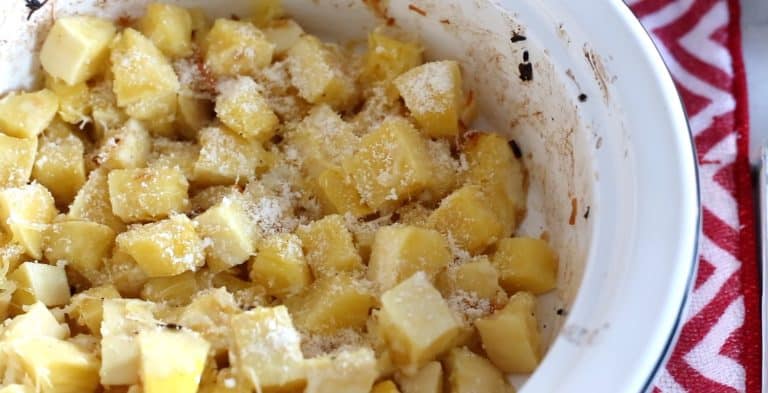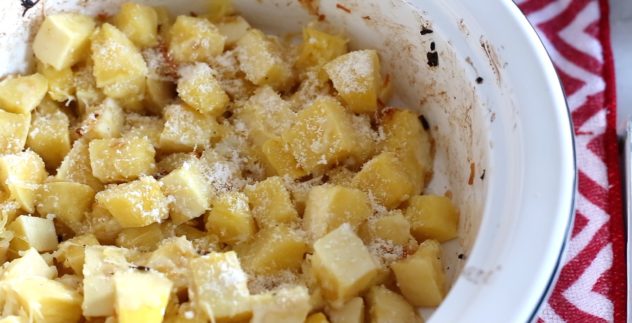 It's actually fairly easy and you can really add any flavour to it that you'd like. I have a really amazing sesame ginger salad dressing that would make this taste amazing!
Now one thing I will admit is that I feel like they should be cooked in one layer. That would help the garlic butter over all the pieces but honestly, I stirred it and then refrigerated it afterwards and a few hours later it was so tasty!
If you like this, you may like my other keto macaroni and cheese with spaghetti squash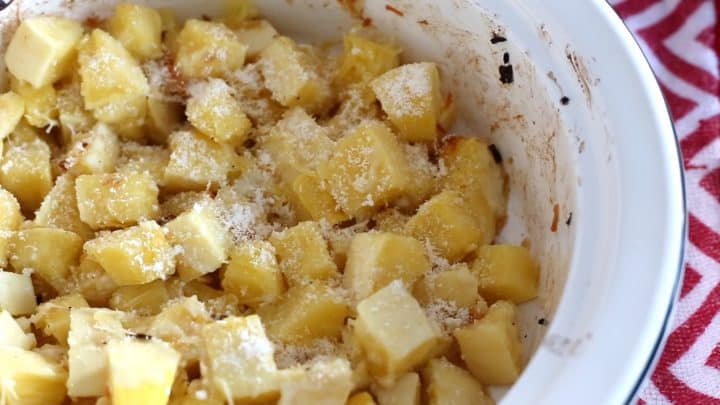 Yield:

6
Cheesy Spaghetti Squash Cubes | Keto & Low Carb
Cubed spaghetti squash with a delicious cheesy garlic taste! Only 4.7 net carbs per serving!
Ingredients
1 spaghetti squash - peeled
1/2 cup (100g) butter
1 tbsp minced garlic
1 tbsp dried onion
salt pepper
parmesan cheese
Any other cheese of choice.
Instructions
Begin by placing the butter, garlic, onions, salt and pepper in a casserole dish.
Place in the oven at 350°F / 175°C until the butter has melted.
In the meantime, begin peeling your spaghetti squash.
Cut in half and scoop out the seeds inside.
Cut the squash into cubes - not too big otherwise it will take a while to cook.
Once the butter has melted, place the squash into the butter mix and stir to cover the squash in the butter.
Top with some parmesan cheese and bake for 30 minutes.
After 30 minutes, take the dish out and stir the cubes of squash again.
Add more cheese (as much as you want really), mix and place back in the oven for an additional 30 minutes.
Take out and enjoy!
Alternatively, you can place in the fridge for a few hours before eating!
Notes
This makes approximately 6 servings.
Nutritional Information per serving:
CALS: 178
FAT: 17
CARBS: 5.8
FIBRE: 1.1
NET CARBS: 4.7
PROTEIN: 2.4