Someone at work the other day ordered Taco Bell and let me tell you, it smelt SO GOOD. This prompted me to see what exactly it would entail to make a low carb crunchwrap supreme! It was easier than you think!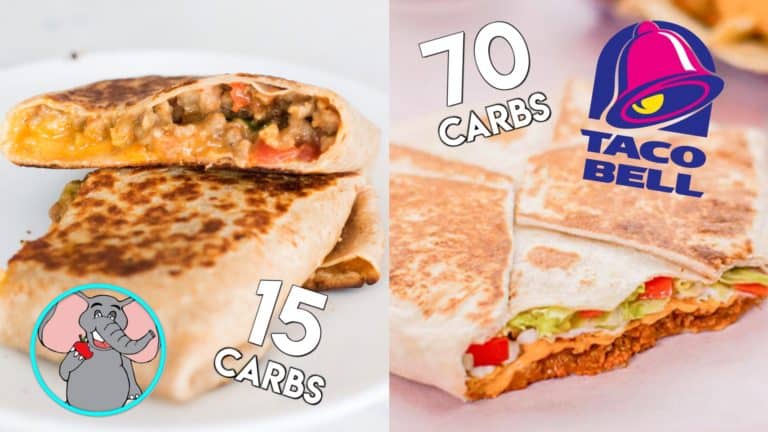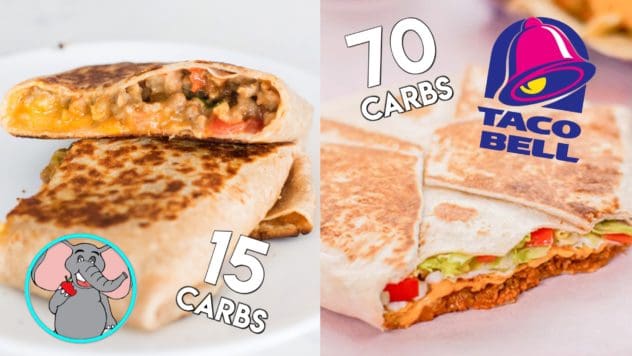 My first thought was – what tortilla can I use? I almost always buy Mama Lupes but they are too small. So off I went to the grocery store and nabbed myself some of the Protein tortilla's from "La Tortilla Factory". They have 12 whole carbs (11 net) per tortilla. Not too bad! (but definitely not keto)
I had to make some alterations to the traditional crunchwrap recipe. For instance, they use at least two tortillas and a corn tortilla for some crunch. Unfortunately that's too many carbs, so I used one tortilla instead.- it still worked!
I was also super lazy, so I bought some of the Tostitos queso dip, a packet of taco seasoning and canned diced tomates. Thankfully I already had some leftover ground beef.
Because I used some store-bought items, like the queso and taco seasoning, this might not be a good recipe if you really care about ingredients (and not just carbs). However, I do have a taco seasoning recipe and a queso recipe on my website already so if you wan't to make it, I'll link the recipes!
I really enjoyed this low carb crunchwrap supreme. I think next time I may use a bigger tortilla!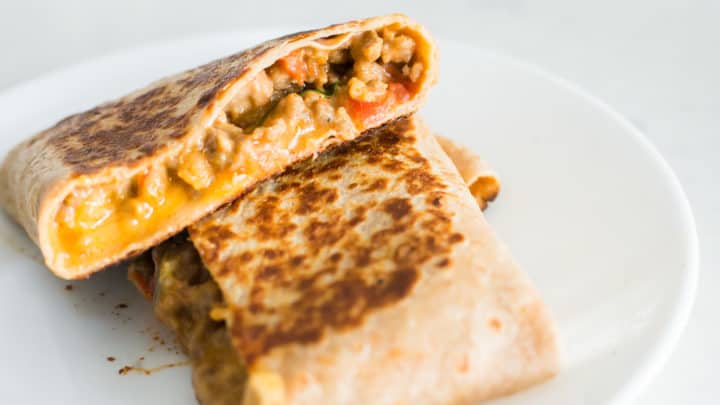 Yield:

1
Low Carb Crunchwrap Supreme
For the low carb lovers of Taco Bell - now you can have your own low carb Crunchwrap Supreme. So easy to make and only 15 carbs! (13 net)
Ingredients
1 low carb tortilla
1/2 cup (75g cooked) ground beef
1 tbsp diced onion (optional)
1/2 tsp taco seasoning
1.5 tsp queso dip
1 tbsp diced tomatoes
1-2 tbsp of shredded cheese
few leaves of lettuce
Instructions
In a pan over medium heat, cook your ground beef if you haven't. Drain the grease or wait until it evaporates.
Add in the onion and taco seasoning, stir and cook for an additional 2 minutes.
Place the 1.5 tsps of queso in the middle of the tortilla. Spread it around a little bit.
Top with your diced tomatoes, cooked seasoned beef, lettuce, and shredded cheese.
Fold each side of the tortilla towards the middle so that it is flat but the top is covered and no ingredients will fall out.
Place crease side down in a pan and lightly toast the filled tortilla until its nicely golden.
Flip over and toast the other side for an additional 2-3 minutes.
Take off heat and enjoy!
Notes
This makes 1 low carb crunchwrap supreme!
Nutritional information:
CALS: 271
FAT: 12.3
CARBS: 14.7
FIBRE: 1.5
NET CARBS: 13.2
PROTEIN: 27.8