Big requests coming through for some Mexican and Spanish food. Don't you worry, I got your back. Today we're starting with chile relleno!
Basically chile relleno is a poblano pepper stuffed with cheese. It is usually laid on a bed of rice and a spicy salsa or tomato sauce.
Well, after spending an entire day searching, I couldn't find any poblano peppers. Initially I tested this recipe with a long sweet red pepper, but when I roasted it, it just fell apart. So instead I picked up just a regular green pepper and it worked perfectly. If you can't find a poblano pepper, you could try an anahaim pepper.. OR if don't like spice, use a nice green bell pepper.
The easiest way to roast these peppers is to hold it (with a utensil), over a hob (burner) on a gas stove. Turning frequently until the outside of the pepper is crisp, burnt and you'll see the skin bubble and pop.
If you don't have a gas stove (like me), I turned my stove up all the way (or you can use the broiler function) and placed the peppers on a cookie sheet and put it near the top, close to the heat source. Turn frequently until the pepper is burnt and the skin is bubbling. That way it will be easy to peel.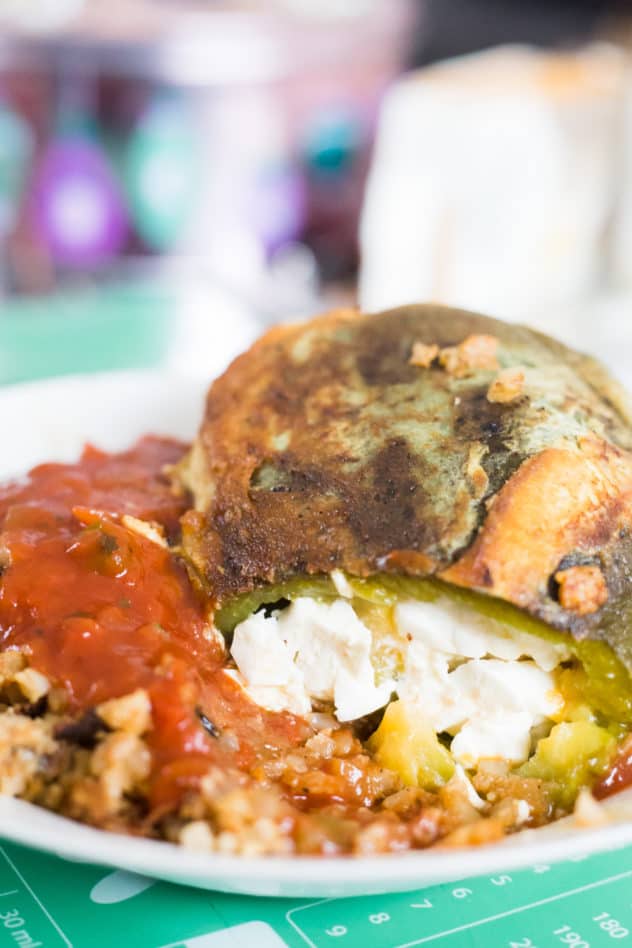 As for the cheese, traditionally queso fresco or queso blanco is used. However again, can't find it in Ireland so feta cheese is the most similar!
The rest of the recipe is pretty self explanatory, but I have to admit it is one DELICIOUS dinner.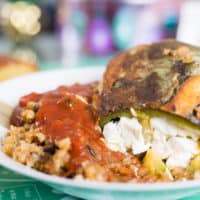 Keto Chile Relleno
A delicious green pepper stuffed with cheese and laid over a bed of cauliflower rice and salsa! This savoury meal is grain free and most importantly, guilt-free!
Ingredients
2 green peppers (or poblano/anahaim)
150g (approx) queso fresco/blanco (or feta)
2 eggs
Dash of cream of tartar
2 cups (250g) cauliflower rice
1 chicken, beef or tomato bouillon cube
2-3 tbsp of lard, beef drippings, coconut or avocado oil
2-3 tbsp (per serving) sugar free salsa
Instructions
Roast your peppers (as described above) until the skin is burnt and bubbling.
Set the peppers aside and cover with a cloth for 10 minutes.
Peel the skin off the peppers.
Use a knife to make a small slit down one side of the pepper. Cut out the seeds and the inside of the stem.
Stuff the green pepper with the feta cheese. Be careful otherwise the pepper might split open too much.
Once the peppers are stuffed, set aside.
Melt the beef drippings (or lard, avocado or coconut oil) in a pan on medium-high heat.
Separate your eggs into two bowls. Beat the egg yolks and place the cream of tartar into the egg whites.
Use a hand or stand mixer to whip the egg whites to stiff peaks.
Slowly incorporate the egg yolks until you get a nice yellow colour and fluffy consistency.
Take the pepper, slit side up, and dip the bottom into the whipped egg whites.
Place the peppers into the hot pan. It should sizzle immediately.
Scoop extra egg white mixture onto the peppers.
After about 3-4 minutes,