I may not like broccoli, but when it is smothered in a cheesy delicious sauce, I will eat every single piece.. and that is exactly what I did tonight with no regrets because the entire meal was all keto!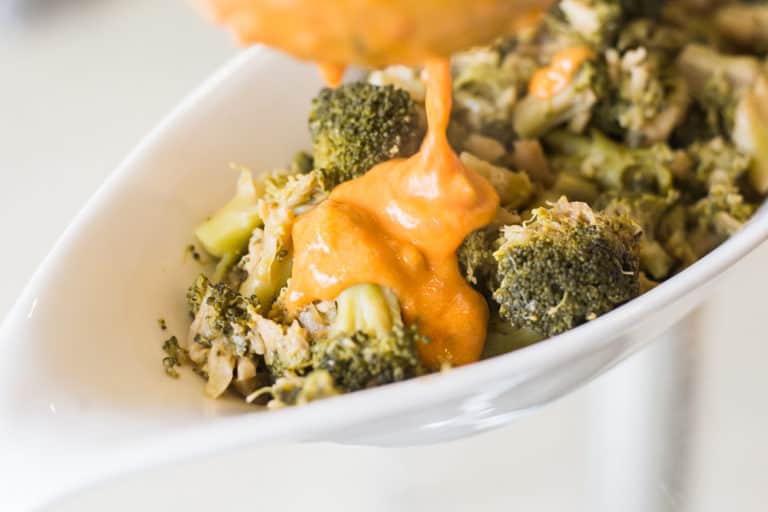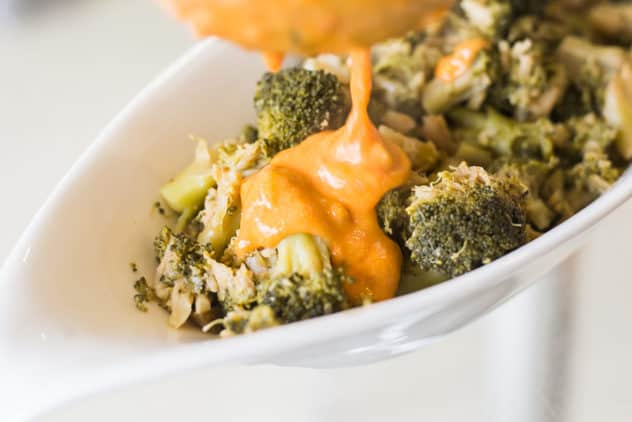 Yes! Look at that picture! The smoothest sauce with bits of peppers and tomatoes. Yes, this is still FOUR ingredients – steamed broccoli, mild salsa (no sugar added), cheddar cheese and heavy cream. Honestly, everyone loved it!
It does take a while to make – the sauce needs to reduce and thicken for about 30 minutes, but it's so worth it. It's really great because it doesn't have any thickeners like xanthan gum. Let it sit for a while and it will thicken up on it's own!
Now, I really wanted to make a video for this recipe.. I had already made one for the cheese dip, so when I made this tonight, I just took some extra photos. However, later I realized that I had accidentally deleted the ENTIRE video. So needless to say, there's no video recipe for this dish. Thankfully it's so easy.
If you like this recipe, make sure to check out my 3-ingredient keto queso dip!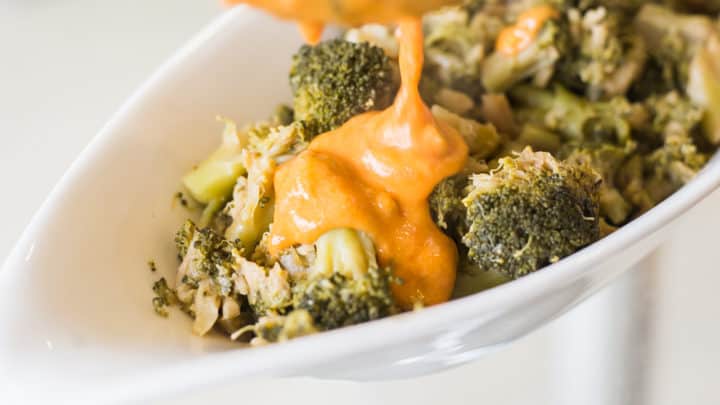 Yield:

8
Keto Broccoli and Cheese (4 Ingredients!)
Four-ingredient broccoli and cheese! High fat, low carb and 100% guaranteed to satisfy your hunger. Absolutely amazing.
Ingredients
3 small bunches of broccoli - cut into florets
1 cup (approx 230g) salsa - no sugar added
2 cups (200g) cheddar cheese - shredded or cubed
1 cup (250ml) heavy cream
Instructions
Begin by steaming your broccoli.
In a deep pot over medium low heat, stir together the salsa and heavy cream.
Once the mixture is fairly warm, but not hot enough to boil, begin adding in small scoops of cheddar cheese. Stir consistently until the cheese melts into the mixture.
Continue adding small scoops of cheddar and mixing until all the cheese is mixed in. If the cheese begins to get too stringy and won't dissolve into the mixture, turn the heat down to low and wait for it to cool a bit. Then begin adding in the cheese.
Once all the cheese is mixed in, turn the heat up to medium and bring to a simmer. Stir frequently so the cream doesn't burn to the bottom of the pan.
Turn down to medium-low and simmer for around 30 minutes or until the mixture has thickened significantly.
Pour over broccoli and serve.
Notes
This makes approx. 7 servings.
Nutritional Information per serving:
CALS: 213
FAT: 19.6
CARBS: 5.7
FIBRE: 1.5
NET CARBS: 4.2
PROTEIN: 7.8