Dammmn I am impressed with this recipe, I must admit. These keto pizza rolls are fantastic and so easy to make! I added some whey protein powder to the fathead dough to make it less greasy and absolutely perfect.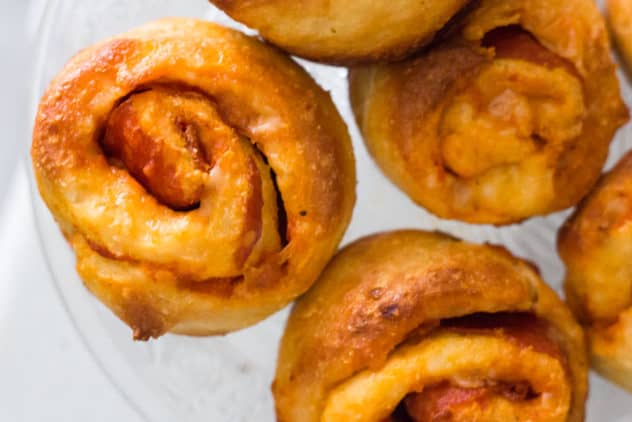 I have to admit, this is the best keto fathead dough I've tried… and rolling it up like cinnamon buns is *chefs kiss*. All you have to do is top your pizza like you normally would and then roll it up like a carpet and divide it into 6 pieces.
I baked mine on a greased muffin tin because I ran out of parchment paper but I found that the muffin tins work really well because it holds it together and makes sure it doesn't fall flat (which it shouldn't anyway)
If you like these pizza rolls, make sure to check out my keto cinnamon rolls and keto cinnamon roll donuts or if you're more into pizza – my keto asiago bagel (that I turned into a pizza bagel)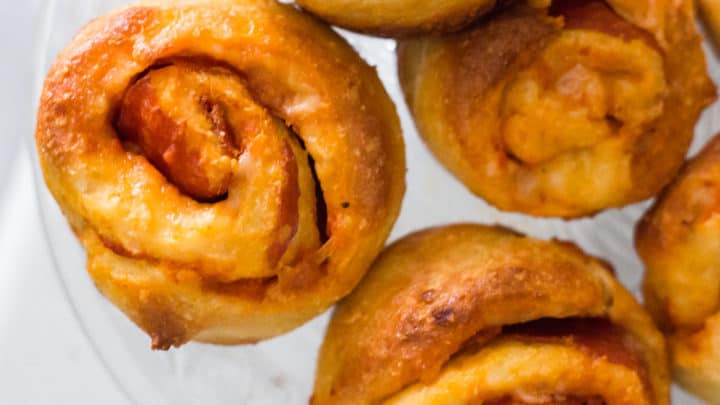 Yield:

6
Keto Pizza Rolls
Pizza in the form of cinnamon buns! These keto pizza rolls are the perfect lunch and you can add your favourite toppings!
Ingredients
1.5 cups (150g) + a little extra - shredded mozzeralla
1 tsp baking powder
1 medium egg
pepperoni
Instructions
In a mixing bowl, whisk together 3/4 cup (75g) of the almond flour and 1 scoop of whey along with the baking powder.
Melt the mozzarella in the microwave (or a bain marie/double boiler)
Add the cheese to the almond flour mix and try to mix it as best as you can.
Crack in the egg and continue to mix.
Once you have a sticky ball of dough, add in the remaining almond flour and whey.
Use your hands to knead into a smooth ball of dough.
Roll the dough flat between two pieces of parachment paper (or cling wrap). Try to get it into a rectangular shape.
Spread the tomato sauce on top of the dough followed by a little extra cheese and pepperoni.
Roll the dough like a carpet, starting at one of the longest sides (making it long, rather than short)
Cut the long pizza roll into 6 pieces.
Place into greased muffin tin and bake at 350°F / 175°C for 20 minutes.
Enjoy!
Notes
This makes roughly 6 pizza rolls
Nutritional Information per pizza roll:
CALS: 242
FAT: 18.1
CARBS: 5.7
FIBRE: 2.3
NET CARBS: 3.4
PROTEIN: 17.4