Surprise your Sunday dinner guests with this perfect keto beef wellington. Perfectly crispy out the outside and a nice medium-rare on the inside. A British tradition!
Of course, as it seems, this recipe takes a bit of time. It's tedious but it is worth it!
Now, traditional beef wellington is wrapped in puff pastry. Of course, being keto, it's too high in carbs so instead I used the basic fathead dough. I'm not too keen on using it much anymore, but this is the only dough that will be able to be rolled out and keep it's shape in the oven. Plus with all the fillings, you'll hardly get that 'fathead' taste.
When shopping around for your beef, don't go for the big ones. Usually beef fillets are used, but they can be expensive, so I decided to go a bit cheaper. I found the perfect size eye of round. It was around .75kg.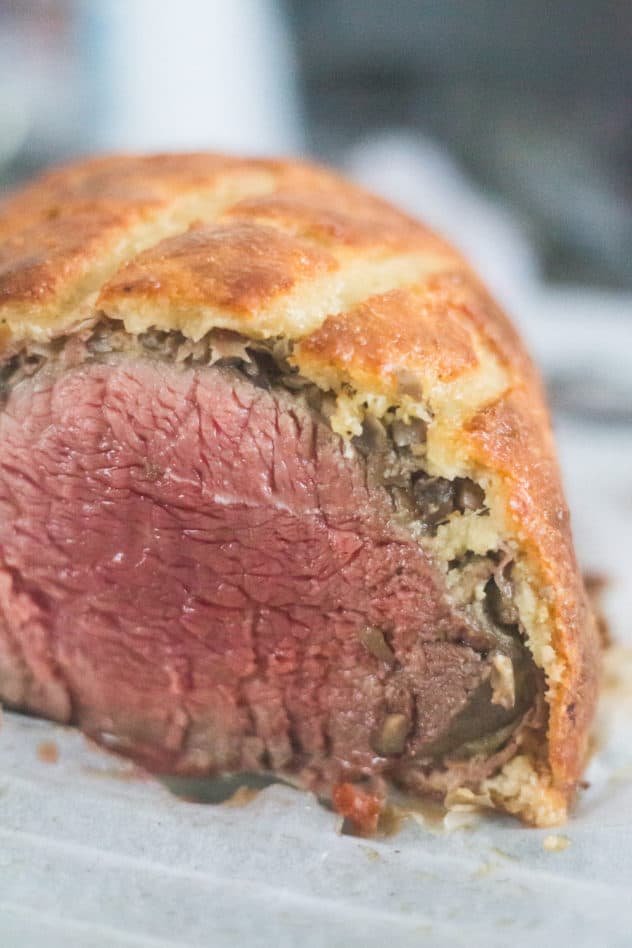 One of the first things we want to do with the meat is to sear the outside to burn off any bacteria cross-contamination. It's an important step so do not skip!
As for my beef wellington – it was a nice medium rare on the inside. If that is too gross or you want it cooked more, instead of searing it, you can pre-cook it in the oven for about 30 minutes at 400°F / 200°C and then let it cool.