Ok – all the 'rage' right now, keto stuffed zucchini. I get it, it's super delicious and a great way to eat zucchini if you don't like the taste. Today I am stuffing it like a TACO.
Originally published in September 2017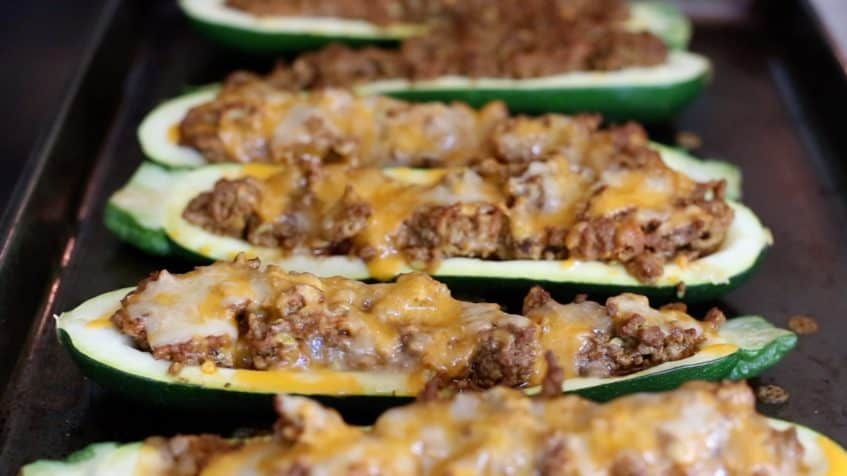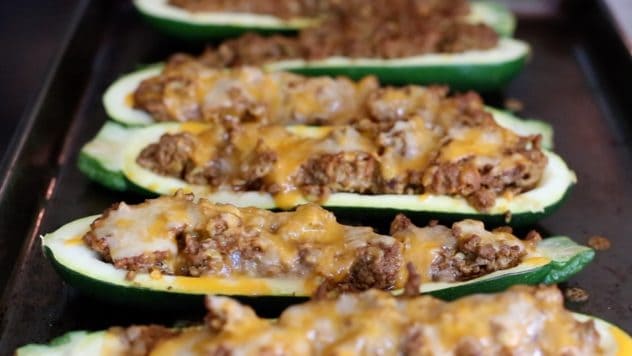 The recipe is fairly easy but I would highly recommend that you cook the beef beforehand otherwise if it goes in raw, it might be too watery. The beef will also shrink in the oven so you'd end up with less in the zucchini than when you put it in there.
I think the best thing about these keto taco boats are that they are so filling and the carbs are so low! You can eat an entire keto stuffed zucchini and it is less than 10 carbs! I highly recommend serving with some sour cream and maybe some sliced avocado.
If you like this recipe, you'll enjoy my taco stuffed peppers!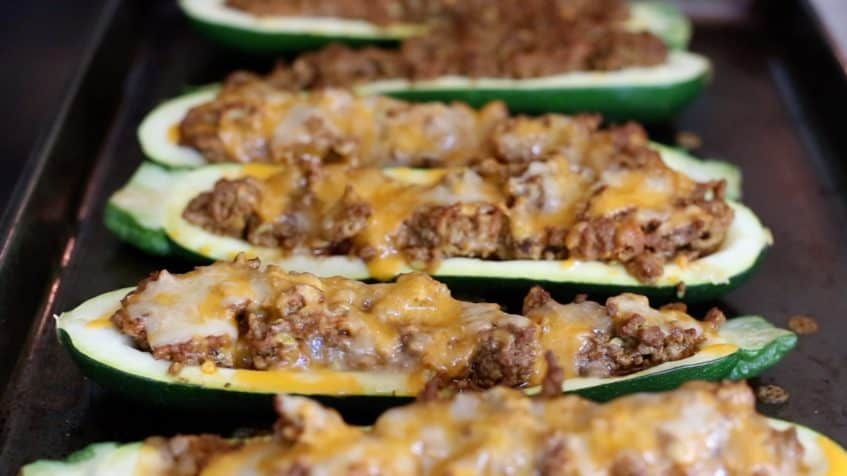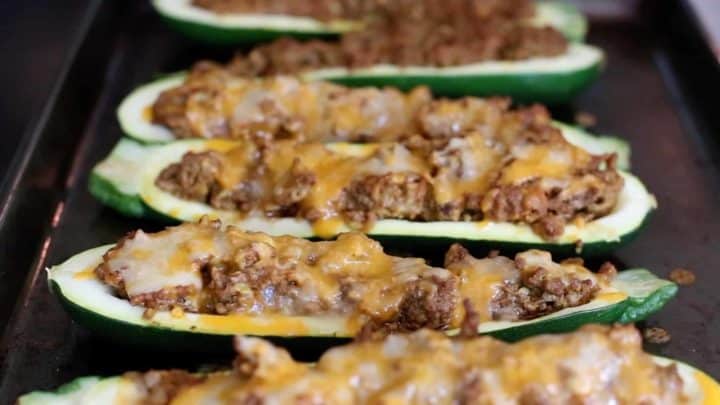 Yield:

6
Keto Stuffed Zucchini - Taco Style
Simple and easy keto taco boats. Very low in carbs! Gluten, grain and sugar free!
Ingredients
3 zucchini
1/2kg ground beef
1 tbsp tomato paste
1 tsp minced garlic
1 tsp olive oil
1 tsp tumeric
1 tsp cumin
1 mustard powder
1 tsp dried oregano
1 tsp smoked paprika
1 tsp red pepper flakes
salt & pepper
1/2 cup (50g) cheddar cheese
Instructions
Cut the zucchini in half length wise and scoop out the insides with a spoon.
Keep the guts in a separate bowl. Set them and the zucchini shells aside.
On the stovetop, heat up the olive oil and garlic.
Add in your zucchini insides, ground beef, spices and tomato paste.
Saute for roughly 10-15 minutes until all the water has evaporated and the meat is thoroughly cooked.
Scoop it into the zucchini shells.
Top with cheese and bake until for roughly 30 minutes at 350.
Enjoy with some sour cream!

Notes
This makes approximately 6 servings. (1/2 zucchini)
Nutritional Information per serving:
CALS: 183
FAT: 13.4
CARBS: 4.9
FIBRE: 1.5
NET CARBS: 3.4
PROTEIN: 21.1