The weather is warm so it's time to light up the barbecue! And if your unsure how to marinate chicken or beef, well I got the PERFECT sauce – this 5-minute keto BBQ sauce recipe is one you DON'T have to cook.
This low carb BBQ sauce is really easy to make. I really wanted to make it simple because who has time to simmer a sauce on the stove? All you really need to do is just mix all the ingredients together!
One thing I will mention is to try and find a DECENT brown sugar substitute. I grabbed a Splenda brown sugar substitute but it took me until AFTER I made the sauce to realize that it is brown sugar substitute mixed with SUGAR. So make sure to CHECK the ingredients! Sukrin Gold is a good brand as well as Swerve apparently has a brown sugar substitute but I haven't tried it.
As for the sugar free ketchup – I used Heinz!
Enjoy these homemade keto bbq sauce with ribs, chicken and lots more!
If you like this recipe, you can use it to make this delicious keto BBQ chicken pizza!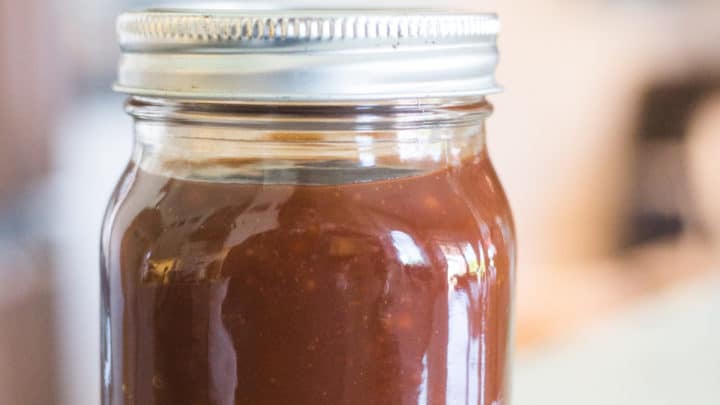 Yield:

24
5-Minute Keto BBQ Sauce Recipe
An easy 5-minute keto BBQ recipe that doesn't require any cooking. Mix and refrigerate for later. Only 1 carb per tbsp!
Ingredients
1/4 cup (60ml) apple cider vinegar
1 1/2 tsp liquid smoke
1 tsp sesame oil
1 tbsp Worcestershire sauce
Hot sauce (to your liking)
1 tbsp minced garlic
Instructions
Whisk together the apple cider vinegar and brown sugar substitute until the granules have dissolved.
Add in the rest of the ingredients and whisk until smooth.
Place into jar or can and refrigerate until needed!
Notes
NUTRITIONAL INFORMATION per TBSP:
CALS: 9
FAT: 0.2
CARBS: 0.9
FIBRE: 0
NET CARBS: 0.9
PROTEIN 0.2